A while back, I made a spreadsheet that cataloged 1200 or so varieties of heaths and heathers showing their colors by month, and their hardiness zone and height. This is a handy tool for deciding what varieties to plant next to each other -- by sorting the lines in the sheet you can see what color the cultivars you've chosen will be each month.

Here's a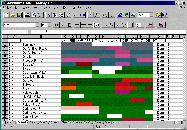 sample screen shot, and here's the readme file that goes with it.
The colors are a bit cartoonish compared to the actual plants, granted. All I wanted was to get a handle on the way this complicated group of plants changed through the seasons.
---
If you're interested in downloading the complete database, email me. You need Microsoft Excel to be able to do anything with it.
---
"It's a most excellent spreadsheet."
-Josh Gordon, Chief Programmer at eBay

"Art, don't be shy, how do you really feel about these plants, Art, do you like them or not?"
-Mike McGrath, Host of "You Bet Your Garden" on WHYY radio.
---
The Heather Society is an an excellent source of information, and they have a searchable version of their Handy Guide to Heathers online. The paper version of the book is well worth having, too.