Abstract: A Hasbro (TM) Pokemon (TM) Character Creater (TM) is used to make attractive Hors d'oeuvres out of softer kinds of cheese.
---
Methodology: The Hasbro company manufactures a device for extruding Play Doh (TM) into two piece molds in a variety of forms. Approximately 20 CC of an extrudable dough-like material is placed in a cylinder, and a lever piston forces the material into a two-piece mold. (see illustration 1)
While the proprietary material Play-Doh (TM) is the intended substance for this device, the researchers experimented with a variety of cheesy comestibles, with the intent of creating an attractive and unusual party appetizer.
Thinner sliced and softer cheeses proved to be the most successful, however, very soft cheeses tended to stick to the mold, and deformed upon removal. (See illustration 2)
A light coating of vegetable oil allowed the softer cheeses to release from the mold without deforming, and also added an attractive sheen to the appetizer. (See illustrations 3,4)
This process inevitably results in a certain amount of wasted soft cheese, which must be disposed of in an appropriate manner. (see illustration 5)
---
Conclusion: The Hasbro/Play Doh Creature Creater (TM) can be used to mold foodstuffs.
---
Illustrations:
Illustration #1:
Overview of the Hasbro (TM) Pokemon (TM) Character Maker
---
Illustration 2:
From left to right: Pikachus made of Play-Doh (TM) (for reference), sliced provolone cheese, sliced domestic swiss cheese, brie cheese without mold release, and brie with mold release.
---
Illustrations 3,4
Examples of a molded brie pikachu on a Triscuit (TM) cracker with a small slice of domestic ham.
---
Illustration 5: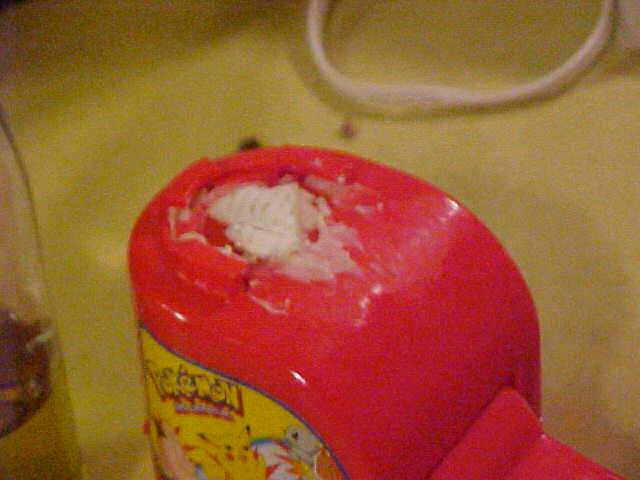 A small amount of the material is wasted at the end of the process.
---
Addendum subsequent experiments:
After testing an assortment of soft cheeses (Laughing Cow (TM) triangles, port wine spread, Velveeta (TM), "brie without the rind" (imagine a brie Velveeta), brie still remains the best Pikachu molding foodstuff. The Laughiung Cow (TM) didn't conform to the mold well, the port wine spread didn't release from the mold well no matter how well the mold was oiled, the rindless brie molded well, but sagged after a few minutes. The Velveeta (TM) molded well and held its shape, but, well, it's Velveeta.
Instant mashed potatoes made with less water than suggested conformed to the mold very well, and when deep-fried resulted in the attactive Pikachu-shaped 'Tater Tots". (See Illustration 6)
---
Illustration 6:
Deep-Fried Pikachus made from instant mashed potatoes mixed drier than the package instructions.
---
Disclaimer: This site is not affliliated in any way with Nintendo (TM), Hasbro (TM), Rai & Sons (TM), Nabisco (TM), Kraft Foods (TM) or any of the products mentioned on this site.