[ Garden Room | Desert Room | Room Rates | Reservations ]

The Brass Lantern
2446 State Highway 92
Greenfield, IA 50849
1-888-743-2031
Located just a few miles from the famous Madison County covered bridges, The Brass Lantern combines a friendly Iowa country atmosphere with all the amenities of a first-class hotel. A quiet spot for a romantic weekend getaway, or a relaxing overnight for the busy traveler, with FAX and photocopy available.
Call us at our new TOLL-FREE number, 1-888-743-2031
Why not order a Gift Certificate for that special someone? Mention this web page when making your reservation, and we'll include a bottle of wine for your enjoyment.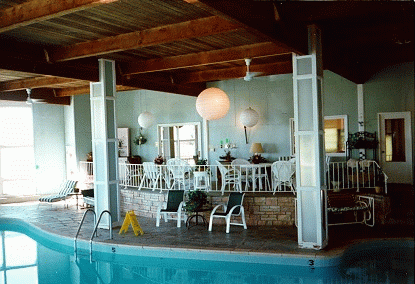 The Brass Lantern is the only B&B in Iowa with an indoor pool facility. The large, heated pool is available year round.
Guest rooms open onto the pool terrace and include access to a fully equipped kitchenette with a view of the pool. Satellite television may be viewed either in the rooms or on the terrace.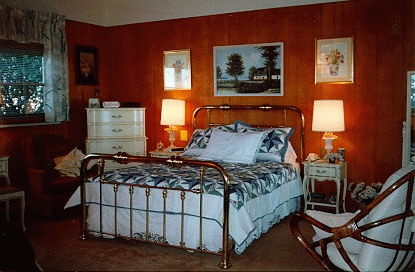 At the end of the terrace, to the left of the kitchenette, is the Garden Room, which features a queen size brass bed. It also has a queen size sofa bed for two additional guests.
The Garden Room has its own private bath and direct access to the kitchenette.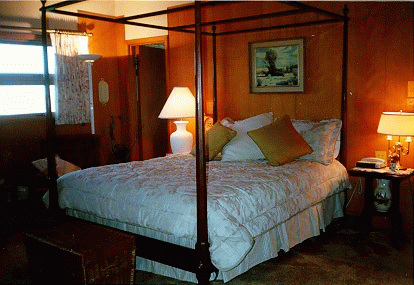 The Desert Room is to the right of the kitchenette. It features a queen size four-poster bed plus a queen size sofa bed.
Like the Garden Room, the Desert Room has a private bath and direct access to the kitchenette.

The Gallery (not pictured) is nearest the entrance, to the right of the Desert Room. It has two twin beds. It is available at a reduced rate and must be rented along with at least one of the other rooms, because it does not have a separate bath.

The Brass Lantern
2446 State Highway 92
Greenfield, IA 50849
(515) 743-2031
1-888-743-2031
[ Garden Room | Desert Room | Room Rates | Top of Page ]
Sunrise on the Farm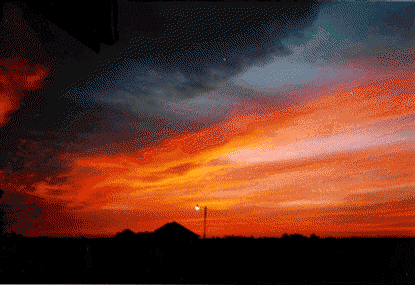 Return to the Farm.