William M. Pezzaglia Jr., Ph.D.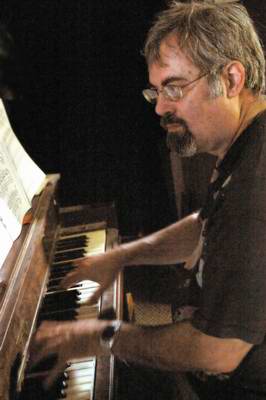 Alias "Dr. Bill"
Pezzaglia Consulting Inc.
Phone: 650-430-0342
Email: billium@well.com or drbill@Clifford.org
---
---
Hobbies (MUSIC)
| | |
| --- | --- |
| Lots of music in my life, I play ragtime piano, and further annoy my folk-musician friends by insisting they let me sit in on their sets with Tuba, Clarinet and Trombone. When I'm not grading papers or working on theoretical physics I sometimes perform at the Open Mic, Thursday Nights at the Bazaar Cafe. | |
---
Teaching Activities
Currently I rotate between three institutions, Santa Clara University, CSU East Bay and the Las Positas College. I teach Astronomy, Physics, and Musical Acoustics. For more details on my current schedule of classes and web pages at these schools, take at look at my main "teaching" page at: http://www.clifford.org/~drbill
---
Research and Consulting Activities
Research Activities: Applications of Hypercomplex Numbers and Geometric (Clifford) algebras in physical theories. Basically I can solve problems that no one else can because the algebra allows me to add a vector (line) to a plane. Recent work involves spinning particles in gravitational fields. See research page at: http://www.clifford.org/~wpezzag
Director of: The International Clifford Algebra Society: Abstracts, Preprints, Book reviews, Conference Announcements for Applications of Clifford algebras (including quaternions and octonions) in physical theories.
Consulting Activities: Analysis and modeling of the stock market. Top secret right now.
---
Family, History
On my mother's side, its all Bostonian english/irish. Mom's great grandmother was apparently stolen by gypsies when she was 5, but returned shortly thereafter, because her mother was a Lady in waiting in queen Victoria's court, and her father the Sheriff of London. However, she married a commoner and so was disowned by her father (so said my 96 year old great aunt Lil). On my father's side, his maternal grandfather came by covered wagon from Calgary, Canada and homesteaded near Rio Vista, California (where a few years ago Humphrey the whale got stuck). His paternal grandfather (and father, the "Pezzaglia" name) immigrated from southern Switzerland. My birthday is the same day that the Hindenburg blew up, Brahms was born, the Lusitania sank and in 1840 the russian composer Pyotr TCHAIKOVSKY was born.
---
Updated 2010Mar30