Two Weeks in Bali!

When Mother said that she would pay for a vacation for us, Francesca chose Bali. Neither of us had been that far from home before or south of the equator. Plus, it's pretty romantic! So Bali it was to be. We finally decided on dates in early May to avoid the crowds vacationing from Australia and Europe and to not be in the rainy season. We would have made choices based on temperature too, but it is so close to the equator that they have the same temperatures year round, hot. (88F degrees that first day in Ubud.) We had a great time; we did a lot of planning, and some of that helped, but as it happens not that much can go wrong, with some basic preparation. The Balinese are very helpful and a big percentage of them speak English, so it is very easy to deal with things that come up, not that we had any problems.

Ahead of time, I found good flights on Travelocity with China Air, whose hub is Taipei. We paid about $1,000 each including travel insurance from Travelocity on flights leaving from Seattle, changing in Taipei and going to Denpasar, or thereabouts. That's 13 hours to Taipei, a 4 hr layover, and then a 5 hour flight to Denpasar. It's a very long uncomfortable flight, but at least China Air flies Airbuses 330 and they have lots of entertainment available via the screens on the back of the seats in front of you, like lots of first run movies, and their food is good.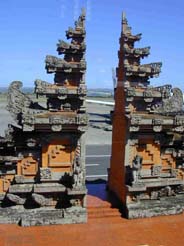 Gates at the Airport

We got into Bali about 2:30 PM and stood in line for immigration to get the visa, et al, for 30 minutes or so with the hundreds of Chinese who had come in on the plane from Taipei. Turns out it is a favorite vacation destination for them too, partly because the food and lodging can be quite cheap if need be. Our driver was waiting for us outside the airport with a sign with our names on it. His name was Wayan, which is the name all first born boys get. His family craft is woodcarving, masks to order using the wood from the hibiscus or the crocodile tree, which has a bark like a crocodile skin and a very white wood. The hibiscus wood is greenish. The drive up to Ubud is through the city at first then the small towns. Traffic seemed pretty bad to us, but he said that it was not particularly heavy. The style of driving is fairly crazy and I was glad I hadn't been tempted to rent anything to venture onto the roads with. There are a lot of small cars and vans on the roads, but more scooters and motorbikes. No such thing as single file, the smaller vehicles are weaving in and out on all sides of the larger ones, mostly all going in the same direction on one side of the street, but not always. Honking is customary to announce yourself to any other vehicle in addition to making a point, as might be required.

To choose our hotels and plan the trip, I used the Lonely Planet guidebook to Bali, mostly, but factored in a couple of others also, in addition to using the web and the forums that are on the Fodors site and others. Even though the Lonely Planet guide is a little old it is still the best. Just expect some changes, like hotels that aren't there any longer, and not enough detail in some cases. The forums are interesting, but the information on them wasn't that useful for us. I suspect it would be fine for some people.

We had been to China in 1999, and had had a full range of inoculations for that trip which were still current, so even though we looked into possibly needing more for Bali, we ended up with just what we already had. If I went back, I'd probably get some more. We already had Diphtheria and Tetanus, Hep A, and Polio. I think I'd get Hep B and maybe a malaria if we did it again. It wasn't that easy to get good information, we found. Possibly the clinics on Bali would be better sources. We should have started looking at this earlier, at least a month before leaving. We also took all the medicine, like imodium, that we had left over from our other trips. As it happened we did both get mild cases of Bali Belly, and the imodium took care of it. Someone recommended charcoal tablet, but we couldn't find any there when we looked. We also took good quality mosquito repellent and sun screen. As it happened there were very few mosquitoes in any of the locations we were at. There were a few, and the advice I heard about malaria was to not get bitten, so we used the repellent when they showed up and in Yeh Sanih we burned mosquito coils like stuff at night and slept under a net, probably overdoing it, but that's what the hotel people recommended. We were bitten once. To us it seemed that whatever kind of mosquito control they are using on Bali is working, at least for this time of year.

Because Kuta has such a reputation for tourism, et al, we decided to bypass the south coast beaches to start with and head for the interior, Ubud. That was a good idea. Ubud is still a tourist mecca, but it is not as offensive as the south coast and there is lots of authenticity about the small city, even with the wall to wall tourist shops. It still has the feel of a Balinese town or village. The south coast is pretty metropolitan and there is none of the village there to speak of. Fine if all you want to do is lay around on the great beaches and visit with tourists at the pubs, but not much culture. So our plan was to spend some time in Ubud, then go to the north coast for our beach experience, and then head back to the south for a few days to prepare for our flight home and do some final shopping. Our guidebooks said that Sanur was a good shopping area. The plan worked pretty well, in general. I'd make a few changes now, with the benefit of hindsight, like staying at least a week in Ubud, but the general idea is still good.

Ubud has lots of places to stay, but they are not all that close in to the center of the city. Our first choice turned out to be closed, even after we had a confirmed reservation, which was a little annoying, but we found substitutes fairly easily, albeit last minute. We did everything via the web. From the guide book, I chose hotels that were midrange in price, which for Bali is $50 - $60 US$. The other factors are: the location of the hotel, hot water, pool or not, air conditioning and breakfast. Most hotels will arrange to pick you up from the airport regardless of where you are staying on the island. As it happened, we stayed in the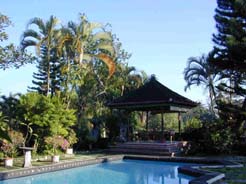 Oka Wati Hotel Pool and Eating Pavilion

Oka Wati, without knowing a lot about it. It turned out to be quite nice and I think we would stay there again. It could be a little noisy as the walls were not insulated. The staff was very nice and helpful. It didn't have air conditioning, but it did have fans, and we were perfectly comfortable there, in our rooms with the fans on, and the night breezes. Like many of the hotels in Bali that we saw, they are divided up into a few small at most two story buildings. Our building had three nice rooms upstairs and maybe three downstairs. And then there were a couple more buildings making up the hotel, with a restaurant in one corner of the compound and the pool in the middle surrounded by tropical plantings of orchids, hibiscus, banana trees, palms, and frangipani trees. It's not on one of the main roads, but a paved path off of Monkey Forest road, so we had to walk the last bit into our hotel from the road, passed one rice field, turn right into another path, go by a walled in family compound typical throughout Bali, and a field of banana trees to come up to the stylized gates, like all the entrances in Bali, of the hotel. The hotel compound is also walled in and over the wall from our second floor verandah we looked out on another rice field, with rice in various stages of development. The fields attracted a constant flock of tiny birds, and the various and sundry other things attracted other birds all day. They were especially vocal at dawn and we loved listening to them. There were many more birds in Ubud than elsewhere. There is one bird in particular that has a call like a bamboo gamelon, quite beautiful. Point of advice, if you are interested in the flora and fauna put together some kind of list from the web before you go. The guidebooks are pretty thin on it and we didn't find any books we thought were any good on it while we were there, but there are plenty of small bookstores with books in English.

Our hotel, the Oki Wati, had beautiful stone carvings around the doors and on the walls of the rooms. And the doors were wonderfully and intricately carved and painted. Besides hotels like ours, there are "homestays", where a family is taking in lodgers, and lower cost hotels without hot water and a pool. Hot water is nice to have. We showered several times a day, just to wash off the sweat if nothing else. And we used the pool to cool down after a good mornings walk around town. More expensive hotels in Ubud ... can't say what exactly they had to offer as we didn't stay in them! But there are several and they probably are fun.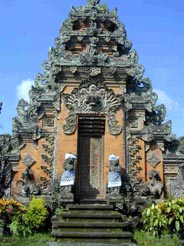 Gates in Ubud

Ubud is a busy little place with lots for the visitor to do. Start at the tourist center at the main corner of town and get a list of all the dances to be given in the area that week. There is a different dance being put on almost every night in about 4 or 5 venues, all pretty close to downtown. They last from about 7 to 9 PM and cost, say, 50,000 rupiah($6-7). Some dances have gamelon accompaniment, some don't. I was particularly interested in hearing as much gamelon as possible, and Ubud has several good groups. Our hotel was close enough to the center of town that we could hear the gamelon from our room, which was a nice detail. It was also close enough so that we walked everywhere we wanted to go.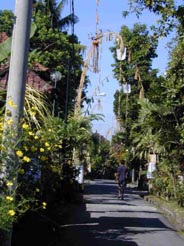 We didn't take many excursions, which in retrospect we probably should have. The island is small enough so that from a central location like Ubud, you can get anywhere and back in a day, so trips to special temples, or villages, or spectacular scenery can be had easily. Plan to spend a couple of days, 2 or 3 doing that from Ubud. We had a driver drive us to a big temple ceremony in kalung kula. This was mainly attended by locals so was very interesting. You start out by walking to the temple past rows of booths selling food and toys for kids and temple offering material. The people still dress traditionally to go to the temple; sarongs for men and women, head scarf for men, and temple sashes. The women carry the offerings on their head and these consist of flowers, rice and money. While we were the only tourists there, the Balinese seemed very welcoming.

While we waited to be admitted to the ceremony a gamelon played in the entry court and then everyone was funneled through the tiny entry doors. The Balinese all sat on the ground; we sat on a short wall, it appeared to be quite hot even for them especially if you did not get a seat in the shade. Then we went a slightly different route back; there were truckloads - literally, of people traveling in the back of trucks arriving for the next round of blessings from all over the island. On the way back the driver took us through the back country roads and showed us the rice paddies and the temples in every rice growing area. He took us to a shop where a man was doing very intricate traditional paintings on canvas - there are lots of very bad paintings around Bali but these were very beautiful. We also visited a wood carving shop - it is amazing to see; like china; that all the work is done by hand yet they produce the same design time and again.

The tourist center can arrange all that for you. And on the way to anywhere you will be passing through fascinating villages with celebrations going on, because every day seems to be a holiday of some kind in Bali, and great scenery.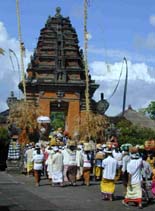 Temple Celebration

We just happened to arrive the day after Galungan, which is a major half year festival celebrated for 10 days all over the island with decorations on the gateways to the compounds and roving bands of kids dressed up as lions (Barongs). Breakfast was included in all three of the hotels we stayed at. First thing in the morning, they bring you a small pint pitcher of Bali coffee, strong, unfiltered and delicious. Best coffee I have ever had. Then they bring breakfast, which might be banana pancakes, or eggs on toast, with fruit and yogurt.
Ubud is full of shops selling all manor of crafts, carvings and sarongs. Although our guide books had said that Sanur was good for shopping, Ubud had the best shopping of all the places we went. It takes a little while to find the shops with the better prices and better merchandise; they are usually not at the art market. We went down to the post office to get stamps to send letters and postcards (10,000 rupiah to the US - about a dollar.) and afterwards stumbled on a shop with all the guys busily painting masks and puppets. We looked over to see what they were doing and were invited in right away in the typical friendly Balinese way. Their work was really splendid and we bought a couple of masks and a puppet from them (425,000 rupiah). We wouldn't have found the shop if we hadn't been just wandering around, but most of the side streets seemed to have stuff worthwhile to look at. The mask people invited us over for dinner at the end of a festival, but we were to be gone by then. We knew that we would need sarongs and, for men, a hat to get into the temples so, back on the main road through town, we shopped for those too. (3 sarongs and a hat for 135,000.) And because all the short sleeved shirts I had brought, except one, were too heavy and hot, I bought a light white one more in the Balinese style (45,000), and wore that practically every day for the rest of the trip.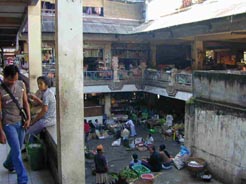 The central market in Ubud is great. From early in the morning to about 9 AM it is a market for the Balinese, at 9 it switches to a tourist market, at least that is what they told us. We got there before 9 and it was still pretty touristy. But it also had all the food and stuff for the regular person. And it was huge, several levels with labyrinth passage ways with hundreds of small stands and shops. We never tired of just walking through looking at everything. Everyone was friendly and didn't seem to mind our gawking. We bought exotic fruit we never had eaten, like mangosteens and passion fruit. Not brave enough for the durian.

We also went to the monkey forest a little preserve with temples and monkeys. Monkeys seem to be isolated to certain areas of Bali as so much of the land is under cultivation, we did not see any of the indigenous wildlife. It is amazing to see the rice terraces, even on the steep hills and the volcanoes.

We had a little trouble with the currency, because, for one thing, there are 8,700 odd rupiah to the dollar and most of the denominations are in bills. Hard to keep all those zeros straight. Point of advice- make up a card ahead of time with the conversions on it of the most likely amounts, 50 cents, dollar, five dollars, ten , etc. It's a lot easier to just pull the card from your pocket and make an estimate than it is to dig out the calculator, we took two, and figure out how much something costs. We used ATM's mostly to get cash in rupiah. Had no problem in Ubud. But we had been warned that when we went to Yeh Sanih in the north, there would be no ATM's and we should have cash ahead of time for that. So we had brought $1,000 in travelers checks and got that changed the day we left for the north. Transactions like that can take a little doing. We first ask at the tourist center where to change traveler's checks, then found that that recommendation wasn't opening any time soon, and only after a bit of looking found a bank that would handle our conversion- but just as well as it is more private when dealing with millions of rupiah. Two myths that were untrue - one that there are no atm's in Ubud. There are many. Two - that the amount you can withdraw from ATM's is limited to, like, $40. I'm not sure what the actual upper limit was, I just got $100 worth as needed and that worked fine. ($100 US$ is over a million rupiah!- Millionaires for a day!)

You have to bargain in Bali, with few exceptions, there are no fixed prices except in restaurants and the like. You ask what something costs, they tell you, then if you are interested in buying the thing, you make a counter offer that seems reasonable for you. Then they make a counter offer to that, etc. (If you make a counter offer you are supposed to end up buying it.) Sometimes if you take too long to make a counter offer, they will make one for you. If you still take too long, they might make another offer and do all the work themselves to bring the price down to something satisfactory. They also want to make you believe that if they sell you something it will be good luck for them, so obviously you want to buy something. In general, in Ubud, the sales wasn't to aggressive and they backed off if you just said no. In the south where tourism is more entrenched, they go to greater lengths to rope you into buying something and it can get a bit more unpleasant on occasion. On the other hand, even in Sanur, you will often be buying from a craftsperson who is working on the material in the shop while you are looking. And the purchase can be a grateful appreciation of their work.

After the bombing in Kuta, there has been a radical drop off in tourists to Bali. So their economy is suffering right now. Some stores and hotels are closing, and the various activities that had been available to tourists may not be available now, or at least not until there are more tourists to support them. Not as many dances or gamelon performances, for instance. We saw that more in other places than Ubud. As far as tourists are concerned, we found lots of Australians, lots of Germans and Swedish, some French and some Americans. I noted that the Australian government had issued a travel advisory for Bali, but when I checked, there had been nothing from the US State Dept. When I mentioned this to the Australians we met, they said that the government of Australia had been burned by not issuing an advisory before the bombing when they might (should) have, so they are being more careful to cover their .. es these days. The Balinese have taken the bombings to heart, as possibly an indication that they had done something wrong. The Balinese are mostly Hindu of local flavor and honor many gods and spirits. They put out offerings every day in little woven banana leaf boxes in front of their buildings and religious monuments.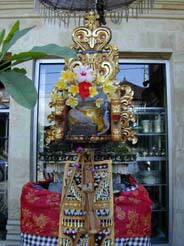 These offerings are rice and flowers and other food with incense that they are fixing for themselves that day.

An Offering Station outside a store on the Main Street in Ubud

We spent 5 days in Ubud and then got a driver to take us to Yeh Sanih which is on the north coast. We had made reservations at Ciliks Beach Garden, a place that seemed quiet with it's own black sand beach, slightly more than midrange price wise, but quite affordable from our US perspective. The drive over the mountains from Ubud was great and takes less than 4 hours, even with a stop at the spice gardens where we got to visit a coffee and cocoa plantation, with vanilla bean vines in-between. Bali has a central range of volcanoes you have to go over to get anywhere. The highest ones are about 10,000 feet. There are two principle roads across the mountains north south We went on both of them and they are both great excursions.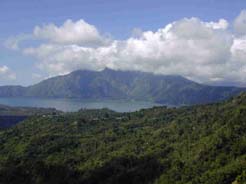 Lake Batur



This one goes by Lake Batur, which is a lake in the crater of the volcano. This unfortunately is an area with really aggressive hawkers. We had a hard time convincing our drivers to go the other route back for some reason this is the preferred road to the Balinese. The route goes through the mountains which are much cooler and therefor can grow coffee, citrus and cacao instead of rice. Cocoa is not native to Bali so you do not see Balinese Chocolates offered. There is a bone carving village on the way up that looked fascinating but we did not stop. Each village has it's own special craft it produces or specializes in.

Yeh Sanih turned out to be very quiet, not even a large village, and we were the only guests at Cilik's. There was almost no culture on display here, but the view over the sea, the sunrises,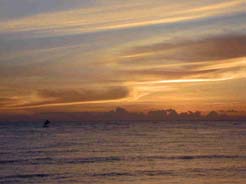 Sunrise at Cilik's with Fishing Boat



and the food was spectacular. There was no pool, but there was a small air conditioner, and instead of a pool, we went swimming in the sea several times a day. The water was warm, there were no currents and it was relatively shallow, but deep enough to swim and body surf. A little ways off shore, there were reefs and good diving and snorkeling, if we had wanted to. As it was, we laid around all day, took short walks, read, swam and ate. Cilik's wife did the cooking and it was the best we had for the whole trip. Lots of fresh fish, even though the Balinese don't eat a lot of fish traditionally. (Balinese tradition says that the sea is bad, the mountains are good., which may not be too surprising when you see the traditional boats) We gave them our dinner choices at breakfast so that they could go shop for what they needed. Pretty fresh. We stayed there for three days, which was about right. Good for relaxing and laying about in the sun. Interestingly, their clients are more often German.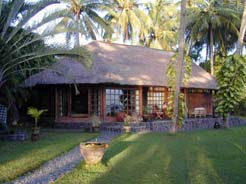 Our villa was spectacular. Beautiful Balinese architecture, big tiled living/bedroom with a glass wall looking out to the sea 50 feet away, small extra room, beautiful bathroom, and outside eating pavilion. Very private. All the meals for three days came to $60 US$.

On the way back down south to Sanur, we went on the other main road over the mountains and stopped off at the Botanical Gardens, located in an old caldera. One of the most beautiful places we saw in Bali, not the Botanical Gardens per se which was good and very large grounds, but that general area with it's small lake and myriad gardens located in the rich decomposing volcanic soil. It's also quite a bit cooler up there, so we were more comfortable anyway.

Our hotel in Sanur, the Peneeda View Hotel at $60/night with breakfast, had one foot on the main road in that area and one foot on the beach, with three pools in between that we took full advantage of. It is a very nice hotel with a couple of different types of rooms. Ours was a villa, a separate building in it's own walled enclosure, others were more duplex like, still nice, without the walls. Powerful air conditioner, we set it at 72 when we got there (to be like home) and it still felt like we walked into a refrigerator when we came in from outside. I think we did well to not have had that to start with.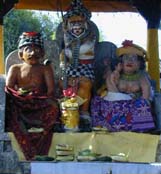 Religious Icons in Sanur

Most of the guests at this hotel, and it wasn't crowded, were middle aged adults from Northern Europe. There were some Australians. We enjoyed our stay there. Turns out the better stretch of beach is slightly, maybe a kilometer, to the north, but we didn't end up spending much time on the beach. Sanur wasn't as interesting a place to shop as Ubud, but there were some good shops and a cross between a department store and a mall where the 3 story building was divided into areas belonging to different shops from different places, Hardy's Grosir. And we found a couple of good restaurants, which for some reason was more difficult in Ubud.

Our flight left at 3:30 PM and it took us about 30 minutes to get to the airport from Sanur. So we had a comfortable morning to pick up the things we had ordered at the tailors and pick up some take out before we had to leave. We had no problems checking in or with security at the airport. I had confirmed our flights with the airlines office in Denpasar a few days previously by phone from the hotel. You don't actually have to go in person, as one guide book indicated, thank goodness. So we had a couple of hours to wander around the plethora of shops at the airport. They had about everything, at twice the price. Turned out our driver to the airport was from a small village near Ubud and was a woodcarver in real life.

Clothes: Regardless of warnings, I took too much. What I should have taken is: one pair of shorts, one pair of light long pants (plus wearing one), one light short sleeved shirt (plus wearing one), maybe one T-shirt, a bathing suit , a pair of water shoes and wearing sandals. Bali is surrounded by coral reefs which can be sharp both on the beach and under water. So we wore water shoes that you would wear kayaking, for instance. Shorts are not worn that often by the Balinese and are a little disrespectful except in the tourist areas of the south. So we only wore them in our rooms, while we were practically alone at Ciliks and the few days we were in the south. We took two regular sized suitcases which were half empty, but we still had to buy an additional bag by the time we left for all the junk we bought ( to support Bali, of course. )

Food: Balinese cooking is a little like Thai, lots of rice and spices. The second day we were there, we went for a morning cooking class at Casa Luna, booked ahead on the internet, where we learned about Balinese spices and how to make Nasa Goring, Satay, and Gado-gado, dishes you will find everywhere on the island. Of the other people taking that class, 6 were Australians, 3 were Austrians, an 1 was an American. The class was a lot of fun and of course we got to eat what we made. Casa Luna is also a hotel and a restaurant where we ate a good dinner later (203,000). But in general, it was not that easy to find good restaurants in Ubud. The best was Murni's where we had a great dinner for 221,000 rupiah. Other places, even given good reviews in the guidebooks, were not great. In Sanur, we found several good restaurants. A chinese not too far from the hotel had a nice lotus pool and a small gamelon group. Down the street a little ways was one of our favorite places, the Cafe Batujimbar where we ate a couple of times and got take out to have for lunch at the airport while we waited to board our plane. Perfectly good food and hang-out for ex-pats, it looked like. The Lotus Pond in Sanur is also good- we should have tried the one in Ubud as it did have avery beautiful lotus pond with a temple beyond.

What we do differently next time is to spend more time in Ubud, at least a week, and go on more excursions from there. Two or three days on the beach in the north is good idea, but maybe in
where there is a little more going on. And it is nice to be closer to the airport when it comes time to leave, but Sanur, at least, only needs 2 days, unless you are taking some time to go into Denpasar to the museums. Less than two weeks total, I can't imagine.