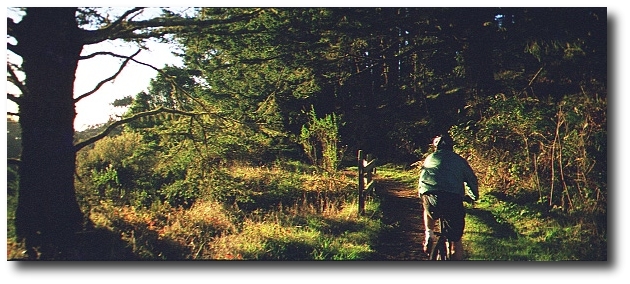 Tips for Novice Mountain Bicyclists
Introduction
Below is a list of tips for novice mountain bicyclists suggested by the members of the WeLL's Bicycling Conference.
If you have a tip you would like to add, please send me mail.
NOTE: The tips provided here are suggestions only; the author accepts no responsibility for mishaps resulting from following the suggestions provided. Mountain bicycling is an activity with inherent physical risks.
Have Fun!
Wear your helmet. Wear your helmet. Wear your helmet.
Don't try to climb steep trails out of the saddle because your rear wheel will slip. This is especially true if the trail is covered in loose material such as gravel or small stones.
Tempting though it may be at times, DON'T SKID. Be kind to the trail. Skidding and otherwise riding in a non-low-impact way promotes accelerated erosion and other problems.
Always observe the rules of trail usage. Always observe the right-of-way rules: Bikes yield to hikers. Bikes and hikers yield to horses.
Feather your rear brake for control in low-speed super-sharp turns (e.g. jackknife switchbacks on steep-terrain trails).
Keep your weight centered in relation to pitch. Ride way back when going down steep downhills. Scoot up on the saddle when climbing.
Two tricks for taking on the truly steep descent:

Drop your saddle all the way to the frame. (Those quick-release seatpost brackets are handy, no?)
If it's really bad and you're breaking out in a cold sweat just contemplating riding down, then "tripod". That is, ride down the hill normally (and slowly), but keep one foot out of the pedal and "walk" along with it. This takes a little practice, but once you get the hang of it, you'll be able to semi-cheat your way down hills you were terrified of before.

Sudden dropoffs... If you're happily riding along and find yourself facing a significant dropoff that you can't avoid, be sure to pull back on the bars just before your front wheel gets airborne. What you're trying to avoid is diving straight down; having your rear and front wheels land around the same time will make the landing easier to manage. (When I say significant here, I mean, of course, say a foot or two. I wouldn't know where to begin advising how to take on a truly large dropoff and if you're looking for tips on this page, you shouldn't be trying one! ;-)
For people who live in cold climates, a great excercise and skill developer is mountain biking on a lake that has snow on it. (When the ice is thick, of course.) Stay reasonably close to shore and away from stream inlets. You will fall often, but the snow on the ice will cushion you. The balance and road feel you will develop will really help.
Try not to go faster than your ability.
Shift into the proper gear before starting a tricky climb.
Keep your arms and shoulders relaxed to better absorb bumps and shocks. Don't lock your elbows. Stay loose at all times.
On a bumpy downhill, stand up so your legs help absorb the shocks. (Don't forget to bend your knees slightly!)
Different advice on braking:

Try to stay off the front brakes in turns.
When going downhill, your front brakes will have more stopping power than the rear brakes, since most of your weight will be on your front wheel.
Braking should always be balanced between front and rear. Nothing wrong with braking in a downhill turn other than it might affect the line you're taking. Better to pick your line before you enter the turn and use your brakes if necessary to stay on it. Once you've begun the turn, start focusing on the exit and beyond. Don't watch your front wheel.
Actually, you shouldn't brake at all in a sharp turn. Brake before the turn, then let go and carve the turn. The classic rookie mistake is to think they are going too fast in the turn, panic, lock up the brakes and then crash. If they don't crash the braking will at least straighten them up and they'll find themselves in the oncoming lane.

Look well ahead of where you are/look where you want to go. If you look at where you don't want to go, you tend to end up there.

The classic example of this principle is the case of trying to avoid a rut that is running parallel to your line of travel. If you stare at the rut, eventually you'll end up in it and crash. Don't look where you don't want to go.

Practicing looking ahead of you (maybe 5-10 feet) will help you develop critical anticipation skills not unlike those developed by alpine skiers or snowboarders.

Hang on and don't panic. The bike can take stuff you wouldn't believe sometimes if you get in a weird patch.

There will be times when you have to let the bike do it's stuff and go rather than try to fight the circumstances.

The best suspension is your body. When things get rough, get your butt off the seat, bend your knees and elbows and relax.

Off-road obstacles can be very intimidating to first time riders. It's a good idea to practice rolling and jumping over obstacles in a parking lot or open flat area, before you ride any trails. This will give you a good idea of how your bike will feel and react to obstacles. Going too slow over obstacles can stop you dead in your tracks. Make sure you have enough speed to get over the obstacle. But not too fast as to lose control of your bike.
Using your feet--getting off your bike and handling your bike -- is part of road riding fun: just not being concerned with staying up and on.
Treat hikers with respect. Dismount when necessary, and always announce your presence if you plan on riding past with a simple "On your left, please!" Personally speaking, I'll almost always dismount unless the hikers have already spotted me and have moved to the side of the path/track. It'll go a long way toward keeping relations b/w bicyclists and hikers civil.
When passing horses, slow down and do not startle the horses. If the horse is agitated, do not pass until the rider has the horse calmed.
Announce that you're about to pass, when you encounter a hiker. Opinions vary on the best way to make your presence known. You can try "On your left!" or "On your right!". Some folks like, "Head up!" You can also use a bell to get folks' attention without startling them.
Drink lots of water! Before, during, and after. If you feel thirsty, it's too late! On hot days, hydrate with lots of water before you ride. At least a quart. And if you can, drink lots of water the evening before you ride too.
---