Alien Time Ensemble
Alien Time Ensemble unleashed an ecstatic brand of rough jazz in 1994, a sound ranging from acoustic to electronic, blending elements of hard bop, modal and free styles with the mysterioso edge of Sun Ra. The group strives for a shimmering, spontaneous surface, with the interaction and intensity that drew them to creative music. Even when performing standards - Coltrane, Ellington, Horace Silver - the band draws on world trance traditions, minimalism, and other 20th century concert musics.
While heavy on improvisation the group has an informal "book" of composition/ improv vehicles developed over the years.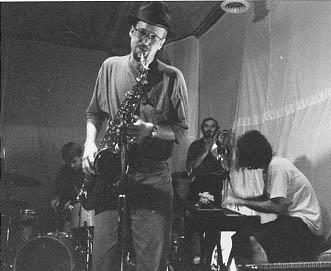 In its current incarnation, ensemble members are David DeMaris (piano, trumpet, electronics, guitar), Stephen Bidwell (drums, percussion), Mike Matthews (tenor sax), Content Love Knowles (vocals, bass keyboards). Venues including Flipnotics, Flamingo Cantina, Electric Lounge, Mercury Lounge, and Movements Gallery featured Alien Time Ensemble over the years, and the group was awarded slots in SXSW and Austin Jazz and Arts Festival.
Curious about that name ?
on the Strange Vibrations Label

Calendar

9/25/2007 9:30 PM Salvage Vanguard Theater 2803 Manor Rd Austin

Contact : David DeMaris 512.495.9018 demarisATwell.com