Constructing K224CQ, Anahola, Kaua'i, Hawai'i
BESBD, Inc. completed construction of this translator in June of 2005.

          K227CQ is a full-power (250 watt) translator for KAQA in Kilauea, on the north shore of Kaua'i. The topography of the island makes FM propagation an engineering challenge. The area around Anahola and the Moloa'a Valley are in a signal shadow from most of the Island broadcasters. The Kaua'i Civil Defense Agency, along with property owner Mike Strong, assisted KKCR in developing this translator site, in an effort to keep the public fully informed in the event of a natural disaster, such as a Tsunami or a hurricane. The Moloa'a valley in particular has only one warning siren, and the addition of a strong local radio signal will help to fully inform the public in case of a situation requriing a civil defense warning.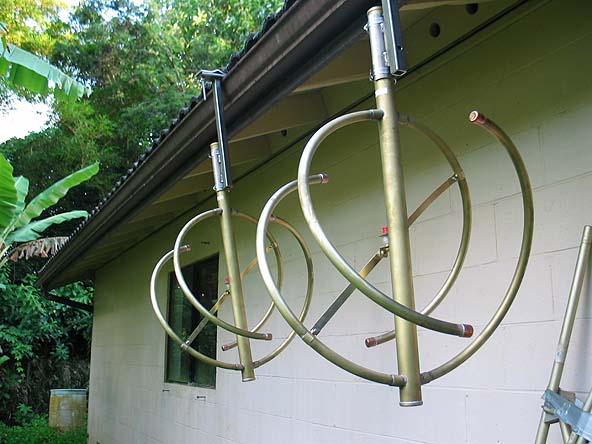 The FM antennas, fresh out of the crate. A couple of days in the tropical air will turn the marine brass to brown/green.These antennas were supplied by Armstrong Transmitters, located near Syracuse, New York. They were chosen because they hold up very well in this tropical environment.
---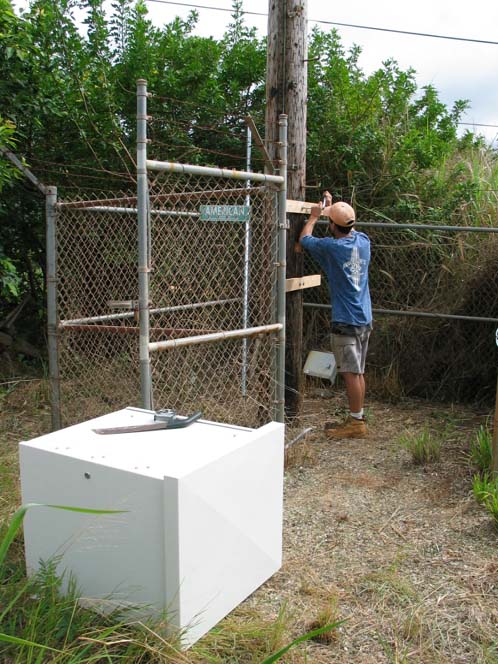 Dean Rogers prepares the mounting for the Kintronics equipment enclosure that will hold the translator equipment.
---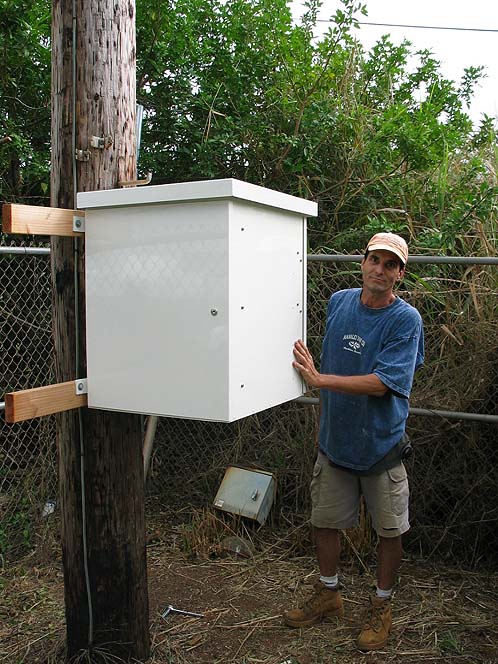 The equipment enclosure is up, and ready for everything else.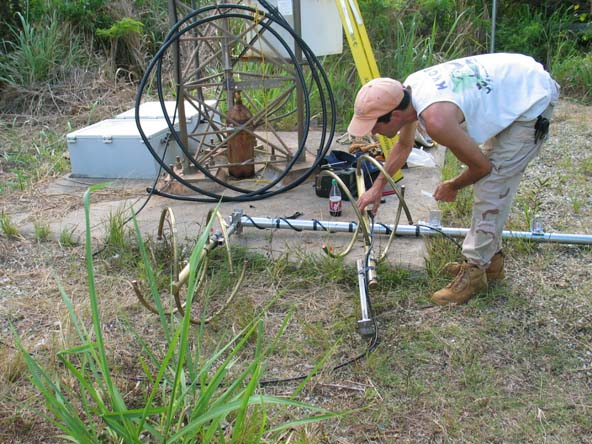 Preparing to hoist the first antenna
---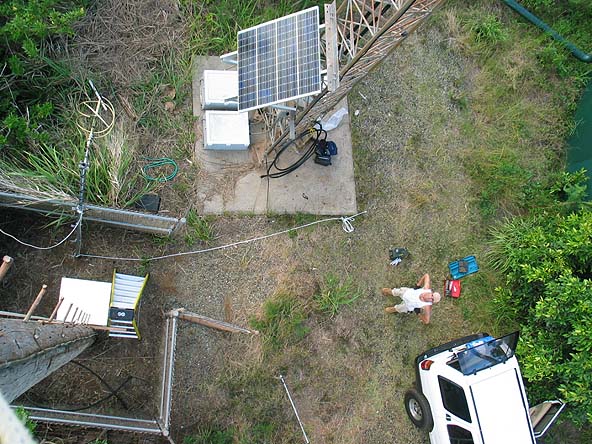 Preparing to hoist up the first antenna
---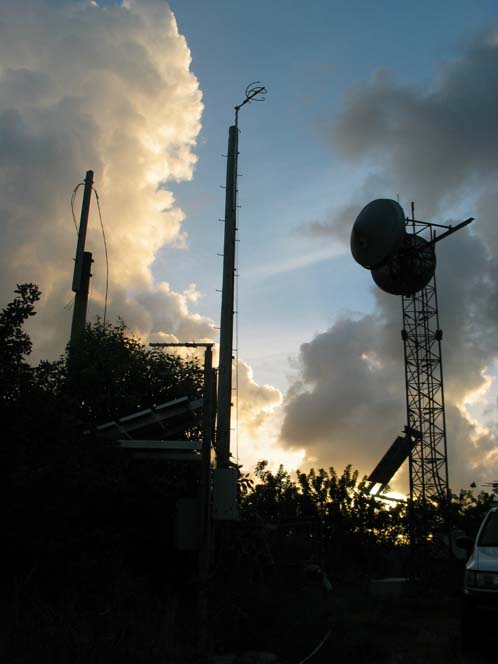 One bay up at sunset
---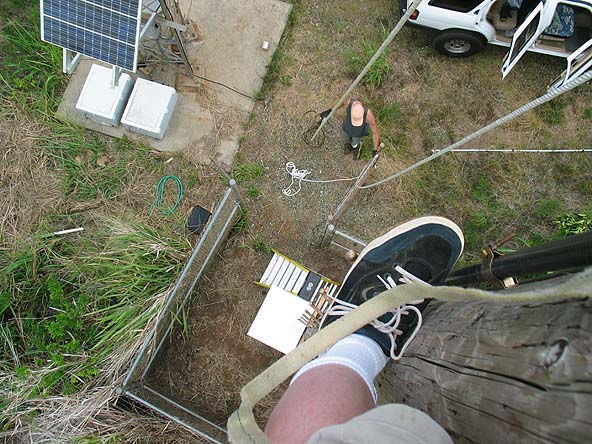 The next morning, time to finish hanging the antenna system.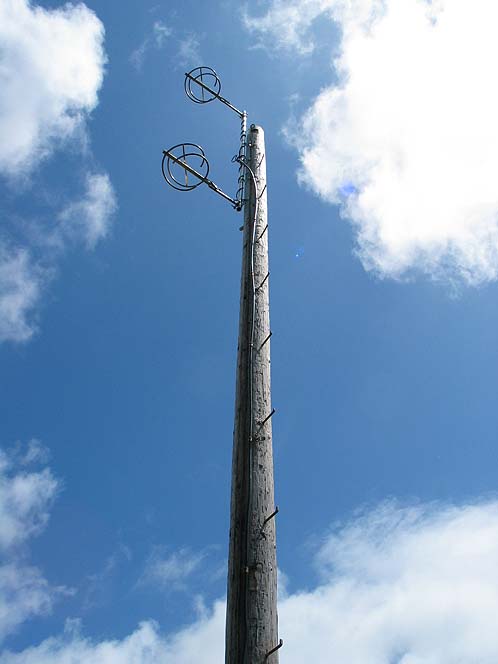 Both antenna bays are now installed.
---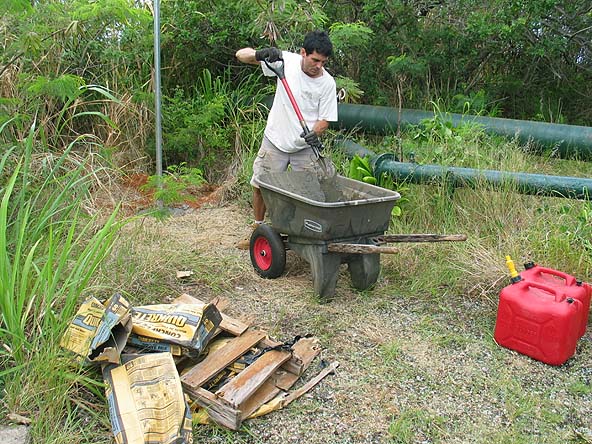 Setting the concrete for the receive antenna support pole.
The gas cans hold water, despite the name of this place (Puu AuAu)
which, in Hawaiian, roughly translates to "bathing hill", or "hill with water".
It is dry and arid at this location, however. But there is a water tank there,
installed in 1931. Perhaps this is what is meant by the designation.
---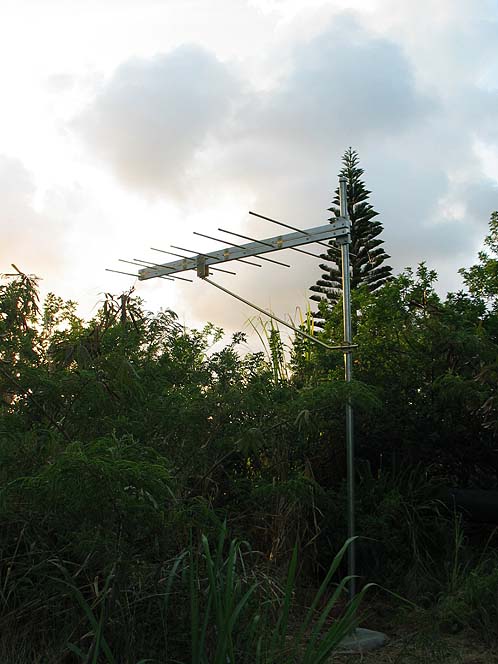 The Scala Log Periodic receive antenna is now installed.
---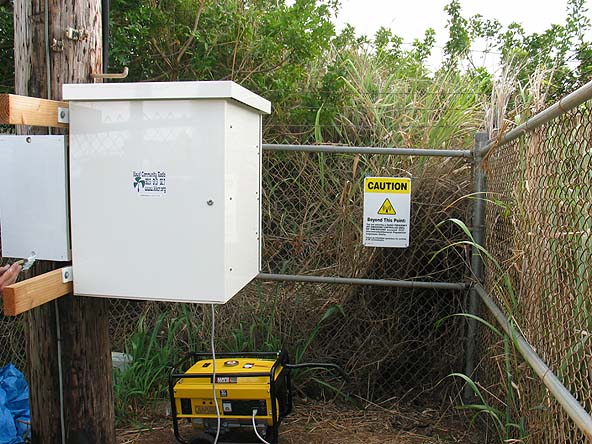 Finishing up, ready for the KIUC (Power Company) to come place the electric meter base.
Meanwhile, we have a generator hooked up to test the operation.
---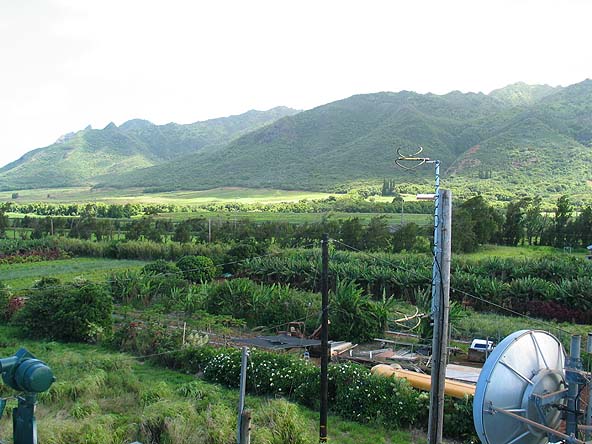 Looking towards Anahola from the top of the water tank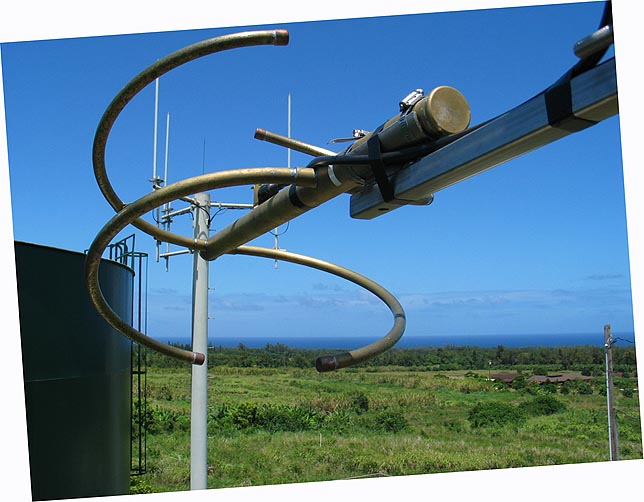 The top antenna bay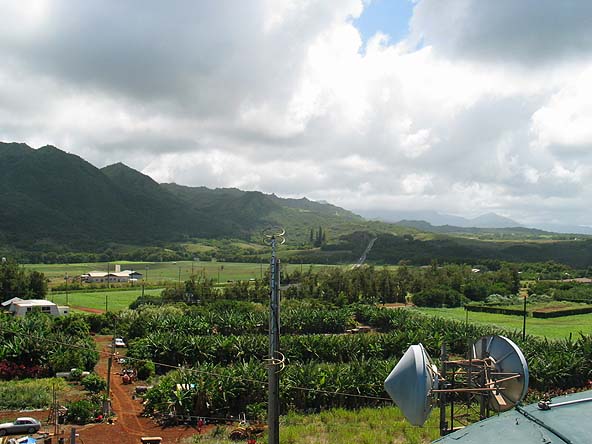 And looking west towards Kilauea.
The translator installation is complete.
---
Return to the "look" page
---
For more information about Broadcast Engineering Services of Bonny Doon, call or e-mail today!


Back to the BESBD Services Page
© 2005 Broadcast Engineering Services of Bonny Doon