KISL Radio
Avalon, Catalina Island
Antenna Installation, July, 2000:

KISL is now on the air from a hill above the town of Avalon and the Avalon Harbor. These pictures are from a video tape made while installation was proceeding.
It was a hot July 5th when I took the one-hour trip by jet boat to Catalina Island with installation gear and Ken Horton as my able assistant. We were met by David Markowitz and Ron Thompson (of KLON), and proceeded up on the hill.
---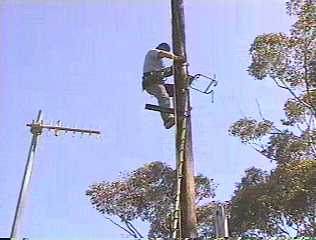 This is the view of the new
Shively 6812-2 antenna
going up on the pole.
One bay at a time.
The pole is 30 feet tall.

---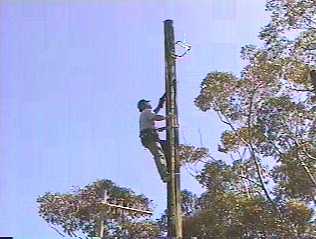 Here we are, drilling holes and securing
the mounting bracket at 25 ft. above ground.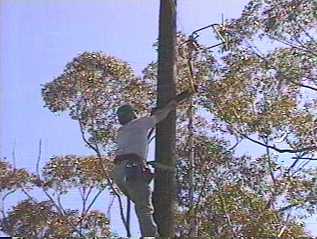 ---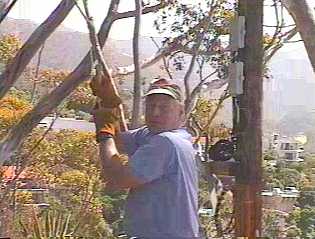 Ken Horton pulling his share of the weight..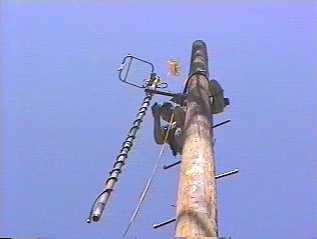 The mounting pole and one bay now secure and in place.
---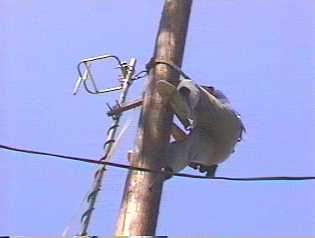 I hate this kind of photo, but this does demonstrate how uncomfortable it can be working up high without a net.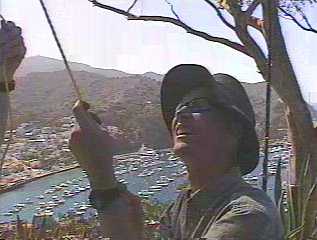 Ron appears to be enjoying the view, but's it's hard to tell for sure..
---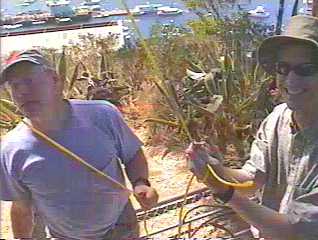 The fine art of rope pulling, deep in discussion.
---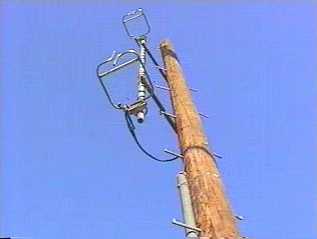 The antenna, installed.
Fairly simple, but effective.
---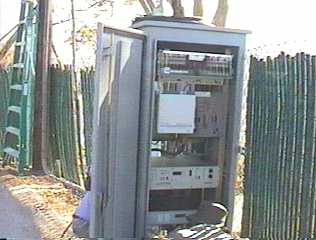 The KISL transmitter cabinet. It's a Crown 300 watt, with a Burk remote control.

---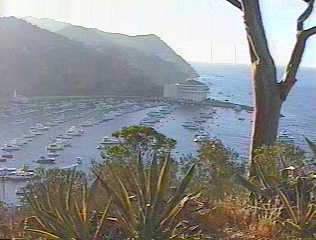 The view from the tower site is splendid.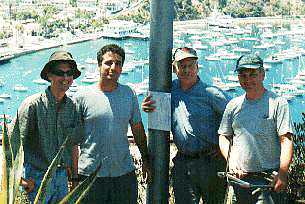 Here we all are!

---
KISL operates at 88.7 Mhz with 200 watts ERP. It covers the city of Avalon quite well, and can be heard 26 miles away along the coastline and also in the mountains of Southern California as well. My forth island station! (The others are KKCR, WCAI and WNAN).
---
Return to the "look" page

© 2002 Broadcast Engineering Services of Bonny Doon