KUSP History Corner:
NPR makes an offer, and we start to bring KUSP to places that have no Radio at all!
1980 to 1983
KUSP made it through the first winter at 203 "P" Eighth Avenue, but we quickly found out the building was cold and drafty, and our previous dependence on the close quarters (and space heaters) of the Harbor studios did not help keep the new place warm. A heating system would need to be added if we were to continue to stay at Park Place. We made do with kerosene heaters that first winter, but were determined to never be cold again. It would take a few years, but things did improve.

At about that time, we received an inquiry from National Public Radio: "Would we care to be an affiliate station?" The conversation around the station went something like this: "Will they give us any free equipment?" When it was discovered that a free computer printer and an audio feed from Washington (via low-fidelity phone lines) would be provided, a reluctant "yes" was spoken over the telephone to someone in Washington. The next week, a phone company person showed up and said "Where do you want to audio pair?", and we said "Oh, back in the back somewhere". A huge printer showed up at our doorstep about the same time, and it was placed on a shelf to gather dust for a few years.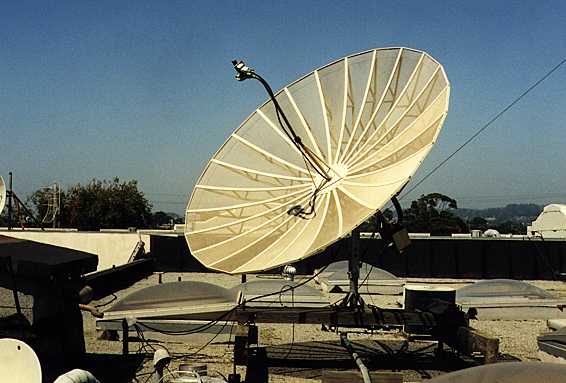 NPR then informed us of an innovative way to bring the Washington programs into Santa Cruz: Via Satellite downlink! Problem was, we didn't have any such thing. And where would we get one? NPR suggested a $12,000 model which they would be happy to send us, upon receipt of our check. Thanks but no thanks. We did have an alternative idea: Use a "backyard" dish to bring in the programming. The folks at NPR told us it would not work, that you needed the big deluxe model. We decided that we would do it cheap or not at all. Bill Goldsmith (Wild Bill recently from KPIG) was working at KLM Electronics in Morgan Hill, where they happened to manufacture backyard dishes. We bought one from him, and proceeded to set it up on the roof of the KUSP studios.

Amazingly enough, it worked. Not that we had any idea what we would do with such a thing. We soon found out.
SIGNAL EXPANSION
We were also looking to expand KUSP into areas that were requesting our signal, but for one reason or another, could not receive it. Los Gatos was our first try at such things. There was not very much signal "over the hill", but we found willing property owners who helped us find a location that worked. In 1978, we went on the air at 90.3 in Los Gatos. It remains a technical challenge to make this translator work, due to incoming interference. But over two decades later, it's still on the air.

The Big Sur coast was the other primary area of concern, as there was no local radio service there, and KUSP was supposed to reach into the valleys and ridges. The same high ridges and steep valleys that made Big Sur such a spectacular place to visit or live also blocked the KUSP signal, so we set about to install translators in two areas: The Big Sur Valley and South Coast and also Palo Colorado Canyon. Both proved to be a challenge beyond expectations!

The Hillside of Doom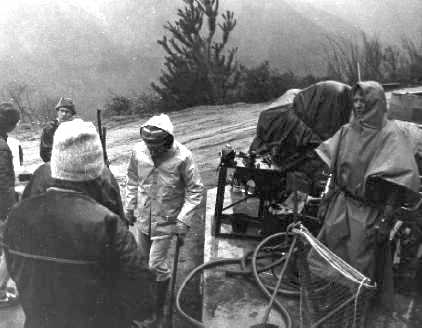 As usual, nothing happens on schedule. Translator construction is no exception. Summer turns to fall, fall turns to winter, roads turn to mud. Nothing unusual about that. Someone forgot to tell the brave vonunteer crew about what Poison Oak does in the winter months: It becomes hard to see, the leaves fall off. It retains it potency. Lloyd Jones (the Hillside's owner) is immune. The KUSP volunteers are not. It rains. It rains some more. It's muddy. It's real muddy. And cold. And the Poison Oak is invisible.
After a somewhat successful day at translator hell, the faithful crew goes home, to think long and hard about not being so easy to volunteer for other unknown hillsides. The poison oak welts and wounds faded away eventually. But KUSP was now heard in Palo Colorado Canyon!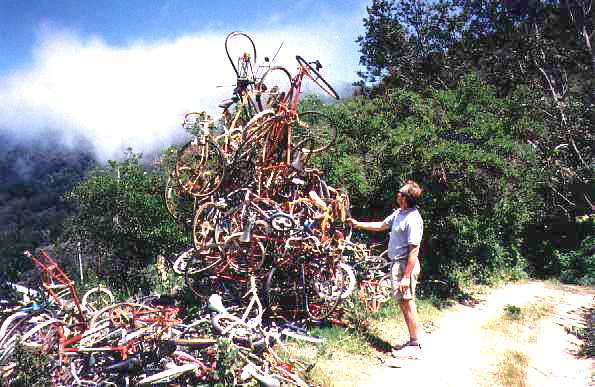 Palo Colorado Canyon, land of many wonders...
The Post Ranch
This one should be easy! We can drive right up to the tower! We just have to put it up. Details, details. This one goes in pretty easy. But 2 days after installation, the tower is toppled by 100 mph winds and rain. Back to the drawing board.... Finally, September, 1987, I return to California to put it up right. And it goes right together, even with the faithful KUSP volunteer crew saying this can't be done. It is, and in two days Big Sur has a local radio service for the first time in history.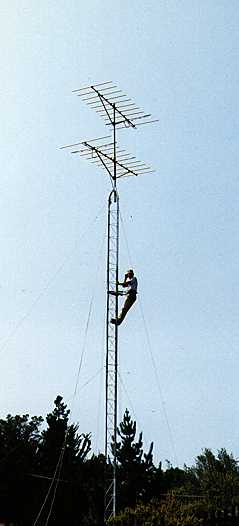 After a few years, we modified the translator so the signal could be heard all up and down the South Coast, to 105.9 and 250 watts. A new transmit antenna and translator amplifier make a world of difference.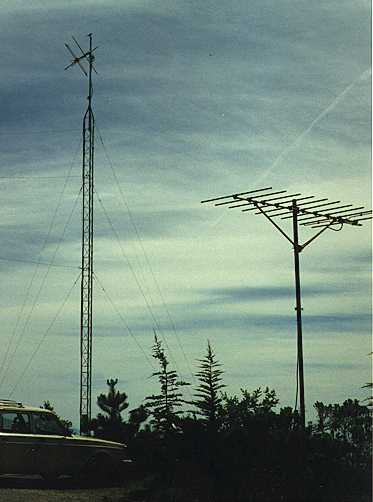 Come back later. I'm working on the 1984 - 1999 History Pages.
Return to the KUSP History Page