KZSC Radio
University of California, Santa Cruz
Project Completion, July, 2002:

KZSC has now finished it's latest upgrade, this time to 10,000 watts.
The first page shows the move from 10 watts to 1250 watts and the original installation of the ROHN SSV tower.
The second page shows various views on the tower as of April, 2002.
The third page shows the first attempt at installing the extra 40 ft. section by helicopter on March 20, 2002.
The forth page shows the second successful try at installing the extra 40 ft. section by helicopter, May 18, 2002.
This page shows the final installation of the new transmitter and new directional antenna
---
We took delivery of the new Nautel 5KW FM tranmsmitter in early July. It was preceeded by the new Shively antenna, which arrived a week earlier. Preparations were made to install the new equipment as soon as possible.
For the ground crew, we had Brant Herrit and Joseph Michela, pulling the ropes and guiding the pieces up the tower. On the tower, it was me.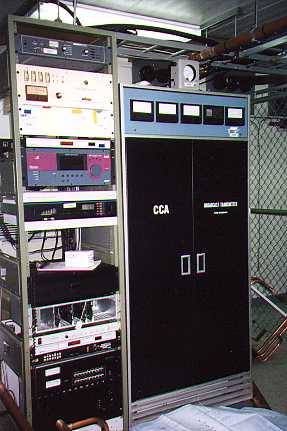 The old CCA, just about to be turned off.

---
The Shively Antenna being assembled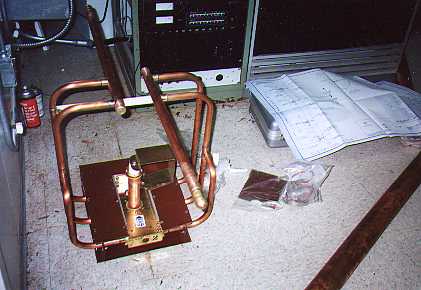 ---
The Nautel power transformer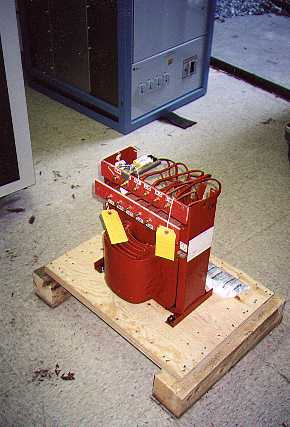 ---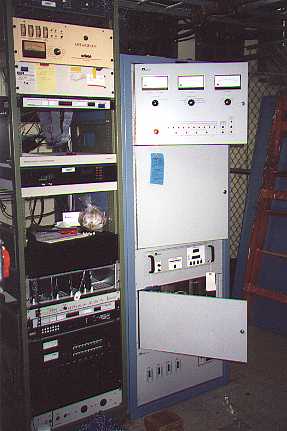 The new Nautel, in place and ready to be installed!

---
Pulling up one section of the antenna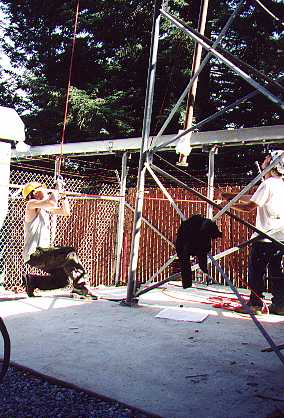 ---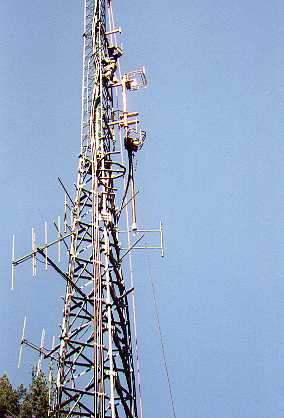 The second section going up
---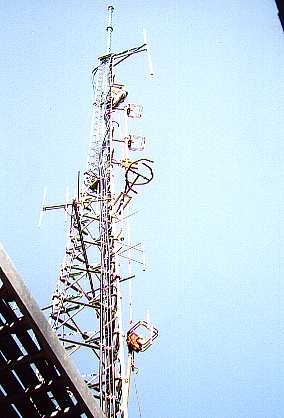 The third section on it's way
---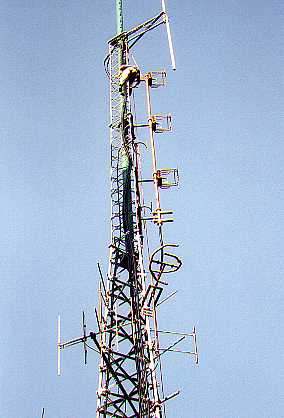 Securing the third section. That's me with the wrenches at 90 feet.
---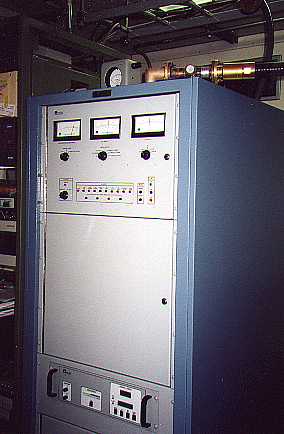 The new transmitter system, successfully operating!
---
KZSC has now finished it's latest upgrade, this time to 10,000 watts.
The first page shows the move from 10 watts to 1250 watts and the original installation of the ROHN SSV tower.
The second page shows various views on the tower as of April, 2002.
The third page shows the first attempt at installing the extra 40 ft. section by helicopter on March 20, 2002.
The forth page shows the second successful try at installing the extra 40 ft. section by helicopter, May 18, 2002.
This page shows the final installation of the new transmitter and new directional antenna
---
Return to the "look" page

© 2002 Broadcast Engineering Services of Bonny Doon