Frequency Search Studies
When a station is first planned, one of the first things to do is find a home for your station on the dial. The process for medium wave (AM) is complicated by the nature of the frequencies involved. Because of the way that Medium Wave (AM) bounces back to earth via the ionosphere at night, many different calculations must be made to determine if a proposed station will "fit" without interfering with another distant station.
The process for FM and TV is far less complex, but still requires a database of existing and proposed stations, and the ability to find where interference might occur. The FCC has well defined rules regarding the interference measurements needed, and we use the rules to determine if a station can be "squeezed in."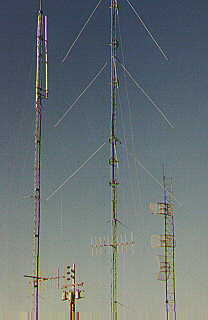 The most important item in a search is the transmitter location. Since this is business, location means everything! If you desire to reach a large geographic area (who doesn't?) with FM or TV, either a tall structure or a large hill (or mountain) can be used as the tower "site." With medium wave (AM), an open area that is free from other structures is ideal (the wetter the better!). From that location, we can examine the other stations on the dial and make a determination on what might "fit".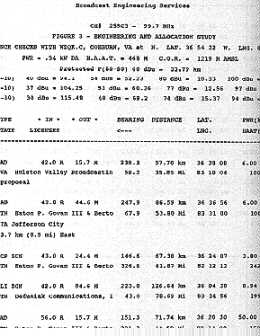 We then produce a print-out of the database of stations that will affect your proposal, and explain what your best options are.

For more information about Broadcast Engineering Services of Bonny Doon, call or e-mail today
Back to the Broadcast Engineering Services of Bonny Doon Services Page

© 2001 Broadcast Engineering Services of Bonny Doon