KPFK Los Angeles - Signal Coverage Discussion Summer, 2002 (updated winter 2009)
---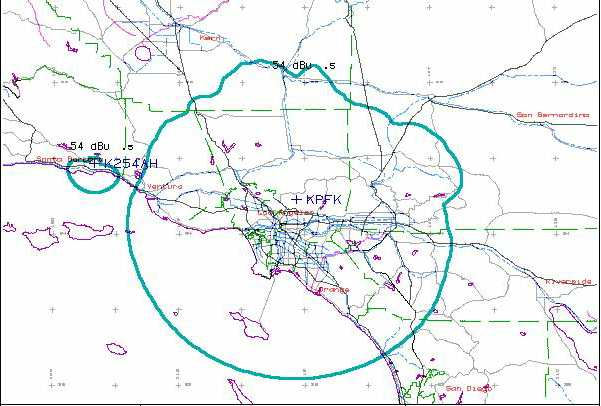 KPFK Primary Coverage Contour
K254AH (Santa Barbara) Primary Coverage Contour
Signal and Coverage Discussion
KPFK is a grandfathered high-power FM station, with transmitter facilities at Mt. Wilson, California. Because KPFK was licensed with high power facilities before 1964, it has an effective radiated power that exceeds the power limitations imposed by the FCC in 1964. Therefore, KPFK operates with a power well in excess of what would be allowed under current FCC rules. KPFK would be restricted to about 4,000 watts if licensed under these current rules.
KPFK's tower location on Mt. Wilson has a commanding reach to areas that have line-of-sight to the mountain. There are many areas within the primary coverage area that are shadowed from Mt. Wilson, and therefore do not receive a good signal. FM signals are subject to fade from obstructions, such as buildings, mountains and hills that block the signal path. Because of existing obstructions, KPFK has always had a poor signal along the Malibu Coast, in portions of the San Gabriel Valley, Camarillo, parts of San Bernardino County and the desert areas north of Los Angeles. These physical barriers are, of course, not subject to modification.
The FCC allows FM stations like KPFK to apply for and operate small repeaters (translators) to fill in areas that would normally receive a clear signal if it were not for the physical obstructions. And because KPFK is a non-commercial station, there is no restriction on where a translator can be located, as long as the primary signal can be picked up and sent back out using standard translator equipment. As far back as 1983, KPFK made an effort to apply for and build a translator in San Diego. Due to funding difficulties, that translator was never built.
Beginning again in 1995, KPFK went about investigating suitable sites and frequency possibilities for translators. There was very little left in the way of choices by 1995. KPFK found a suitable frequency in Santa Barbara and also San Diego, and made application for the Santa Barbara translator first, followed a few months later by the San Diego application.
After many delays and objections by other stations, KPFK finally prevailed and built the Santa Barbara translator in December of 1999. The San Diego application was filed in March of 1997, then modified because of objections by other stations in October of 1997. The FCC then froze all new applications, and froze the KPFK application as well. This application has been in FCC limbo ever since. KPFK is still waiting for the FCC to either unfreeze or grant this application.
Along the Malibu coastline, we identified a suitable tower for an on-channel booster at Pt. Dume.
During the past seven years, while these efforts were on-going, a series of threats to the KPFK signal were made. In Carpenteria, an application for 90.7 Mhz. was successfully stopped by our efforts. In northern San Diego County, another translator application, also on 90.7, was opposed by Pacifica and dismissed by the FCC. We were unsuccessful in stopping a translator in Victorville at 91.1 Mhz, but thankfully it has had no effect on the KPFK signal in that area.
KPFK's Antenna
The KPFK antenna is located on Mt. Wilson, nearly 6000 feet above sea level. Much like a large light bulb, what you see is what you get. FM broadcasts need a clear view to reach radio receivers, and Mt. Wilson is favorable to a large reach, due to it's height. KPFK is also the most powerful FM station on Mt. Wilson, with 112,000 watts. But, Southern California is not a flat landscape; there is no shortage of hills, trees, and even mountain ranges many thousands of feet high. All of these factors tend to affect KPFK's signal reach.
In an ideal world, an FM signal would broadcast in a perfect circle. But unless the FM broadcast antenna is surrounded by an open, flat prairie or desert on all sides (or in outer space), terrain will affect how well the signal travels. FM signals are also limited by the curvature of the earth, and will be reduced to nothing past the antenna horizon. The map above shows what the natural terrain of Southern California does to the KPFK signal. Instead of a perfect circle, the Angeles National Forest and the San Bernardino Mountain ranges create shadows which block the signal. The signal does make it over the mountains, but at a greatly reduced strength at ground level.
KPFK's Coverage Area
Various areas around Southern California are shadowed to Mt. Wilson. Natural features block the signal from a clear view in some places. The map below shows how the natural topography of Southern California affects the KPFK signal. The white areas have the most reliable reception.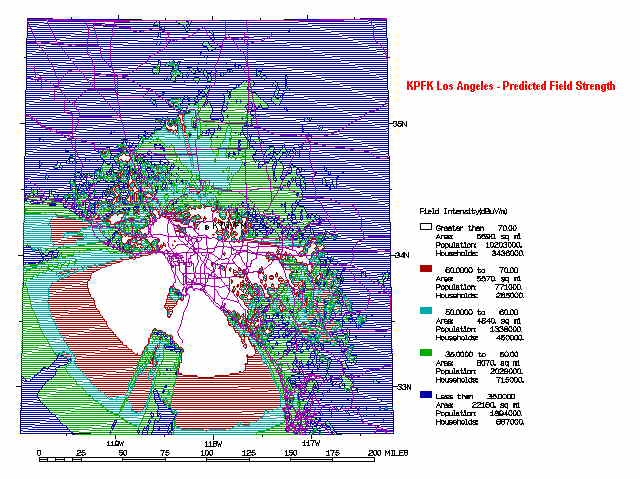 ---
Interference from Mexico
As of late 2008, the interference from Tijuana-based FM broadcasters on 90.7 has ceased. KPFK is now interference-free in most areas south of Orange County and into San Diego County.
---
Problem Areas for Reception of KPFK
There are many known poor reception spots for KPFK. Multi-Path interference is caused when the signal bounces from buildings or other large objects and creates two or more signals, which then interfere with each other. Most of the Mt. Wilson broadcasters also suffer from these same problem reception areas.
The known reception problem areas include, but are not limited to, the following:
| | |
| --- | --- |
| Location | Reason for Poor Reception - Symptoms |
| Sierra Madre | Shadowed from Mt. Wilson - Multi-path interference |
| Highway 210 - Tujunga | Shadowed from Mt. Wilson - Multi-path interference |
| North Burbank - Sunset Canyon | Shadowed from Mt. Wilson by the Verdugo Mountains - Multi-path interference |
| San Fernando-Pacoima junction of the 210-118 freeway | Shadowed from Mt. Wilson - Multi-path and noise. |
| I-5 from San Fernando to the Santa Clarita Valley | San Gabriel Mountains block KPFK somewhat - Multi-path in some areas. |
| Topanga Canyon at the 118 Freeway | Shadowed from Mt. Wilson - Muti-path and noise. |
| Camarillo Grade, Ventura County, Highway 101 | Shadowed from Mt. Wilson - Multi-path and noise |
| Highway 101 - North Ventura County | Shadowed from Mt. Wilson - signal fades, but 98.7 from Santa Barbara is good in many areas along the highway |
| Highway 101 - Santa Barbara County and City | Shadowed from Mt. Wilson by distance - but KPFK's Santa Barbara translator signal at 98.7 is good in many areas along the highway |
| Ojai, Mira Monte, Oak View | Sulphur Mountains block the signal. In the north portion of Ojai, along Highway 33, the signal is better. |
| Highway One, south Ventura County, County line areas, Zuma and Malibu Coast into Santa Monica | Santa Monica Mountains block all Mt. Wilson signals - variable fading in and out, Malibu booster helps the areas around Zuma. |
| Topanga Canyon | Shadowed from Mt. Wilson in the canyon, better above the highway - Multi-path and noise on the lower portion towards Highway One. |
| Baldwin Hills | Somewhat shadowed - but mostly very good. |
| Fairfax district | Signal shadows caused by the Hollywood Hills - signal fades at times along Sunset Blvd. |
| 405 Freeway - Getty to Mulholland | Some shadows to Mt. Wilson |
| Riverside County | Some shadow areas; |
| San Pedro - Palo Verdes | Some shadows from Mt. Wilson, but mostly very good |
| Highway Five, Orange County | Huntington Beach south to San Clemente subject to static and multipath - varies with weather |
There are a couple of solutions to individual reception problems at home. You can install a roof-top FM antenna, which will help considerably in bringing in a good signal, and eliminate most of the incoming interference from Tijuana. For mobile listening, the only thing to suggest is switching your receiver to "mono." This helps eliminate much of the noise encountered while moving past signal obstructions.
KPFK is more than happy to help listeners gain a better signal and clearer reception. Please feel free to write to them, and ask for assistance. They will try their best to guide your efforts to gain a better signal from KPFK. Please write to the following address:

Good Signal
c/o Chief Engineer
KPFK
3729 Cahuenga Blvd. West
North Hollywood, California 91604
---