Snow in California?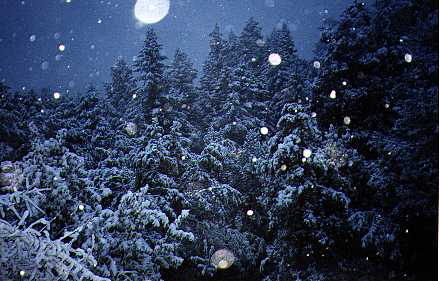 Yes, it does snow in California, despite all the songs and stories of endless Summer and sunshine. Certainly the Sierra's have the most, with elevations exceeding 9,000 feet above sea level. We are only at 2,200 feet, so the winters can be pretty mild, with temperatures in the 40's and 50's (f) for the most part. But, we do get some snow during the winter months.
            We can't claim to be typical of California weather, however, because in 1997 we received over 115 inches of rain here, all of it between November and May. California, especially central and northern, has many "microclimates". Bonny Doon is close to the Pacific Ocean, but at our alititude, our climate is more like the inland north, with real seasons, and where wine grapes, apples and pears do well.

On the morning of February 12, 2001, we had about 10 inches of snow. It started about midnight, and by sunrise it was 5 inches deep. At 10:00 AM, it had stopped, but left another 5 inches before it was done. We were snowed in until the next afternoon. Electricity was cut by falling trees, and did not return until the afteroon of Feb. 14th.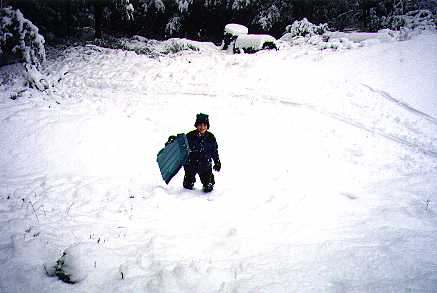 Of course, when it's this deep, school is cancelled and the kids get to play. Big fun, indeed! We have more pictures here and here.

Back to the Broadcast Engineering Services of Bonny Doon Page
© 2001 Broadcast Engineering Services of Bonny Doon