Tommy Jarrell
Toast, North Carolina
---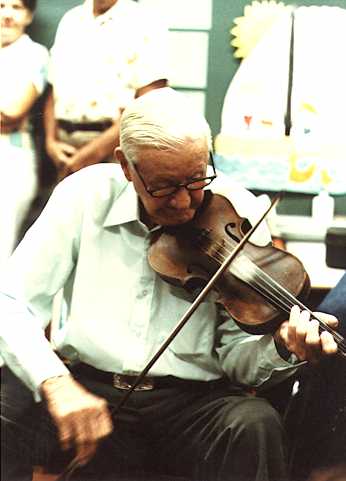 I first met Tommy Jarrell in 1979 while visiting friends in Mt. Airy. It was actually with some amount of luck that I found him, as I did not know where in the area he lived, and when I stopped at a phone booth outside of Mt. Airy, I called one of his sons (Kester), who told me how to get to Tommy's house. At that moment, a fellow was walking by the phone booth I was using and heard me mention Tommy's name and said "I'm looking for him too!" It was Andy Cahan, and we both went over to Toast and were welcomed into the Jarrell home. At the Beulah School Fiddle Contest, Beulah, North Carolina (1980)
Over the next few weeks I got to know Tommy and his son Benny. I helped with some of the chores and fixed a few things around the house, including a vintage shortwave radio that Tommy had as a boy. With a few touches of a soldering iron and a few parts from the TV shop in Toast, Benny and I had the pleasure of tuning in the BBC and Radio Moscow. It was the first time in 30 years that the radio had worked, and Benny was mighty pleased. This would lead me later to make very good friends with Benny over the next few years.
It was quite evident that Tommy's house was very popular with many old-time musicians, and I started to understand why Tommy didn't have a phone. He didn't need one. One just had to come by and see him. He did have a funny sign at the back entrance to the house and kitchen (what I mostly considered the main entrance). It said something like: "First Night Free, after that, $50 a night." I guess some had abused his open door policy, but he told me it was a joke and did not apply to folks like myself. I was certainly grateful for that!
---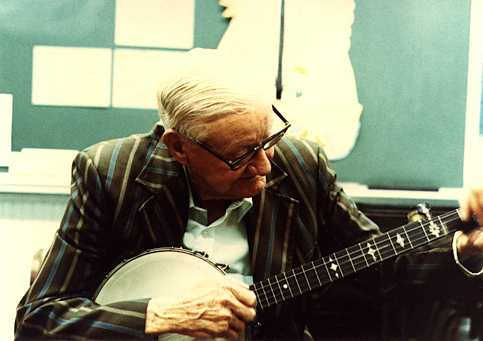 I found out that Tommy did not participate in fiddle competitions, although the opportunities were plentiful in the area. The Lowgap, Beulah, Dobson and other Elementary Schools all held contests to raise money for school supplies and other needs, and they were quite a lot of fun. Tommy didn't like to compete, but he did enjoy going to some of them and seeing his friends. Paul Brown and I took him to the Beulah School contest in 1980, and we spent the entire evening just trading tunes in one of the school rooms.
As hard as I tried to learn some of Tommy's tunes, I found them baffling and too difficult for my style, which had already been greatly influenced by Luther Davis (of Galax, Virginia) and J.P Fraley (who lived at the time in Rush, Kentucky, up near Ashland). I was certainly amazed by the power of his presence, and I will always remember what great music parties would happen pretty much on the spur of the moment at his house. I met many musicians there, and made lasting friends with many more people from around the country who happened to stop in to see Tommy.
Alice Gerrard and Tommy at the 1982 Galax Convention...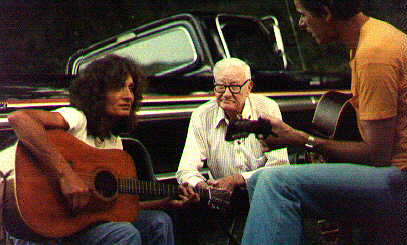 In 1982, Paul Brown, Tommy and myself went up to the Galax Fiddlers Convention at Felts Park to see who was there. Tommy didn't want to wander too much, but we did manage to see a few good friends and share a tune or two. Tommy was in fine form, and was pleased to see that there was still interest in the old tunes, even at the mostly Bluegrass convention (as it was becoming at that time). As was the usual at Galax, it started to rain, and Tommy and I sat in Paul's car for a couple of hours, just talking about what the old days at Galax were like, and how he used to roam all over the country before he was married, selling white liquor as far away as Oregon and Florida. He talked about the Allen family, who had shot up the Carroll County Courthouse in the early part of the century, and how all the trouble he used to get into was primarily because of the moonshine business. He told many stories about the days in the 20's when he was not someone who you wanted to make mad, and how he knocked out many a man who didn't take his temper seriously. Somehow, it wasn't hard to believe him, as he still cut a formidable figure in his later years. Despite all that, his was a warm and gentle presence, and he was always happy to see his friends and share whatever he had with them.
Left to right: Nancy Dols, Tommy and Benny Jarrell, Stephen Senders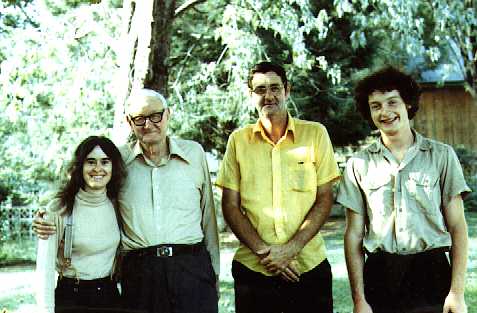 The last time I saw Tommy was in the winter of 1984-1985. I was living in Whitesburg (in Southeastern Kentucky) and was quite busy building what would become WMMT-FM, Community Radio. I was also doing some occasional engineering work at WYZD-AM in Dobson, just down the road from Mt. Airy. Benny, Tommy's son, had been doing some on-air work there, and had asked me to come fix the station a few months earlier. I went to visit Tommy just before Thanksgiving and had a brief but wonderful visit. I told him about living in Eastern Kentucky and he recalled some wild times back in the 20's when he passed through Whitesburg and Jenkins a few times. He said it was a totally wild country, even back then, and one had to be careful about the panthers and the bears as much as the people.
Tommy and "Boliver", Stephen and Nancy behind the house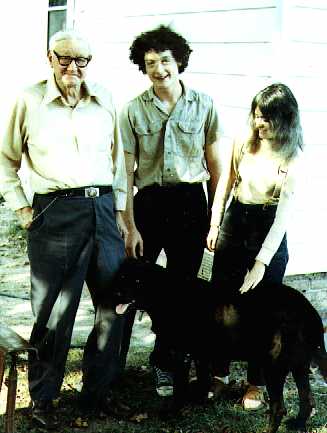 Tommy passed away in his sleep on January 28, 1985. The memorial service was filled with his friends and family from a long and colorful life. While he is gone now, I still have my memories, and I'm sure that others like myself will not forget him. This one's for you, Tommy!
All photographs © 1998 Don Mussell
Back to the Previous Page