Califormula Broadcasting
XHLNC-FM
Tijuana, BN, Mexico
Esta página se traduce también en el español aquí.
---
          Field Strength measurements were taken in March of 2000 to confirm suspicions about the over power operation of XHLNC and XHTIJ. The measurements were actually surprising, due to the extreme overpower field strengths observed. A PDF copy of the original study can be found here.
And here are the relative findings, in plain text:
Cross-Border Field Strength Measurements

| | | | | | |
| --- | --- | --- | --- | --- | --- |
| Frequency | Call Sign | Field Strength | DBU | Authorized Effective Radiated Power | Actual Effective Radiated Power |
| 88.7 Mhz | XHITTF | 3.64 | 71.2 | 1.0 KW | 0.782 KW |
| 90.3 Mhz | XHITZF | 37.13 | 91.39 | 93.0 KW | 81.65 KW |
| 90.7 Mhz | XHLNC | 18.07 | 85.13 | 1.0 KW (@139 meters AAT) | 19.31 KW |
| 91.1 Mhz | XETRAF | 41.07 | 92.27 | 100.0 KW | 100 KW |
| 91.7 Mhz | XHTIMF | 13.67 | 82.71 | 15.0 KW | 11.06 KW |
| 99.7 Mhz | XHTIJF | 11.91 | 81.51 | 0.35 KW | 8.39 KW |
---
          The XHLNC field strength should match that of XHITT-FM, which is also authorized as a Class A (3000 watts @ 100 meters) facility. The XHITT-FM facility is located just above the XHLNC facility on Mt. San Antonio. Because the XHLNC field strength exceeds that of XHITTF by over 14 DBU, there is an obvious difference in effective radiated power.
          In April of 2002, a site visit was made to both XHITT-FM and XETRA-FM. What was found has proved that XHLNC is operating illegally over power in violation of the US-Mexican treaty.
          XHITT-FM is now confirmed as operating with 2000 watts effective radiated power from the hilltop directly east of Mt. San Antonio, at nearly the same height as XHLNC.
Follow this link to read about the site visit to XETRA on April 22, 2002.
          The Effective Radiated Power calculations above are based upon the reference of XETRAFM, which is licensed at 100 kilowatts. Examining the XETRA transmitter, antenna and tower system provides some clues to the actual effective radiated power of XETRA, and the accuracy of the ERP calculations. The Antenna system and tower are manufactured by ERI. The combination of a ten bay, full wave spaced optimized antenna, mounted on an ERI tower, could be providing a power gain in the direction of the United States. As with most of the Tijuana stations, the target audience is not Mexico, but the United States, and San Diego in particular. So despite the fact that XETRA-FM is licensed to operate with 100 kilowatts, XETRAF could easily be placing more power in the direction of the United States, based upon use of this transmitter/antenna/tower combination. This puts the effective radiated power calculations of all the other stations listed above at a very conservative level. The owners of XETRA deny that the operation is illegal or overpower. The mystery will likely continue over the actual truth of this matter.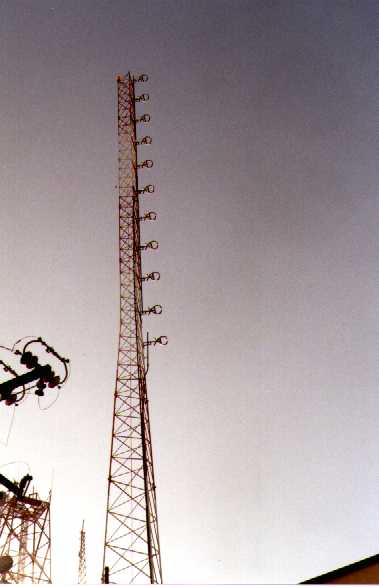 Above, the XETRA-FM tower and Antenna. The system includes a ten element antenna, installed on an ERI manufactured tower. There is a one-bay standby antenna mounted below the main antenna array. Below, the address plate on the side of the XETRA transmitter building.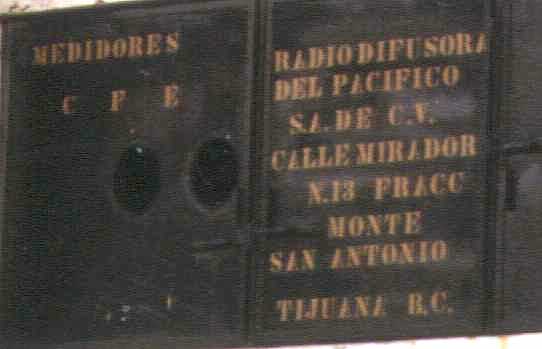 ---
© 2002 Broadcast Engineering Services of Bonny Doon