About the boards...
The boards are acrylic, 19" in diameter, weigh a mere 2 lbs 2 oz. and are mounted on a low friction high quality lazy susan bearing. They are available in many different colors, both transparent,&nbsp opaque,&nbsp fluorescent green and fluorescent hot pink. The grid has raised edges to keep tiles from sliding around and comes from a standard deluxe board, so it will fit your wood tiles or Protiles. The center square can be customized to essentially any image you wish free of charge.

Stop knocking over your rack and coffee cup when you spin the board. &nbsp Round is better!

Customize the center square with your graphic at no additional charge.

Pricing...
Boards
$109
Carrying Case
$29
Shipping (within USA)
$14 UPS Ground

Note:
Includes 2 racks. Tiles are NOT included. For tiles, I recommend Protiles.

The 22" case is made of tough water and tear resistant luggage-grade padded
nylon with reinforced double stitching, luggage-grade zippers, a large zippered
outer pocket, dual carry handles, a shoulder strap, and a reinforced bottom
section for greater durability and protection.


Front side shown. The reverse side is plain Black with the large zippered pocket.

The case with board inside will fit in an airplane overhead compartment.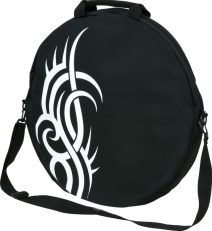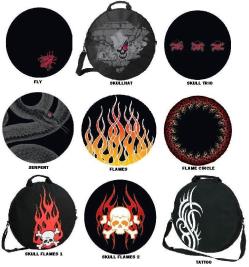 See all styles

---
Before Ordering...
---
Home | Colors