ELIZABETH E. CRANE
---
Welcome to my deliberately low-tech personal/professional homepage. I'm a mom as well as a freelance writer, so I try to let this page reflect both of those things. There are links here to stories as well as links to pictures of the family -- just pick and choose. You can click the link above to send me email.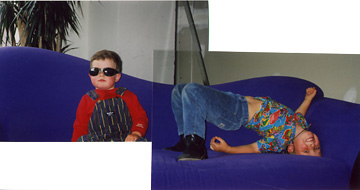 I am a contributing editor at District Administration, a national magazine for the education market. I write news, features, and miscellaneous articles for their main magazine as well as for their satellite publications. Check out my story on education and the arts, or this one about students with disabilities using Palm Pilots to take notes in class.
Brain, Child bills itself as "the magazine for thinking mothers," so I didn't mind writing a thinkpiece arguing in favor of childhood gunplay. The piece has been selected for a new edition of a textbook for college students called America Now, published by St. Martin's. I found it online in a couple of places (ain't the Internet grand? You, too, can be a publisher!) -- read it here.
For PCWorld, I got to go shopping. Check out what I bought and how Internet shopping robots helped and hindered my progress.
At ChickClick's MissClick channel, I've written about health, exercise, and motherless daughters. Although ChickClick is gone, my stories keep resurfacing -- like a quiz about exercising for the right reasons, and a Mother's Day story about losing your mom.
I wrote a series of essays called "Diary of a Baseball Mom," a chronicle of my on-going Park and Recreation baseball experience, for MyTeam. They also had me interview a Giants' batboy, and Giants starting pitcher Russ Ortiz. It's really too bad the site has decided to go content-free.
For DadsWorld, an online-again, offline-again magazine for dads, I've written on a host of topics:
"The Family Bed: Three Is Not a Crowd"
"Are You a Wienie for Wanting to Stay out of the Delivery Room?"
"What NOT To Say To Your Wife When She's Pregnant"
"Lighten Up, It's Only Creating Life: Getting Pregnant Is Easy"
"Dads With Daughters or Girls Do Play With Trucks"
"Nesting 101"
"Getting Down and Dirty in the Kitchen"
I also edited the first five issues "Diary of a First-Time Dad."
UnderWire, an MSN site for women, ran my Stepmoms piece in honor of Mother's Day 2000, then followed up with an essay about why men read in the bathroom. I really liked writing that one -- generated a lot of great mail, too.
Our trip to Florence yielded wonderful material for a wedding feature for the San Francisco Examiner Sunday Magazine.
I wrote a Yahoo! Web guide for junior high age kids, co-written by husband Richard Raucci, called Yahooligans! Way Cool Web Sites, published by IDG Books. Check out Yahooligans!, Yahoo's kid's online directory. For book projects, I'm currently represented by Michael Psaltis at the Ethan Ellenberg Agency.
I was a regular contributor to my neighborhood paper, The Castro Star,until it folded, and I've written several stories for the paper that replaced it, The San Francisco Observer. I also wrote for Web Review, an online magazine produced by Songline Studios. They published "Women Online: Fact or Fiction?", an overview of women's resources on the Net. I also wrote a review of online kid's books called "Once Upon a Time" and an interview with the San Francisco Exploratorium's Multimedia Director, Ali Sant, "Portrait of the Web Artist."
I did a round-up of new information security technology for InfoSecurity News, and a piece on government purchasing schemes (the legal kind) for Autodesk's federal customers. I even wrote a piece on Java for InfoWorld. I've covered database products, OS/2 Warp, Sun security stuff (Solstice FireWall), back-up schemes, and ProShare video-conferencing, among other things. Besides the above, I've written business profiles for Open Computing: Going Digital (ISDN for business/telecommuting use), Notes In Residence (Lotus Notes for business information sharing), and OS/2 Warp Proves its Point (Warp rides to the rescue of a ball bearing manufacturer). Open Computing is now kaput, but at least some of the links survive.
Oh yeah, and I'm a member of the American Society of Journalists and Authors (ASJA). The thing I like best about this is that their membership card has the word "Press" in large letters so I can flash it as needed.
Anybody interested can view my resume. Print it if you like.
My writing interests include but are not limited to: women in computing, parenting, food, Internet topics, Web community-building, corporate profiles, telecommuting, educational software, and translation software.
And, as I've done every summer since 1994, I'm working at the Farmers Market on the Embarcadero at Green Street. If you're in San Francisco on a summer Saturday, stop by Fitzgerald's peach stand and sample the fruit. If you can't make it to the Market, check out the Peach Page for a taste of the farm. You'll find selections from my stone fruit recipe collection there as well. You can also read what SF Chronicle columnists Jon Carroll wrote about our beloved peach stand.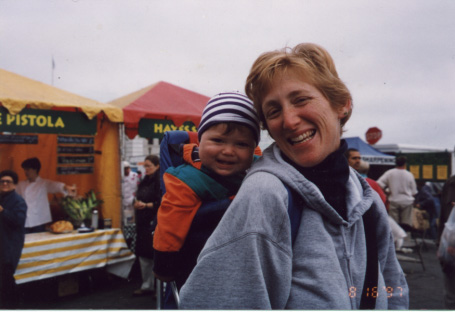 Above, it's myself with baby Michael on a typically un-sunny day at the Farmer's Market. Below, Philip and me, complete with Curious George. You can see pictures of Michael's first week at home, and an assortment of pictures of Michael and Philip.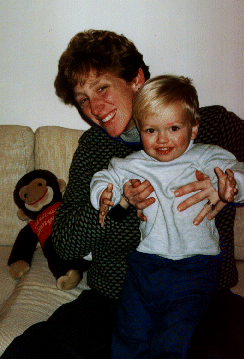 I love to cook, and will usually jump at the opportunity to experience good food and good company. I used to cook professionally, so I keep a hand in by catering here and there in the Bay Area.
I graduated in 1987 from the University of Pennsylvania with honors in English. Take a gander at where I spent most of my undergraduate energies, the Philomathean Society, the oldest continuous literary society in the United States.
Drop me a line at ecrane@well.com if you want to discuss children, cooking, writing, and/or the nature of the universe, or if you happen to have a story assignment I might want to write.
---
copyright 2002, Elizabeth E. Crane
---