Cyberia in Shibuya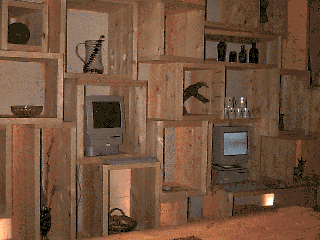 Right off Dogenzaka, in the midle of Shibuya, the latest center for Tokyo fashion-youth-tribes, a little older than the Harajuku equivalents, is a really cool place for tuned-in youth to hang out. This place, unlike some others that use the name, is an official offspring of the original Electronic Cafe, maintained in Santa Monica and Cyberspace for decades by Kit Galloway and Sherrie Rabinowitz. The Electronic Cafe International Japan has the look and feel of a place that was designed for people to meet and play with technology, rather than a technology showroom, or a coffee bar with computer terminals.
| | | |
| --- | --- | --- |
| I dropped in with Yoko Ueno, my editor from Japan's new "Magazine for New Breed: Cape-X", the young lady in the photo. The Electronic Cafe is definitely designed to be a hangout. From the moment you walk in, you see the traditional Japanese bare wood compartments, some with flower arrangements, others with computer displays. Gauzy white tents, suspended from high ceilings, separate clusters of workstations from clusters of cafe tables. The sound system is so mega, the speakers are used as space dividers. ISDN lines at 56kb to the Web, CD-ROMs, QuickTime conferencing, PictureTel, good espresso. Cocktails. The place had only been open a few weeks. I predict it's gonna rock. | | I predict it's gonna rock. |

Go to Howard Rheingold's home page.