The Rockinest Place on Earth.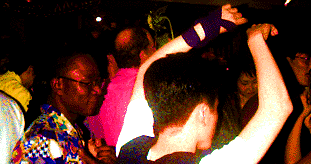 Who's the bald guy dancing with a sunflower?
Circumstances put me in Tokyo on my 48th birthday. There was no question about where to go to celebrate. There's an African nightclub in Ebisu. Don't even think of walking in unless you are prepared to dance and shout until three-quarters past ecstatic. You have to go down some steps to get there, and the entrance is visible from the entrance to Ebisu station. If you need more clues than that, maybe you don't belong there.
| | |
| --- | --- |
| My friend Adam Peake turned me onto this place. The first time we went there, the band, not content with half the house jumping up and down and screaming themselves hoarse on the dance floor, put down their instruments, got up, and congenially but insistently forced every single person in the place to dance. They made us clap, shout, stomp, sweat ourselves into a frenzy. I've been to James Brown concerts in South Phoenix in the 1950s. I've been to the Apollo in Harlem on saturday night, the Fillmore, the Avalon, and Woodstock in the sixties. I've been in rockin baptist churches, raves on the outskirts of Paris and more Dead shows than I'm capable of remembering. But I think this place is hands down the rockinest place on earth. | They made us clap, shout, stomp, sweat ourselves into a frenzy. |
| | |
| --- | --- |
| | The author, captured in a moment of happiness, grasps his sunflower. Doesn't this remind you of the guy on the Tarot card who blissfully strides over the edge of the abyss? But didn't we learn the answer to that in the form of the Mad Mag mantra: What, me worry? Get a little Dionysic once in a while. Feed the roots of your id, lest they fester. |
| | |
| --- | --- |
| The joint was rockin, goin round and round. I brandished my funflower, and danced on down. | |

Go to Howard Rheingold's home page.