Tepia: Show Room of the Japanese Ministry of Cool Gadgets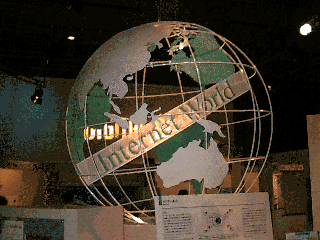 If you like to get your hands on cool technologies way ahead of the rest of the world, Tokyo is a wonderland, and Tepia is your first stop. Located in Aoyama (pricey, fashionable, designers-who-wear-black territory), the Tepia building is itself a quintessential example of Tokyo technofuturist style. I saw what must have been the first comprehensive public virtual reality exhibit there in Spring, 1990. My pal Katsura Hattori, the technology editor of Tokyo's Asahi Shimbun newspaper, editor of a cool new soon-to-be-major Tokyo paperzine, "Doors," first turned me onto Tepia. None of the official literature mentions it, but Tepia is said to be funded by MITI, the ministry traditionally concerned with new technologies.
| | |
| --- | --- |
| This time, the Internet is in the middle of a whole raft of whizzy digital technologies. Three year's ago, at NTT's R&D lab in Yokusuka, I met Hiroshi Ishii, who dreamed of creating a "teamworkstation," especially built for multimedia collaboration. Now they have production models on display at Tepia. They are definitely cool. I want me and a million of my friends to have one. You can doodle on your collaborator's overlays, see and talk with each other and call up words and graphics and videos. All you need is something worth being a team about. | All you need is something worth being a team about. |
| | |
| --- | --- |
| | Here's a digital snap of me taking a digital snap of an excellent little high speed compression video modem doohickey. You plug y our regular state of the art videocam into it and you can send stills or video over phone lines. Now, compared to "information superhighway" crap, this is a cool little tool. |
| | |
| --- | --- |
| Rear view of author experiencing the thrill of virtual skiing. | |
| | |
| --- | --- |
| Analog is fun! | Virtual skiing reminded me of old electromechanical stuff from Coney Island when I was a kid, chronologically speaking. Analog is fun! |

Go to Howard Rheingold's home page.