what on earth is a crab rangoon?
You take cream cheese, mix it up with a wee bit o' fake crab meat and maybe some onions. Wrap that in a wonton skin and deepfry it.
Serve with neon-red dipping sauce.
I never even heard of them before this project. Now I've eaten them in three states!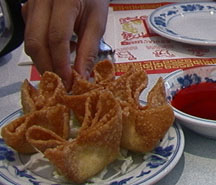 Photo © Donna Keiko Ozawa, 2002
all site contents © 2003 Indigo Som unless otherwise noted. all rights reserved.