MIT Press, August 2016
"Judy Malloy fashions a rich, historic tapestry on the loom of the Internet and contemporary technologies of the twentieth century. We rediscover our human, social roots in this primary source rendering of the interplay of social media and technology." - Vint Cerf, Chief Internet Evangelist, Google
"In this dense and fascinating book, Judy Malloy has assembled a multifaceted collage of essays and articles that examine the evolution of cyberspace, with a focus on the surprising role that artists and writers played, and the ways that their work and experiments provided a foundation and shape for the social media universe we know today." - Grantmakers in the Arts: GIA Reader
Focusing on early social media in the arts and humanities and on the core role of creative computer scientists, artists, and scholars in shaping the pre-Web social media landscape, Social Media Archeology and Poetics documents social media lineage, beginning in the 1970s with collaborative ARPANET research, Community Memory, PLATO, Minitel, and ARTEX and continuing into the 1980s and beyond with the Electronic Cafe, Art Com Electronic Network, Arts Wire, The THING, and many more.
With first person accounts from pioneers in the field, as well as papers by artists, scholars, and curators, Social Media Archeology and Poetics documents how these platforms were vital components of early social networking and important in the development of new media and electronic literature. It describes platforms that allowed artists and musicians to share and publish their work, community networking diversity, and the creation of footholds for the arts and humanities online. And it invites comparisons of social media in the past and present, asking: What can we learn from early social media that will inspire us to envision a greater cultural presence on contemporary social media?
Judy Malloy's experience includes pioneering work in the creation of electronic literature and social media narrative; artist-in-residence and consultant in electronic communities and the document of the future, Computer Science Laboratory (CSL), Xerox PARC; and Network Coordinator, Content Coordinator, and editor for Arts Wire, a social media program of the New York Foundation for the Arts.
As an academic she has been Visiting Faculty in digital media at the San Francisco Art Institute, distinguished fellow at Princeton University, where she taught a seminar and hosted a panel on Social Media History and Poetics; and visiting faculty in electronic literature at Princeton. She is currently a Digital Studies Fellow at the Rutgers University Camden Digital Studies Center. In addition to Arts Wire, hands on work in early social media also includes founder of the Arts Conference on The WELL (which is still running over 20 years later!); co-host of the Interactive Art Conference on Arts Wire; co-host of the Telluride Conference; founder, platform designer and host of the award nominated Gender and Identity in New Media Conference (Sao Paulo, Brazil) and Editor of Making Art Online, which is currently housed in the collection of the m Walker Museum.
In addition to Social Media Archeology and Poetics, she is editor of an MIT Press book that documents historic roles of women in new media and founding editor of content | code | process. (formerly Authoring Software) Recent papers include "Authoring Systems" in The Johns Hopkins Guide to Digital Media, and she is on the Program Committee, for the 2016 ACM Conference on Hypertext and Social Media.
Her pioneering work in electronic literature and social media narrative has been exhibited and published internationally including, among many others, the Library of Congress; Tisch School of the Arts; Sao Paulo Biennial; National Library of Madrid; Los Angeles Institute for Contemporary Art; Walker Art Center; Hammer Museum; Universite Paris I-Pantheon-Sorbonne; the Center of Contemporary Art in Barcelona; Eastgate Systems; E. P. Dutton; Tanam Press; Seal Press; MIT Press; The Iowa Review, and the Biennale Internationale des poetes en Val de Marne, where her work was short listed for the Prix poesie-media 2009. Recently her work has been exhibited at the Bibliotheque Nationale de France, Paris, France; Pathfinders: 25 Years of Experimental Literary Art at MLA2014; and Versions: Kristin Lucas and Judy Malloy at krowswork in Oakland in 2015, among many other places. Her papers are archived as The Judy Malloy Papers at the David M. Rubenstein Rare Book & Manuscript Library at Duke University.
ordering information:
from MIT Press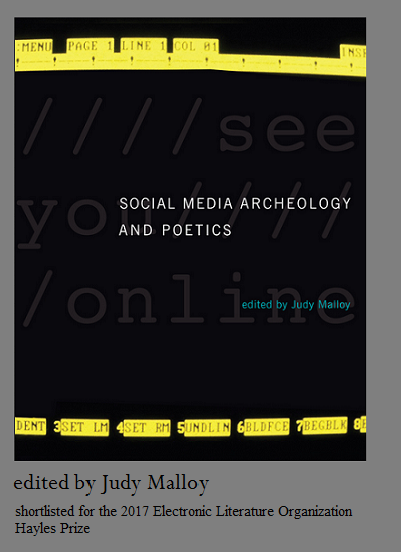 Introductions
THE ORIGINS OF SOCIAL MEDIA - Judy Malloy
THE PERSONAL COMPUTER AND SOCIAL MEDIA - Paul Ceruzzi
DAILY LIFE IN CYBERSPACE - Howard Rheingold
"Opening the Door to Cyberspace"
COMMUNITY MEMORY -- THE FIRST PUBLIC-ACCESS SOCIAL MEDIA SYSTEM - Lee Felsenstein
PLATO: THE EMERGENCE OF ONLINE COMMUNITY - David R. Woolley
ALT.HYPERTEXT: AN EARLY SOCIAL MEDIUM - James Blustein and Ann-Barbara Graff
DICTATI)ON ) A CANADIAN PERSPECTIVE ON THE HISTORY OF TELEMATIC ART - Hank Bull
ART AND MINITEL IN FRANCE IN THE '80S - Annick Bureaud
RESCENSION AND PRECEDENTIAL MEDIA - Steve Dietz "See you online!"
DEFINING THE IMAGE AS PLACE,
A CONVERSATION WITH KIT GALLOWAY,
SHERRIE RABINOWITZ & GENE YOUNGBLOOD - Steven Durland
IN.S.OMNIA, 1983-1993 - Rob Wittig
ART COM ELECTRONIC NETWORK ON THE WELL:
A CONVERSATION WITH FRED TRUCK AND ANNA COUEY - Judy Malloy
SYSTEM X:
INTERVIEW WITH FOUNDING SYSOP SCOT MCPHEE - Amanda McDonald Crowley
Networking the Humanities
IN SEARCH OF IDENTITIES IN THE DIGITAL HUMANITIES:
THE EARLY HISTORY OF HUMANIST - Julianne Nyhan
ECHO - Stacy Horn
MOOS AND PARTICIPATORY MEDIA - Dene Grigar
HACKING THE VOICE OF THE SHUTTLE:
THE GROWTH AND DEATH OF A BOUNDARY OBJECT - Alan Liu
Community Networking
COMMUNITY NETWORKING, THE NATIVE AMERICAN
TELECOMMUNICATIONS CONTINUUM - Randy Ross
(Ponca Tribe of Nebraska and Otoe Missouria)
THE ART OF TELE-COMMUNITY DEVELOPMENT:
THE TELLURIDE INFOZONE - Richard Lowenberg
COMMUNITY NETWORKING, AN EVOLUTION - Madeline Gonzalez Allen
CULTURES IN CYBERSPACE: COMMUNICATIONS SYSTEM DESIGN - AS SOCIAL SCULPTURE
Anna Couey
Social Media Poetics
CROSSING-OVER OF ART HISTORY AND MEDIA HISTORY
IN THE TIMES OF THE EARLY INTERNET
WITH SPECIAL REGARDS TO THE THING NYC - Susanne Gerber
ARTS WIRE: THE NON-PROFIT ARTS ONLINE - Judy Malloy
ELECTRONIC LITERATURE ORGANIZATION CHATS ON LINGUAMOO - Deena Larsen
TRACE ONLINE WRITING CENTRE, NOTTINGHAM TRENT UNIVERSITY, UK - J.R. Carpenter
PSEUDO SPACE EXPERIMENTS WITH AVATARISM
AND TELEMATIC PERFORMANCE IN SOCIAL MEDIA - Antoinette LaFarge
Responses
EXPANDING ON "WHAT IS THE SOCIAL IN SOCIAL MEDIA?":
A CONVERSATION WITH GEERT LOVINK - Judy Malloy
EPILOGUE: SLOW MACHINES AND UTOPIAN DREAMS - Judith Donath
FROM ARCHAEOLOGY TO ARCHITECTURE:
BUILDING A PLACE FOR NONCOMMERCIAL CULTURE ONLINE - Gary O. Larson