donnchad.html
(pause)
donnchad0a.html
while in the splashing notes
of the not yet named jig,
Irish streams and rivers
flowed down to the sea,
like the waters
of the fountains
in Rome
where Donnchad mac Briain
courted a princess so long ago
donnchad1.html
Many years ago,
in the 11th century,
Donnchad mac Briain,
a former High King of Ireland,
went on a pilgrimage to Rome,
and there he met an Italian Princess,
or so the legend went.
donnchad1a.html
"Well, I took a stroll
on the old long walk
Of a day -I-ay-I-ay"
donnchad2.html
According to the Great Book of Irish Genealogies.
the Powers family is descended
from this unlikely union
of a deposed High King of Ireland
and a daughter of the Holy Roman Emperor.

17th century Irish historian
Dubhaltach Mac Fhirbhisigh
set forth this story
in the Great Book of Irish Genealogies.
But his contemporary, Geoffrey Keating,
did not think it could happen.
donnchad2a.html
(pause)
donnchad3.html
So, deposed of his throne,
an Irishman in his late 70's,
takes a long trip to Rome.
donnchad4.html
And in Italy, he fathers a new family
with an Italian princess.


But Keating thought that Donnchad
was too old
to father children.

"Oh woman full of wile, Keep from me thy hand"
donnchad4a.html
(pause)
donnchad5.html
Found on the 4th of July,
by a musician who had discovered
-- in a book by Michael J. O'Brien --
how Walter Power arrived in America,
chained on the Goodfellow,
it was a story to be sung
on the Shannon River.

But Donnchad mac Briain,
was an O'Brien,
son of the legendary High King of Ireland,
Brian Boru.

And there was more.
donnchad6.html
The history or legend,
the epic not yet sung,
is that this O'Brien family
made its way North
to Normandy, France
then to England or Wales,
and then,
in the 12th century,
returned to Ireland
with Strongbow
-- bearing the Norman name
of Le Poer.
donnchad6a.html
(pause)
donnchad7
And then only a week ago,
in the pub where she performed
the lay of Walter Power,
an art historian named Liam O'Brien
told her an echoing story.

(his hair was brown
and his eyes were blue)

"Will you meet me for coffee or beer?"
donnchad7a
(pause)
donnchad8.html
In her mind, Liam O'Brien
was standing beside the table
where after her performance
she was sitting with her family in the pub.
He was telling the story,
Irish-serious,
about how Hiram Powers went to Italy
and made a statue that traveled around America
in the days before the Civil War.
donnchad9.html
And the story,
that a descendent of an Irish captive
created a statue that became a symbol,
for the Abolitionist movement
was true.
donnchad10.html
How had she missed this part of the story?
Miracle that Liam O'Brien
showed up in the pub when he did.

But then, there was a lot of the story
that he had not known.
donnchad11.html
And she did not think he knew
what had happened between Walter Power
and Trial Shepherd.
donnchad12.html
The young woman
whom Walter Power
married in 1660 or 1661,
was born on December 19, 1641
in Weymouth, Massachusetts.
Her name was Trial Shepherd.
If Walter Power was 14 years old
when he arrived in Marblehead
in 1654
Walter and Trial would have been
close to the same age.
donnchad14.html
But there is more to this true story
of an Irish captive and a Puritan maiden.
As documented in the transcript
of the 1661 Middlesex Court Records,
Walter and Trial were
"convicted of fornication
by them committed
together before marriage".
donnchad15.html
(pause)
donnchad16.html
Walter and Trial were married
by the time their conviction
for violating Puritan statute 23
came to Court, but Walter had to be
in the words of the Court:
"openly whipped with 15 stripes
by the constable of Cambridge
& to pay a fine
of fifty shillings for his wife
or else she to be whipped also."
donnchad17.html
The Court also records
that Trial's Father,
Ralph Shepherd,
appeared in Court for his daughter,
and paid the fifty shillings
to Middlesex County Court
"in behalf of his son-in-law".
donnchad18.html
So whatever had happened
between Walter and Trial,
her family supported them.
They helped the young couple
purchase land to make their own home.
And in Massachusetts
an English Puritan family
gave Walter Power
back the land
that was taken from his family
by Cromwell.
donnchad19.html
With their daughter, Trial Shepherd,
Walter Power fathered a family,
and one of their descendants
made a work of art
that in the fight for
African American freedom
became symbolic.


donnchad19_pause.html
(pause)
passage_maire.html
pause
passage_maire1.html
Irish men with curly black hair
and blue eyes
were too darned attractive.
Forget Donal.
Maire Powers threw her jacket on the chair,
opened the fiddle case;
picked up the fiddle;
played a few bars of a seductive song.
passage_maire1a.html
And I asked myself
what's a girl to do
if his hair was black
and his eyes were blue
passage_maire2.html
Forget Donal.
In mid-pace
she changed song.

passage_maire3.html
passage_maire4.html
Abruptly, the music moved
from the entrancing melody
of "The Galway Girl"
to the rapidly flowing notes
of the "Mason's Apron Reel".
passage_maire4a.html
She would be making dinner
for Donal.
They would play together,
enjoying the way
the music of the fiddle
fit with the music of the guitar.
She remembered Sean McGuire's words
in an interview in
Fiddler's Magazine:
the readying of the home
for making music.
passage_maire4b.html
The cleaning of the kitchen,
the washing of the floors.
The smell of homemade bread
baking in the oven.
"The porter or Guinness
would be ready to hand,
and anybody that
wanted to partake of the beverage,
they could help themselves."
passage_maire4c.html
"And meanwhile
the merry-making went on.
You were called on to play a solo,
play a few tunes, sing a few songs...."
passage_maire4d.html
Her fingers flew on the strings,
as if she were
legendary Irish fiddler,
Sean McGuire,
or at home,
when her mother's friends and family
came over to play,
and her mother sang,
and she herself played the fiddle.

passage_maire5.html
Forget Donal.
Well, he was gone.
It wasn't as if there hadn't been
any warning
or even as if she hadn't known in her heart
what was happening.
passage_maire6.html
The "Mason's Apron Reel"
had been running through her mind
ever since she saw the photograph
of Hiram Powers
in his white sculptor's apron.

passage_maire7.html
It was an oval-shaped portrait photograph
in faded sepia tones,
the white apron apparent.

In the photograph,
he looked back at her
with the face and eyes
of her father's brother.
passage_maire7a.html
In the photographs of his studio,
Hiram Powers was surrounded
by white marble statues
of beautiful women.

In his reoccuring dream,
there was a woman in white,
whom he could not reach across the river,
as if it was a vision
of the Irish family
his forefather Walter Power
would never see again.
passage_maire7b.html
Such visions had come to her
since childhood.
She was a boy riding on horseback
through an open field. In the distance,
there was a stone castle.
It was a repeating vision.
Sometimes it seemed
as if it was Normandy
and sometimes it was Ireland.
passage_maire7c.html
Sometimes when this vision
played and replayed in her mind,
Máire Powers imagined
she was Walter Power,
riding in the Waterford countryside,
before he was forcefully taken
from his home.
As she played, the vision
was intertwined with words
from Narrative of the Life
of Frederick Douglass.
passage_maire7c1.html
"While on their way,
they would make the dense old woods,
for miles around,
reverberate with their wild songs,
revealing at once the highest joy
and the deepest sadness."
passage_maire7d.html
Two hundred years later,
Vermont-born Hiram Powers,
the descendant of an Irish captive,
was on a packet ship to Florence
with his Irish wife
by his side.

Máire Powers had
assimilated Liam's story quickly,
as if it were her own.
passage_maire8.html
Like a recording
heard by thousands of people
in a country
where you've never played,
The Greek Slave toured America
in the years before the Civil War,
Over 100,000 people saw his sculpture,
while Powers stayed in his studio
in Florence.
passage_maire9.html
She began "Mason's Apron" again
from the beginning.
She hadn't played it for years.
This time playing it in a style
that was closer to her own.
Martin Hayes.
She loved the way he played.
passage_maire10.html
Did Liam O'Brien know
what had happened with
Walter Power and Trial Shepherd.
She did not think so.
passage_maire11.html
The new jig was like quicksilver,
fast, flowing like water.
She had written it herself,
and it was as yet untitled.
She segued easily from the "Mason's Apron"
into the jig with no name.
passage_maire12.html
In the splashing notes
of the not yet named jig,
Irish streams and rivers
flowed down to the sea,
like the waters of the fountains
in Rome where Donnchad mac Briain
courted a princess so long ago
passage_maire14.html
Wildly flowing notes
sounded in the livingroom
of the small house
where she was practicing.
In the rapid, clear music,
it was hard to know
where the sorrow ended
and the joy began.
And she knew how perfectly
she was playing
her own song.
passage_maire15.html
(pause)
fiddle24.html
The music of the jig
that she had not given a name
moved in silvery phrases.
She slowed her playing,
as if the softly flowing notes
of the song
she had written for Focluth Wood
spoke of a new path,
and who knew
what would happen?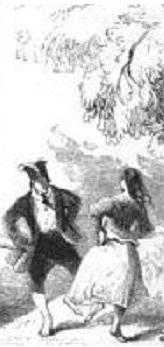 fiddle.html
"I lifted her petticoat
easy and slow
And I tied up me sleeve
for to buckle her shoe."
fiddle_pause.html
(pause)
fiddle1.html
The music flowed
as if every note
was a story
that would continue
to play
and replay in her mind.
"The Galway Girl".
Steve Earle singing,
Sharon Shannon
on the accordion.
fiddle2.html
She had never played it before,
but now she could not
get the words of the song
out of her mind.
fiddle3.html
At this time of day
she would be calling Donal.
He would be saying
he was coming over for dinner.
fiddle4.html
letting the fiddle music
flow with her thoughts,
her fingers flew on the strings,
first running through the reel
as if she were Belfast fiddler,
Sean McGuire.
Her Uncle had heard him play
this very reel in Boston.
fiddle5.html
She would be making dinner
for the two of them.
They would play together,
enjoying the way the music of the fiddle
fit with the music of the guitar,
and then afterwards...
well, there was a reason
she and Donal played so well together.
fiddle5a.html
(pause)
fiddle6.html
She tore into the reel,
playing so fast that the music flew from the fiddle
as if it was enchanted.
fiddle7.html
When Donal left Focluth Wood
to join his new girlfriend's band,
the loss was not only a man
whose life she had shared
for several years.
fiddle8.html
"And when will you return again
And when will we get married"
fiddle9.html
In the empty space
where the photograph of Donal
had been,
(leaning against his car,
in the country)
she had put a 19th century image
of Hiram Powers
in his studio.
fiddle9a.html
(pause)
fiddle10.html
She began "Mason's Apron" again,
from the beginning.
It was a tune to begin a set
when the audience was expectant,
listening to the tuning of the fiddles,
waiting for the music to begin.
fiddle11.html
And then the fiddler
began to play,
and all of a sudden
the mood changed,
and the audience was swept
into the lively tempo
clapping their hands,
dancing.
fiddle12.html
The story wasn't complete
without Hiram Powers.
She knew that
the moment Liam began his story.
fiddle14.html
She liked the looks
of Liam O'Brien.
Casual Irish
serious hiking boots
and book talk.
His father's family
was from Country Cork.
fiddle15.html
Her mother looking at Liam
with friendly interest.
She knew what her parents were thinking.
This one looks more stable.
Well she wasn't going that far.
It would take more than an Irishman
with blue eyes and a story
to send her down that path again.
"Well, I took a stroll on the old long walk
Of a day -I-ay-I-ay"
fiddle16.html
The "Mason's Apron Reel"
picked up speed.
Her fingers moved quickly
on the strings.
Nothing could stop her now.
Listening to the way
the notes sounded,
she played the music
as if it was a mountain stream.
fiddle17.html
She wondered if Liz Carroll
or Mary Custy or Eileen Ivers
played "Mason's Apron".
Nowadays she liked to listen to the women.
It was a kind of solidarity.
fiddle18.html
Focluth Wood's new guitar player
was a woman.
Máire was not going to
lose another guitar player in the same way
ever again. "And she's good,"
Máire said to herself.
fiddle19.html
Better than Donal.
They weren't yet in perfect sync,
but it was working.
Focluth Wood had two fiddles.
Two fiddles, a banjo, a flute,
an accordion player, who also played the drums
and a new guitar player named Claire.
fiddle20.html
And she loved the sound.
The new jig was like quicksilver,
fast, flowing like water.
She had written it herself,
and it was as yet untitled.
fiddle21.html
The story of Walter Power
and Trial Shepherd
was a reel, a hornpipe,
a jig, a light jig;
it was music with the timing
and the dance steps
as yet unknown
fiddle21a0.html
or a slow ballad,
the uniting of lovers,
set in a background of
17th century religion
and politics, sung
by the legendary Anthony O'Brien
in a boat with whiskey and friends,
and the people working in the fields
came down to the banks
of the Shannon
to hear the music.
fiddle21a.html
Or would be if she knew
more of the story.
Máire Powers
did not know
who had purchased
the Irish captive,
who was the founder of her family
in America. She did not know
what work he did for his master,
or how he met
the young Puritan woman
with the unlikely name of Trial.
fiddle21b.html
Whatever had happened,
unless it was a rescue mission,
she did not believe
that it was Trial's father,
Ralph Shepherd, and her mother,
Thanklord Perkins Shepherd,
who had purchased a human being
on the cold harbor docks in 1654.
fiddle21c.html
She imagined Walter and Trial
passing each other on the road
every week for years
until finally one or the other
got up the courage to speak.
fiddle22.html
She looked again
at the printout of the email
from Liam O'Brien
that lay on the table beside the couch.
"Will you meet me
for coffee or beer?"
fiddle22a.html
The new jig was like quicksilver
fast, flowing like water.
She had written it herself,
but it was as yet untitled.
She segued easily from the "Mason's Apron"
into the not yet named jig.
fiddle22b.html
It was a tune to end a set,
a tune that the audience
would want to hear again,
and the musicians
would be happy to play again.
Yet there would be an anticipation
of the sitting down with beer
and talk,
and the audience
waiting for the players to return
on another day.
fiddle23.html
The music of the jig
that she had not given a name
moved in silvery phrases.
She slowed her playing,
as if the softly flowing notes
of the song
she had written for Focluth Wood
spoke of a new path,
and who knew
what would happen?

fiddle23_pause.html
(pause)