Hiram Powers (1805-1873):
Vermont-born Irish American Sculptor,
who Lived and Worked in Florence, Italy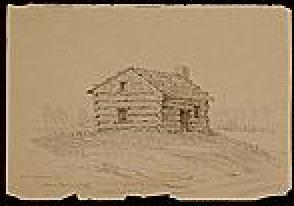 The first residence, in Ohio, of sculptor Hiram Powers
Drawing, by Miner Kellogg
Hiram Powers and Powers family papers,
Archives of American Art
Early Years in Woodstock
in Ohio
Marriage
In Florence
The Greek Slave
Early Years in Woodstock
Hiram Powers was born in Woodstock, Vermont on July 29, 1805.
He grew up on his family's small farm near the Ottauquechee River,
where he lived until they moved to Cincinnati when Hiram was 14
years old. It was a poor farmer's life made more difficult when
his father lost all his money. But although Hiram moved to Florence.
Italy in 1837, where he established a studio and lived for the rest
of his life, memories of Vermont were always with him. In his two
volume book on Hiram Powers, Richard P. Wunder quotes from a letter
Powers wrote in 1849 to his cousin, Tom Powers:
"Dreams often take me back to Woodstock and set me down upon
the green hills. the rocks, or up to the knees in Queechy,
well-remembered places. The dear old Church bell is ringing in
the distance and the smell of orchards greets me, the
singing of the birds have come and all is gladness about me;
or perhaps I am set down at our old fire side, warm and
comfortable while a fierce 'northeaster' is whistling through
the key hole and soaring over the housetop. The cider is
simmering by the fire, the butternuts have been brought down
and the apples have been brought up." [1]
In Ohio
The Powers family faced hardship in Ohio. His Father and Mother died, and
Hiram had to find work wherever he could. He had little more than his
well-worn clothes. But eventually he went to work for a clock and organ
maker, where he designed a machine for cutting clock wheels and a
reed-tuning device for organs. After spending time studying the
collection of Cincinnati's Western Museum -- in particular a cast of
French sculptor Jean-Antoine Houdon's bust of George Washington --
Hiram Powers began to study art with the German sculptor Frederick Eckstein.

In the tradition of medieval morality plays and the mechanized
Renaissance pageants designed by Leonardo, at the Western Museum,
he created an installation based on Dante's Inferno that
combined figures, mechanical devices and audio, and in 1834, he was
commissioned to sculpt a portrait bust of the Reverend
Robert Hamilton Bishop, first President of Ohio's Miami University.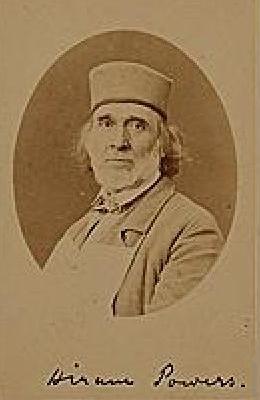 Hiram Powers, ca. 1867.
Photograph: Longworth Powers
Hiram Powers and Powers family papers,
collection of the Archives of American Art
Marriage
At the boarding house in Cincinnati,
where he lived when he was at the
Western Museum, Powers met
Elizabeth Gibson, whose Mother,
Anna Reilly, had come to America from
Dublin and whose Father's brothers
had been born in Ireland. Hiram and
Elizabeth were married on May 1, 1832.
In the next few years, Powers spent
time in Washington, DC and Boston.
His work included a marble bust of
John Quincy Adams and a fountain
on the Capital grounds which is no longer extant.
In 1837, Hiram, Elizabeth and their
two small children set sail for
Florence, Italy. Writers and
artists from all over the world
were welcomed for many centuries
in Florence -- where the work of
Leonardo, Michelangelo, Donatello,
Ghiberti, and Brunelleschi
can be seen everyday, and the
perfectly engineered dome of the
Basilica di Santa Maria del Fiore
is visible from many streets.
While Powers was there, the artist
community included Nathaniel
Hawthorne and New Orleans sculptor
Eugene Warburg, who was born a slave.
Powers lived near the studio of
American-born sculptor Horatio
Greenough, and in walking distance
of the residence of English
poets Robert and Elizabeth Browning,
where Elizabeth Barrett Browning
wrote Casa Guidi Windows,
a poem for Tuscan Independence.
Her poem "Hiram Powers' Greek Slave"
was was written after she saw
The Greek Slave in Powers'
studio.
Hiram Powers was a descendent of
Walter Power(s), from County Waterford,
Ireland, who came to Massachusetts in
1654 as a forced indentured servant/Irish slave.

The story begins earlier, but for this summary, it starts in 1649 when Cromwell devastated Ireland, and the Power family castles outside of Waterford were destroyed. Many of the family died opposing Cromwell; many were exiled to Connacht in the "Cromwellian Settlement".

Some Irish children, some as young as nine years old, were taken from their families against their will and sent to be forced indentured servants in the American Colonies. Walter Power was one of of them. He was 14 years old when along with over 500 Irish and Scottish children and young people stolen from their families, he taken aboard the slave ship The Goodfellow and sent to the Massachusetts Bay Colony. [3]