Judy Malloy:
From Ireland with Letters:
Junction of Several trails

Authoring Software: Judy Malloy, fiddlers_passage
Junction of Several Trails score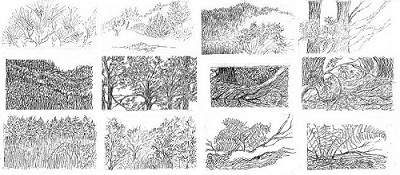 "In times of peace,
life went on in 17th century Ireland.
Before, in between,
after the wars.
Then, it should be remembered,
sometimes there was dancing
in the fields."
In reviewing the creation of Junction of Several Trails as documented in the pages of my writer's notebook, what seems most important is not the record of the difficult writing, design, and coding of this work, but the extraordinary histories, poetry, and musicology which were read and the complex and beautifully played/sung music that was listened to during the creation of this work.
The music began with the quixotic search for the lost Irish sonata (Grattan Flood, A History of Irish Music, pp 19-20) that has informed the composition of From Ireland with Letters from its onset. It continued with the music of 17th century Irish harpers, with historic and contemporary Irish fiddlers, and with an intermingling of Irish poetry, Irish song, and baroque composition structures (the Bach Cantata, for instance) that is not without precedent in Irish writing. (the writing of Irish tenor James Joyce, for instance)
Junction of Several Trails begins with a sinfonia in which the reader follows Máire Powers and Liam O'Brien on their separate paths to their meeting at the Farmhouse Cafe. It then segues into a cantata conversation. The characters are set in an electronic tapestry, where left and right side continuo/ marginalia of Irish history, Powers family genealogy, 19th art history, slave narratives, and the travels of The Greek Slave, contribute to the meaning of their their conversation. This does not mean that their conversation is not central but rather that because the continuo nodes surround the main characters, they are core to the way that, with slowly moving polyphonic text, the narrative is revealed.
From Ireland with Letters:

Intertwining Irish history and generations of Irish American family recollections in a work of polyphonic literature based on the rhythms of ancient Irish poetry, the imagined lost Irish Sonata, the madrigal, streams and fountains, and Irish song, From Ireland with Letters could be considered a playable text, a work of polychoral narrative poetry, and/or a generative hypertext. It is also an epic electronic manuscript told in the public space of the World Wide Web.
In this work of public literature, the narrative echoes the role of displacement and disrupted tradition that is evident in the poetry of contemporary Irish writers. Contingently, the act of telling an Irish American epic in the public space of the Internet is redolent of the ancient Irish lay, the music of the traveling Irish harpers, of the tradition of the ceilidh, and of my own late 20th century digital literature.
As electronic literature critic Leonardo Flores writes in his review of From Ireland with Letters: "the time may have arrived for a hypertext epic."
Songs and Poetry Quoted in Junction of Several Trails
"A gypsy rover came over the hill,
Down through the valley so shady
He whistled and he sang till the green woods
rang And he won the heart of the lady."

The quotation from the Trad ballad "The Gypsy Rover", that appears in Junction of Several Trails, is "The Whistling Gypsy" performed by Leo Maguire in 1950 and also performed by Tommy Makem, among others.
"And when I'm drinking,
I'm always thinking
How to gain my love's company"

From the Trad Celtic song "I'm A Rover"
"upon his knee a pretty wench
and on the table a jug of punch"

From the Trad Irish Song "A Jug Of Punch"
"And what's it to any man whether or no,
whether I'm easy or whether I'm true,
as I lifted her petticoat easy and slow"

from "Easy and Slow". There is some question as to who wrote or wrote down this song. One story is that Dublin playwright Seán O'Casey first quoted a few lines, and then Irish writer Dominic Behan wrote it all out with the help of an anonymous woman.
"sometimes
on December nights,
when the air is cold
and the wind is right
There's a melody that
passes through the town"
Saint Anne's Reel. Canadian (Québec, New Brunswick, Prince Edward Island, Cape Breton, played in Canada and in Northern New England, documented on The Fiddler's Companion
"...she sat down beside him,
the grass was so green"
the day was the fairest
that ever was seen"
Trad Irish found in Jerry Silverman, Mel Bay Presents Songs of Ireland, Pacific, MO: Mel Bay Publications, 1991. p. 6
"As down the glen one Easter morn
To a city fair rode I"
from "The Foggy Dew" by Parish Priest Charles O'Neill. The entire opening of this song is:
"As down the glen one Easter morn
To a city fair rode I,
Their armed lines of marching men
In squadrons passed me by.
No pipe did hum, no battle drum
Did sound its loud tattoo
But the Angelus' bells o'er the Liffey swells
Rang out in the foggy dew."
"MacDonagh and MacBride
And Connolly and Pearse
Now and in time to be"
From William Butler Yeats, Easter 1916 as reprinted on poets.org
Other songs from The Easter Rising were documented in my writer's notebook on November 30, 2012
Rising of the Moon
"Who would follow in their footsteps
At the rising of the moon"
The words to this ballad were written by Fenian poet John Keegan 'Leo' Casey, in memory of the United Irishmen Rebellion of 1798. Casey was imprisoned after The Fenian Rising of 1867, and his health was broken. He died on St Patrick's day in 1870. "The Rising of the Moon" is considered symbolic of the series of rebellions that finally resulted in the Irish Free State. In Junction of Several Trails, it represents not only Irish freedom, but the over 80 slave narratives written by African Americans; and the work of the Irish American sculptor Hiram Powers,who created The Greek Slave against a background of The Risorgimento and sent her to America in 1847.
About From Ireland with Letters
The role of displacement and disrupted tradition in the work of contemporary Irish authors is paralleled in this polyphonic Irish American electronic manuscript, which interweaves the stories of Walter Power -- who came to America as an Irish slave on The Goodfellow in 1654, stolen from his family by Cromwell's soldiers and sold in the Massachusetts Bay Colony when he was 14 years old -- and his descendant, 19th century Irish American sculptor Hiram Powers, who grew up on a Vermont farm and moved to Florence, Italy, where his work played a symbolic role in the fight against African American slavery in America.
The story is true, but the characters who tell it in From Ireland with Letters are fictional. Walter Power's story is told by his descendant Máire Powers, an Irish American fiddler who is writing a lay about 17th century Ireland and Irish slavery in America; Hiram Powers' story is told by 19th century art historian Liam O'Brien, who is researching the sculptor's life and work.
The sculptor Hiram Powers, whose work The Greek Slave was influential in the fight against slavery was the descendent of Irish slave Walter Power's fourth child Thomas. The writer of this work, Judy Malloy, is the descendent of his first child, William.
The pursuit of this story began years ago, when her grandfather, Walter Powers, told her the story of Hiram Powers.
"Each time the song is sung, our notions of it change, and we are changed by it. The words are old. They have been worn into shape by many ears and mouths and have been contemplated often. But every time is new because the time is new, and there is no time like now." -- Ciaran Carson, Last Night's Fun. p. 116
As electronic literature becomes an integral part of contemporary experimental literature, the alchemic merging of words and authoring systems continues central to the challenge of creating literary forms with algorithm and software.
Interspersed with lyrics from Trad Irish music and with recursive texts from my continuing epic From Ireland with Letters, in flowing word-based counterpoint, Junction of Several Trails describes a meeting of a scholar and a fiddler. Along the way there are journeys on a river road, an exchange of family secrets, slavery and opposition to slavery, and an exploration of the role of memory passed from generation to generation.
In the process, Junction of Several Trails brings to contemporary electronic literature a use of remix that -- echoing the recursive traditions of Irish poetry and music -- is integrated with original writing.
Junction can be read by watching the words play like a piece of music or by clicking on nodes to advance the narrative. In the latter case, there will be times when the music is silent. Wait, and it will return. Note that once in a while the server is not able to keep up with the flow of the work, and either an error occurs in acessing one of the files or the flow of the work comes to a halt. Reload the page or replay the work if this occurs.
"Such is the bent of Irish traditional music that tunes repeat: they are played at least twice, or maybe three, four or more times; then the players generally change to another tune." - Ciaran Carson, Last Night's Fun, NY: North Point Press, 1996. p. 29
Junction of Several Trails is a work of polyphonic electronic literature, written to a 4-stave version of the author's fiddlers_passage 3 stave authoring system. The idea for the fiddlers_passage authoring system began in 1991 with Wasting Time (After the Book, Perforations 3, Summer, 1992) and resumed in Berkeley in 2009, under the influence of early music. In an era of fluctuating authoring systems, the score for Junction also facilitates migration to new authoring systems and platforms.
Sources
Frederick Douglass, Narrative of the Life of Frederick Douglass, An American Slave, Boston, MA: Anti Slavery Office, 1847
Thomas Addis Emmet, "Irish Emigration during the Seventeenth and Eighteenth Centuries", Journal of the American-Irish Historical Society, v. 2, 1899, pp. 56-70.
Olaudah Equiano, Interesting Narrative of the Life of Olaudah Equiano, or Gustavus Vassa the African (1789)
Shane Leslie, The Irish Issue in its American Aspect. NY: Scribner's, 1917
Timothy G. McMahon, Grand Opportunity: The Gaelic Revival and Irish Society, 1893-1910, Syracuse, NY: Syracuse University Press, 2008
Michael J. O'Brien, Pioneer Irish in New England, P.J. Kennedy and Sons, 1937.
Walter Power's probable arrival in Massachusetts on the Slave Ship The Goodfellow, is documented on pp 239-241.
Sean O'Callaghan, To Hell or Barbados, Dingle, Co. Kerry, Ireland: Brandon Books, 2000
Robert E. West, PEC Illinois State Director, "England's Irish Slaves", originally published in the newsletter of the Political Education Committee, (PEC) American Ireland Education Foundation.
John Prendergast, "Of the seizing of Widows and Orphans, and the Destitute and Transporting then to Barbadoes, and the English Plantations," in John Prendergast, The Cromwellian Settlement of Ireland, London: Longman, 1865. pp. 237-240.
Richard Wunder, Hiram Powers, Vermont Sculptor. 1805-1873, Newark: University of Delaware Press, 1991.
Irish Music - Source Documents

Ciaran Carson, Last Night's Fun, NY: North Point Press, 1996.
Comhaltas Ceoltóirí Eireann - Boston
The Comhaltas Hall of Fame includes accordion players Joe Derrane and Thomas Senier.
James Cowdery, The Melodic Tradition of Ireland, Kent, OH, Kent State University Press, 1990.
Séan Crosson, "The Given Note": Traditional Music and Modern Irish Poetry, Cambridge, UK: Cambridge Scholars Publishing, 2008
W. H. Grattan Flood, A History of Irish Music, Dublin: Browne and Nolan, 1906.
W. H. Grattan Flood, Sketch of Irish Musical History - A Compact Record of the
Progress of Music During 1000 Years London : W. Reeves, 1922.
Charlotte Milligan Fox, Annals of the Irish Harpers, NY: Dutton, 1912
Susan Gedutis, See You at the Hall, Boston's Golden Era of Music and Dance, Boston: Northeastern University Press, 2004.
Máire Nic Domhnaill Gairbhí, A Traditional Music Journey 1600-2000, from Erris to Mullaghban, Nure, Manorhamilton, Co Leitrim, Ireland: Drumlin Publications, 2000
Patrick Galvin, Irish Songs of Resistance, NY: The Folklore Press, [1955].
Dorothea E. Hast and Stanley Scott, Music in Ireland, Experiencing Music, Expressing Culture. (NY, Oxford: Oxford University Press, 2004
Tomás O'Canainn, Traditional Music in Ireland, Cork, Ireland: Ossian Publications, 1978
Hugh Shields, Narrative Singing in Ireland, Dublin: Irish Academic Press, 1993
As described by Eugene O'Curry in his 1873 book, Of the Manners and Customs of the Ancient Irish, and retold by Hugh Shields in Narrative Singing in Ireland,, Anthony O'Brien, who was "the best singer of Oisin's poems that his contemporaries had ever heard", would go out on the River Shannon with a jar of whiskey and a party of his friends and lie back on the oars and sing. His strong, beautiful voice could be heard on the river banks in Clare and Kerry, and people working in the fields would come down to the Shannon to hear him sing.
George Sigerson, Bards of the Gael and Gall, New York: Scribner's, 1907.
Jerry Silverman, Mel Bay Presents Songs of Ireland, (Pacific, MO: Mel Bay Publications, 1991.
..."And, of course, there, in a vision of the night,
I saw a man whose name was Victoricus
coming as if from Ireland with innumerable letters,
and he gave me one of them,
and I read the beginning of the letter:
'The Voice of the Irish'..."
Saint Patrick, Confessio
The title of From Ireland with Letters is taken from Saint Patrick's Confessio, where the words are "from Ireland with innumerable letters". Having escaped from slavery in Ireland, Patrick, had a vision of a man from Ireland asking him -- with many letters -- to return to Erin.
In his "Letter To Coroticus", Patrick was also one of the first people whose words against slavery are recorded.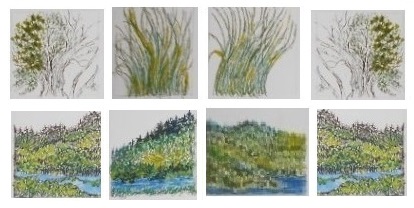 Return to Junction of Several Trails
Go to From Ireland with Letters
copyright 2013 Judy Malloy