Mug shot :
a happy day on the Ile Barbe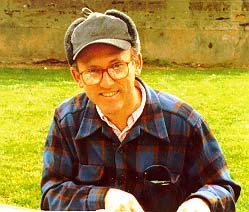 * For the "Paliki" page, which used to be here, please go to,
http://www.well.com/~kessler/Paliki/
But I've been alive for over sixty (60!) years, now, so it's time for a personal home page... a little explanatory verbiage, a few fotos, and more than a few easy links -- re. some current projects, some great memories & some not-so -- plus, a homepage helps with tracking & remembering stuff myself, through the brain fog...
* Something New! Update Feb 9, 2012: Poetry!... (poetry?...)
Yep, finally got around to this... about 50 years of working on it...
Ebooks: 2 completed so far, out of a projected 10 or maybe even 20 --

-- I'm ready for this, now, and now the Internet can do it, too!
* Links & projects, present & past:
The WELL / Whole Earth 'Lectronic Link -- best little virtual neighborhood in The Matrix, and where in 1989 I first learned what people really might accomplish, using the new "email" thing Yasar had shown me, down in the South Hall basement across the bay at Berkeley -- and then matisse & kayo taught both me & France Télécom how to get online at Sausalito from Lyon, and so many others patiently have coached topics-technical, argued topics-political, encouraged & sometimes dissuaded on topics-financial -- and through it all kathy and others on the WELL Help Desk patiently and efficiently have done the hand-holding. So, kudos to Stewart once again for his amazing foresight, and to you all -- The WELL is The New Education, you guys should grant PhDs --

FYI France -- my own little "Jerry's List" experiment, at cutting through & organizing some personal information-overload. It became a 1991 grad school email list: "French Libraries Online" -- online itself in 1992, then expanded & extended to become a 75+mb 500 sessions per diem website, 600 libraries in France listed & linked & sometimes described, plus an ejournal now reaching about 25k readers, all over the globe every month (sauf août). Lots of folks are fascinated by the French -- and even more folks, nowadays, are fascinated by the idea of non-English language users of any stripe getting online --

FYI France sm tm

Biblio-fr -- Hervé Le Crosnier's remarkable French librarians e-conference, "Bibliothécaires, documentalistes et documents numériques", now 17,522 subscribers and growing, still under the able leadership of Hervé and for some time now also of Moderateur Sara Aubry -- Hervé and I had adventures together back in the Early Days of the Ouebbe, in Paris, which led to his starting this -- [explicit 2009]

Consulting Projects

Ancient History

From 1990 on I've done a lot of teaching and consulting, and it's nearly all been fun -- I did have to tell one student, "No, home-baked cupcakes are not a substitute for attending class and doing the work..." Generally, though, I found that low-level classroom teaching compared very favorably against upper-level shmoozing, in modern US higher education -- during the 1960s the old "ivory" tower got shifted to something more metallic, so nowadays like so much else it runs on oil, and it develops rust.

I've designed & built & advised on a lot of websites, since Sir Tim & Marc & some NSF "acceptable-use" loosenings brought us La Toile in 1992-3: of one of which I'm particularly proud, for its academic rigor and general usefulness -- its author Charles Faulhaber both designed & implemented, mostly, but I did help -- is,

-- and since 1989 nearly every Friday I've enjoyed the excellent company, and the academic rigor too, and I still even do some indexing, of & for the friendly folks at the following remarkable resource, the,

Le BBF / Bulletin des Bibliothèques de France -- I have been their US Correspondent for years, along with my friend at Berkeley, Jim Spohrer -- this elegant publication, ably-managed by Annie Le Saux and edited by a succession of very capable ENSSIB directors, has fed my ongoing fascination with the French and their libraries --

Other Publications

In addition to Le BBF, there also has been a lot of other writing: for my own ejournal and websites, and for various publications in various places -- see a list at,

-- although the quantity of all that pales by comparison to the volumes of verbiage I've poured out both onto The WELL and onto The Web. I've archived some of it -- I'll never read it again I'm sure, rather write new stuff -- most will disappear out into the Internet æther, I expect.

Public speaking

There's been some rhetoric, too. A list,

But TV culture, I've come to believe, conditions too many of us nowadays to treat such occasions as Entertainment: ritualistic at best, in academic settings -- cannibalistic, in some others -- I'm no longer persuaded that substance truly comes across, on such "public" formal occasions. Barack Obama may convince all of us otherwise, we'll see...

I'm more a fan of email: store-and-forward is a great thing -- provides an opportunity to think, reflect, review, discuss, before replying. Obama enjoys, and is good at, shoot-from-the-hip. But I don't and I've discovered I'm not; I rarely even answer fones, any longer -- altho when my fone calls their fone I've discovered other people generally don't answer theirs either -- gratia voicemail, telephony has become a dialogue des sourds.

Paliki

The website involved here tells the fascinating story of the recent discoveryof Homer's historic "Ithaca", the home of Odysseus -- on the Paliki "peninsula" of Kefallonia and not on Ithaki as previously thought & advertised -- a remarkable tale of business acumen, geology, linguistics, and luck.

There have been many digital "projects": this one was a fight -- with Wikipedia, over arbitrary editorial control -- I wrote an article, some guy anonymously edited it, and when I tried to engage him to discuss he went crying to an administrator who arbitrarily (I thought then and still do) tore my article apart and rewrote the whole thing. So I yanked it, embellished a bit, and published it online myself:

Paliki, Homer's Ithaca

-- Wikipedia's watered-down and I believe pedestrian version of the article still shows up on Google as #1 -- momentum and force of numbers, grump... -- but mine shows up consistently on page 1 or page 2, at least, so there is Matrix justice out there somewhere!

Don't get me wrong about Wikipedia: it's a fine place, and Jimmy Wales is a fine guy, and the vast number of folks there are sincere and fair-minded and very hard-working, if politically & managerially naive -- they've created one of the great wonders, and invaluable resources, of the digital information millenium -- I use it myself daily, sometimes even hourly, or even continuously as sometimes I simply "read" the thing, and I always recommend it to others as, like any encyclopedia very much including Britannica, "a great place to begin any sort of research, if not necessarily to end it".

Politics

Another project... and speaking of politics... Howard Dean so impressed me, and Dubya Bush and Mr. Cheney's Iraq "war" so depressed me, that I decided to get back into Politics -- as vs. politics, where I'd been in London -- so I mounted a big Local Media website, which got a lot of use by various folks during the Campaign -- did it again for the Obama Campaign, too --
--oOo--
* Personal
Aand now for "the personal" -- which I've staunchly resisted, ever since a very friendly guy named Orkut first explained the principles of The Social Web to me down at Google -- I'm just the Wrong Generation for that sort of thing, I told him, I need to do my socializing off-line.
But our sons are both online, now, and recently the girl I love has gone online too: so here goes privacy and confidentiality and, I suppose, the last remnants of 1950s social paranoia...
The family's bigger, too: same number of us, but two are taller now than they were back when I joined The WELL -- very proud of both, and not just because they're taller -- while the other two of us have shrunk a bit, since.
And, besides, they're all doing really interesting things online, now. So, at least to keep in touch with Everyone:
Mama -- does amazing things with her wonderful concert harp, and her beautiful photographs, and with her much-loved animals --
Patch -- loves mathematics and is an engineer, both at the same time, and he juggles and runs in 5k races just for fun -- and he is warm and generous and a good & loyal friend --
Topher -- is doing amazing things with computers and microscopes and camcorders and The Internet and Websites and general technology and... get ready... neurophysiology -- "What's that dot on the slide?" "That's a cell, Dad..." "Those two cells seem to be connected!" "That's a neuron, Dad..." -- Topher is a very patient person, and he takes very good care of Zephyr --
Park -- is our Good Old Boy -- currently age 105, going on 112 -- he found us in San Francisco's Golden Gate Park, one wet New Years Day 15 years ago -- he was a little ball of very active mud, jumped out at Cinder from beneath a bush, then let us take him for a bath, and out came this beautiful little ball of golden fluff with two beady black eyes -- but for a centenarian he still gets around pretty well -- RIP November 30, 2009

Park, being Park, & high on Mt. Tamalpais

| | |
| --- | --- |
| | |

And Zephyr is The Baby -- growing up fast, tho --

And, finally and lastly, Me -- so not The Baby... now entering my 7th decade... -- still very much devoted to the girl with whom I fell in love back during my 3rd decade (see "Mama", supra) -- my chief interests now are, 1) her, 2) Patch & Topher, 3) everything else -- in that order, but very much including, as well,

the Internet
cellphones
France
history, of just about anything
libraries
"transitions in media", what a friend in France recently has pointed out is better-labeled "mediamorphology"
finance, particularly transnational
Barack Obama
politics generally
texts, both printed and other
the odd idea that "information" might be "digital" and still be distinguishable from "data"
Homer, his Iliad, and his Odyssey
Asia, particularly India, and there particularly its South
mountains
gardening
trees
Trees & Ents & maybe a graceful Entwife?

| | | | | |
| --- | --- | --- | --- | --- |
| | | | | |
poetry

And the end of all our explaining
Will be to arrive where we started
And know the place for the first time.
-- T.S. Eliot

Oh joy! that in our embers
Is something that doth live,
That nature yet remembers
What was so fugitive!
-- Wm. Wordsworth

Andra, moi ennepe Mousa, polutropon,
Hos mala polla planchthe
-- Omeros

to the bacteria, tumblebugs, scavengers,
wordsmiths -- the transfigurers, restorers...
garbage has to be the poem of our time because
garbage is spiritual, believable enough
-- Archie Ammons

What's up, Doc?
-- Bugs Bunny

Why shit Snyder, you couldn't hit
A bear in the ass with a handful of rice
-- Gary Snyder

fifteen-favorite-writers-plus-one

Kudos to Roy Tennant for the idea -- we share a Shirer, also a Homer -- I got to 15 but then realized I couldn't leave Bob Dylan out, and within my allotted 15 minutes I couldn't find anyone else to drop --

Gary Snyder -- for that single line, "Why shit Snyder, you couldn't hit a bear in the ass with a handful of rice!", plus pretty much the rest of his œuvre, I think I've read most of it and I've loved all I've read, he has a gift for expressing what the young males of my generation were thinking, I'd take his verse hiking into the Sierras, squashed into a pocket or a backpack, read it by the campfire.
Lawrence Ferlinghetti -- for a single poem, "Away above a harborful of caulkless houses...", the San Francisco and now-old North Beach which I love too -- also for his rebelliousness, and unflinching support of other rebels, so needed in our smug and self-centered California paradiso, I've read a lot of his work, first at age 13 via my inspired teacher Don Jesse and pretty steadily since.
Leo Tolstoy -- the biggest and grandest book I've ever encountered, War & Peace, primarily for the littlest things in it, his characterizations of the young Natásha, of Pierre, Bolkónski, the scene of old Kutúzov's religiosity before the Virgin of Smolensk, my cherished edition inscribed Christmas 1962 makes me 13 when I first read this and I remember devoting an entire summer to doing it.
Gandhi -- his writing is so steady, his Autobiography was a childhood dreamy passion as I understood so little of it but loved his language, the combination of the man and his writings make him the leading intellectual enragé / engagé of whom I've ever heard.
Edgar Allen Poe -- for the sheer music, of Annabel Lee and his other sonorous verse, and for the fact that while Americans do not esteem him now the French do, greatly, and I've wondered why that is.
William L. Shirer -- his Rise and Fall of the Third Reich, bold swastika dramatically emblazoned on its jacket, shocking explanation and corrective for the terrible stories my families told of the cultures they'd left behind in Europe, I was about eleven when I read this tome straight-through, re-visited it several times since.
Victor Hugo -- for Esmeralda, Quasimodo, Jean Valjean, "ceci tuera cela", his soaring poetry, I've found no better monument to the sensibilities of the 19th century French.
Nietzsche -- for being so wrong, and so passionate about it, my better understanding of the Europeans' magnificent 19th century and their terrible 20th was established by reading Neitzsche's strange ramblings about übermenschen and the death of God and the birth of Something Else.
Hans Kelsen -- the crystalline structure of his mind and vision, also its hard and unyielding and ultimately brittle quality, it gave me a far better understanding of Europeans and their culture and its limitations and their terrible 20th century than any history ever did.
Arthur Waley -- for opening the East to me, and for the lightness, sheer beauty, of his translations, and for "Madly Singing In the Mountains" a translation of ancient Chinese which no one but an Edwardian Bloomsbury gentleman ever could have said.
Homer -- vast resource, of everything Greek and European and Western, I've always read Homer as history, something true, I still have my original children's version with its wonderful Provensen illustrations, presented to me when I was very young by good Greek friends.
Herman Hesse -- for The Glass Bead Game, he cured me there of my enslavement to academia, and greatly clarified many issues about life & cultures & directions.
Archie Ammons -- poet who explained my own ageing to me, a Harold Bloom essay recommended him, I loved his sensibility in Corson's Inlet and since have read everything he published, enjoying his warmth and humor.
Eliot -- for The Wasteland, plus several parts of his Four Quartets, he is the poet least like me among the many I've read, but I have great sympathy for his facing several of the questions, and troubles, which I've found myself facing as well, and the rhythms in his writing are beautiful.
Bob Dylan -- poet of my generation and my country, I loved Woody Guthrie too, sang his songs, came to understand Dylan through Woody.
Yeats -- for his music, like Poe of all people, the lines in Yeats literally sing -- and his contradictions, the silly pretensions of his historical pieces and his mysticism, and the immense power of his many pits of despair -- the "sixty year old smiling public man", and the young Dublin dandy, and the precious aesthete, penning powerful and lasting lines such as, "And what rough beast, its hour come round at last, Slouches towards Bethlehem to be born?"

geology
big cities
and never taking another air plane trip, ever again
...

-- and some other, personal, links --

Musée de l'Imprimerie de Lyon
http://www.imprimerie.lyon.fr/imprimerie/
Yale College -- alma mater
http://www.yale.edu
BNC / Brasenose College -- another alma mater
http://www.bnc.ox.ac.uk/
UCB / University of California, Berkeley -- another alma mater
http://berkeley.edu/

-- in fact --

Alta Bates -- where it got started, I was class of 1949
http://www.altabatessummit.org/
Oxford Elementary School -- where it launched
http://oxfordelementary.org/
Miramonte High School -- where it got polished -- a little tarnish on that polish, now, but not too much
http://www.acalanes.k12.ca.us/miramonte/

-- and --

Andrew Alden -- geology -- the guy does a great job of communicating his love of his fascinating subject -- California being the land of earthquakes, all of us out here anyway are need-to-know --

The BMLyon -- a simply great local urban library system, with a central facility riccissime in resources -- how many libraries with children's rooms also boast a volume donated by Alcuin and Charlemagne in their stacks? --

The BnFrance -- speaking of bibliothèques riccissimes... I've been a member here and at Lyon's wonderful Musée de l'Imprimerie (above) for many years, now --

The South Bank, London -- wot's to say?...

Bermondsey, tanning works, vinegar & other aromas, John Courage & lots o' that, The Clink, Borough Market, flats of Israeli tangerines devoured at a single sitting, roundabouts, flyovers, Old Felix under the arches, St. Mary Overie, John Harvard, Dickens, The Anchor, Sam Wanamaker, the Infanta de Castile, sherberts & lots o' that, City toffs, rhyming slang, why St. Paul's survived wasn't their love of art history the Jerries just missed...

And council flats, Pibiddy Buildings, rubbish tips, victory gardens, grow a cabbage for The Queen, shot off in The War that was, we know who took your stereo and where it is and we can get it back for you at a very good price sir...

Green grocers, Penguins, gentrification, Billingsgate porters, Docklands workers, pickled eggs, Adventure Playgrounds, the courtyard at The George or The Tabard where Shakespeare and It all began...

That's wot to say...

Andalucía -- great growing time spent 1972-3 learning to dance, and sing, and drink, they called me Manzanagua, and to decide all that's not all there is -- an old gitano neighbor named Andrés taught me, on the beach at Bolonía, helping him tie his roof down with long ropes slung up and all the way over his little house and staked to the ground on both sides, that when the winds blow you need to tie down your roof -- and Andalucía has its extravagantly-mysterious side, as well --

The Mosque at Córdoba

South India -- 15 years in the family handicraft importing business, largely working with the wonderful people who inhabit this beautiful & incredibly fascinating place --

gopuram, Kalayar Kovil

Noe Valley -- where I've landed for now, anyway -- a real community nearly as comfortable as my virtual village on The WELL -- first & last San Francisco stop on the World's Most Beautiful Highway 280 express-run between Our City of Saint Francis and the Silly Valley, the GoogleKids all walk around sleep-deficit dazed and caffeine-dosed, chatting & texting nervously into their iPhones, then they board the GoogleBus with its onboard wi-fi for their twice or thrice weekly runs down to the GooglePlex -- the busses leave every 15 minutes in the mornings -- but the little neighborhood with its shops and Saturday street-market and playgrounds and Sunbelt weather is friendly and beautiful -- the tee-shirts here read "London, Paris, Rome, Noe Valley" --
Val de Noë

| | |
| --- | --- |
| | |
Golden Gate Park & Somboun's Book -- arguably the most beautiful park on the planet, and I've seen a lot of them, San Francisco's "miracle on the sand dunes" gets as much of my attention nowadays as I can find to give it -- the walks there are wonderful, the hidden corners, the little boats on the little lake, the wildlife both human and other -- and one of the most eloquent statements ever made about any park is our treasured book of beautiful watercolors, by our good friend Somboun Sayasane, reviewed by Ben Fong-Torres at the following site --

Our little house & larger garden -- great fresh fruit & vegetables -- pippin apples & Chinese plums & strawberries & apricots & tall corn & artichokes & beans & potatoes & we even grew wheat one year... still haven't tried a rice paddy... -- about 300 feet from the geographic center of "San Francisco", which used to be a city but has become a small incredibly-wealthy neighborhood on the fringe of a sprawling metropolis now better-labeled "Greater San Jose" -- but, still, great place, great politics, great garden, and Janet's here...
--oOo--
And the way to live to age 94 is: live-it-up for 93 years, and then for 1 year be very, very, careful.
But maybe, too, we'll move to Nagercoil or Trivandrum sometime, who knows... Onward...

The legal stuff:
Jack Kessler makes no express warranties or representations and disclaims
all implied warranties regarding any design or content of this webpage or website
or any resources reached using this webpage or website, including any regarding
accuracy, currency, merchantability, or fitness for use. We're just
tryin' our best,
here.
And most of the photos on this site are mine but a few are from Wikimedia Commons, whose GNU License appears below. Website design for me, as some will notice, is sort of like the aphorism "never speak more clearly than you can think" -- to me content is king, and design never should take precedence -- OTOH function does follow form, very often, so I have tried my best, and suggestions on any aspect of this site's design, or discussions of any part of its content, all gratefully will be received, en américain or in English or French or even Spanish, via email to kessler@well.com.
Permission is granted to copy, distribute and/or modify this document under the terms of the
GNU Free Documentation License
, Version 1.2 or any later version published by the Free Software Foundation; with no Invariant Sections, no Front-Cover Texts, and no Back-Cover Texts.
Subject to
Wikipedia disclaimers
.
Copyright (c)1989- , by Jack Kessler, kessler@well.com.
Permission is granted to copy, distribute and/or modify this document
under the terms of the GNU Free Documentation License, Version 1.2
or any later version published by the Free Software Foundation;
with no Invariant Sections, no Front-Cover Texts, and no Back-Cover Texts.
A copy of the license is included in the section entitled "GNU Free Documentation License".
And for anything else here not covered, legally, by the above license etc. -- and you'll have to ask your own "experienced copyright practitioner" lawyer, about that -- please see the following:
Copyright © 1989- by Jack Kessler, all rights reserved.
(It's easy to get my permission to copy and distribute the things I write,
if you need it: just ask me -- email address appears below -- generally I
have no objection, so long as my name and email address appear,
but only if I'm asked in advance.)

W3 site maintained at: http://www.well.com/~kessler/
Document maintained by: Jack Kessler, kessler@well.com
Last update: May 24, 2012