TechJourno The site for author-journalist Larry Lange.

Apple vs. Apple: Why The Beatles Won't Win
February 22nd, 2005
By Larry Lange
Email Larry Lange
© Larry Lange, All Rights Reserved.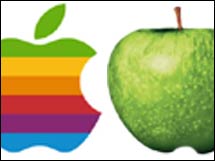 For the third time in three decades, the Beatles' Apple Corps has slapped a lawsuit on Apple Computer. And while we all know the PC giant lost the first two rounds to the tune of $26 million—this time out, Steve Jobs and co. will walk away pretty much unscathed.

As background, since 1968, the name Apple had been associated with the Beatles—as Apple Corps, their holding company, and Apple Records were founded as tax shelters that year. They still exist today, and release Beatles compilations such as Anthology and 1.

Enter Apple Computer. In 1976, Steve Jobs and Steve Wozniak built the first PC and started a company—probably unwisely calling it Apple Computer in tribute to the group. But two years later, Apple Corps sued the PC firm for trademark violation—specifically for the similarity of the apple-shaped logo. That case was settled in 1981, with the PC firm paying $80K, and agreeing to stay out of the music business.

Sue you sue me blues

In 1991, Apple Corps sued Apple Computer again, alleging that by offering MIDI products stamped with the apple-shaped logo—the computer company violated the '81 trademark agreement. This case too was settled, and Apple Computer paid out a whopping $26.5 million, and agreed once more to steer clear of the music biz.

Fast forward to July, 2003—and this third pending lawsuit by Apple Corps, which alleges that Apple Computer's music products, iTunes and iPod, violate the '91 agreement.

But here's the rub: the Apple Corps suit once again centers on trademark infringement. Now, as far as that goes, they do have a case. Because for a short time after launching iTunes, Apple Computer did breach the trademark part of the '91 agreement—the section which directed them not to display their apple-shaped logo on music-related products. But the PC firm has since corrected that—by pulling their logo off the iTunes online store—and killing the similar-sounding domain name www.applemusic.com.

I'll get you in the end

But what Apple Corps really has in their sights goes way beyond that. They want a piece of those pricey iPods, and who can blame them? At $299 dollars a pop, with 10 million units already sold—the iPod business is where the real money is anyway—not in the few cents iTunes earns on each MP3 song it sells after hefty licensing and transaction fees.

But the surviving Beatles are chasing up the wrong tree. Why? Because if you review the pertinent papers from London's High Court, it's clear that Apple Computer has not violated the '91 hardware part of the agreement—which states the firm cannot package, sell or distribute physical music materials, such as CDs. And of course, since iTunes is not in the business of selling CDs, the PC firm is legally protected.

Further, the '91 agreement papers state that the use of software to distribute music is clearly within Apple Computer's rights. And it goes without saying that the iTunes online store, and every MP3 file for sale there—are nothing if not software.

And lastly, taking the hardware issue into further consideration—since the iPod was only built to play MP3 software files, and not to play physical CDs—Apple Computer is legally protected under that point of the agreement as well. Consequently, with all this in mind, the Beatles and Apple Corps just don't have the big case they might have hoped for.

I should have known better

Now, one should remember the '91 agreement preceded the online revolution we take for granted today. In fact, the first Netscape browser wasn't even around until 1994. To that end, the Beatles couldn't have foreseen that music would one day be readily available in a downloadable digital format like MP3—so the '91 agreement didn't include it. Call it shortsightedness on the part of the Beatles—or just damn good timing for Apple Computer—but because of it, the PC firm has every right to contest the Fab Four's newest claim.

Even so, most legal analysts think there will be some kind of settlement here. Maybe. You never know what a judge will do with a case. But to those who naively say Apple Computer will be liable for the "biggest payout in music history"—I say you're dead wrong. Because this time, Steve Jobs and co. are clearly protected under that pre-Internet 1991 agreement.

Still, if for some reason the decision goes against Apple Computer—the worst-case scenario for the firm is they'll be forced to completely cease-and-desist from music-related products. But even that won't matter much. The iPod and the iTunes Music Store brands are now firmly established in the social fabric—so moving their music business over to a new division won't deter from continuing popularity. In fact, such a judgment might even backfire on the Beatles' good name—by casting them in a greedy, litigious light.

Try to see it my way

If it were up to me—I'd make both parties hammer out some kind of small financial settlement for starters—just to cover Apple Computer's short trademark infringement period. Then, I'd give Apple Corps the right to oversee how Beatles songs are distributed over the PC firm's products. This would enable both parties to get out of the courts, and get on with what's truly important—this business of music.

Because until that time, it's us, the music lovers, who suffer. The Beatles won't allow their songs to be legally downloaded—so we can't purchase them on iTunes, or anywhere else online for that matter. And since Apple Computer is mired in yet another drawn-out legal scuffle with Apple Corps—they're forced to keep music-related innovation locked up in the workshop and out of the marketplace.

So come on guys. Take a cue from a great Beatles song—and finally figure out a way to say We Can Work It Out!

Related: London's High Court papers on the Apple vs. Apple case.
© Larry Lange, New York, February 22nd, 2005