From For Shake's Sake! The site for author-journalist Larry Lange.
The Best Band You Never Heard Of
Power-Pop Pioneers, Pezband, Finally See Catalog Released on CD
Spring, 2006
By Larry Lange
Email Larry Lange
©2006 Larry Lange, All Rights Reserved.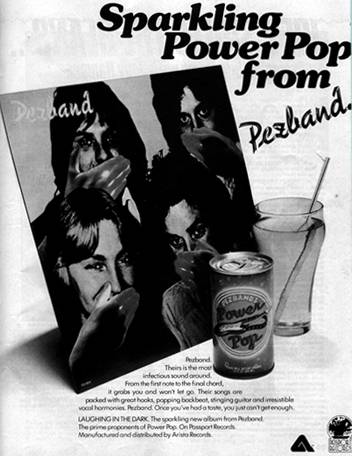 Before the power-pop movement kicked into high-gear with the success of 1979's Get The Knack and Cheap Trick's Live at Budokan—pioneering Chicago-based group, Pezband, had already blazed a three-year trail of hard-edged, hook-laden and harmony-drenched pop-rock on three critically-acclaimed albums and two ferocious live EPs.
Though Pezband's "Baby It's Cold Outside" and "Stop! Wait a Minute," are staples of every best-of power-pop compilation—it took Japanese label Air Mail Recordings to release the long out-of print catalog of 50 Pezband tracks on three CDs. In the U.S., pop-savvy Not Lame Records is distributing the catalog online.
"This is a blast for us," says Mimi Betinis, one of Pezband's original members, and he's pleased with the CDs. "They sound much punchier than what we had back in the '70s. Pezband's Mike Gorman agrees, and gives the credit to high-tech digital processing for enhancing the group's original analog recordings. "The Japanese call these the 'excitable versions,'" he says, "They did a great job."
The CDs are available in digipak-format, which enabled Air Mail to faithfully reproduce the original covers—right down to the pull-out color picture sleeves.
"Response so far has been excellent," says Bruce Brodeen, founder and president of Not Lame. While Brodeen is thrilled about the initial blast of sales, it's not merely for the spike to his bottom line—he's also a rabid booster. "I've been a fan of Pezband since their first album. In fact, the very first release on the Not Lame label in 1995 was a four-song vinyl EP of rare Pezband music.
Some industry observers are calling for the new generation of pop fans to take note of Pezband's legacy—fully 25 years after the group disbanded. "It's important for current music lovers to be aware of Pezband," says Jean Rosenbluth, a former writer for Rolling Stone, and now professor at USC's Gould School of Law. She adds, "anyone who loves power-pop, and has an interest in its history, will want to know Pezband's music."
Great music—bad timing
It's ironic that Pezband should be enjoying a resurgence today—for as with their pure-pop forbears, Badfinger, Big Star and Raspberries—Pezband was to befall a similar fate, only more so. A promising launch with tons of buzz, magnanimous reviews from rock critics, and gigs opening for the mega-bands of the day—simply did not equate to radio play and record sales.
While their home-state peers, Cheap Trick, figured a way out of the pop-rock box (and the restrictive "power-pop" tag) by transforming themselves into in arena-rock outfit—Pezband stuck to what they knew best, British Invasion-style pop-rock, and never veered from the course. But in the end, it was the band's Waterloo.
David Bash, founder and CEO of the International Pop Overthrow (IPO) music festival, explains, "Pezband was caught in-between the power-pop boom of the early '70s—when Badfinger and Raspberries were churning out hit singles—and the resurgence in the very-late '70s, when The Knack and Cheap Trick broke big. Had they done their thing a few years earlier or later, they'd have had a better chance."
Bash further cites the group's record company [the long-defunct New Jersey-based Passport Records] as simply lacking the promotional resources to break the band. "Had Pezband been signed to a CBS, Capitol or Warner Brothers, they'd have had a much better shot," he says.
One Pezband observer is Hollywood high-flyer, Paul Broucek, President of Music at New Line Cinema, who's overseen the soundtracks for the Austin Powers and Lord of the Rings movies. As a fan of the group as far back as their early club days—Broucek says the group had a profound (and largely uncredited) influence on the power-pop and new-wave movements of the '80s.
"Take Cheap Trick as a prime example," says Broucek, "Pezband started to buzz long before they ever did—and in fact, Rick Neilsen [Cheap Trick's leader] used to show up at Pezband shows in the very early '70s. He was a huge fan of theirs." And Broucek himself was involved with an almost-band in the '80s, which featured Cheap Trick's Tom Peterson—and he says the front-man Peterson most wanted to work with was "naturally, Pezband's Betinis."
Meet the Pezband
Despite their perpetual nearly-famous status, from 1977 through 1979, Pezband made records as catchy and ebullient as their heroes, the mid-period Beatles—and were as driving and soulful a live-act as the Jeff Beck-era Yardbirds. The newly released CDs, Pezband, Laughing in the Dark and Cover to Cover heartily attest to that, say today's music critics.
John Dougan, a recording industry professor at Middle Tennessee State University, reflects, "Pezband played power-pop with a minimum of bullshit, and a maximum of exuberance and energy." Dougan, who's written about the group for the influential All Music Guide (AMG), adds, "With such great, great songs, Pezband should've been huge."
Indeed, the Pezband story is one of rock's most lamentable tales ever, especially in light of the lofty heights the group did manage to reach. For starters, in 1977, at the height of disco, the group—consisting of members Mimi Betinis (guitar, vocals), Mike Gorman (bass, vocals), Tommy Gawenda (lead guitar), and Mick Rain (drums, vocals)—practically leapt out-of-the-box with their self-titled debut album. An early-Beatles-styled affair, Pezband showed off a triple-threat band in their early twenties—with great songs, great chops and good looks to boot. [There's no significance to the use of "Pez" in their name—Betinis merely liked the way the letters looked from an "artistic standpoint"].
Kids of the British Invasion
It's no surprise the group wanted to emulate the Beatle template—they'd idolized them as kids. "I was twelve in 1966—that was the year for me," says Betinis. "My mother took my sister and me to see the Beatles play at Comiskey Park that summer—and in the fall I got to see the Yardbirds and Hendrix too."
As a kid, Mike Gorman studied hard the bass-playing of his heroes Paul McCartney, John Entwistle, Jack Bruce and Motown's Jamie Jamerson—and says of his musical youth, "I thought it was magic coming out of the radio. I went nuts for getting in a band after the Beatles hit."
In fact, Pezband tracks like "Baby It's Cold Outside," "Princess Mary," "Gas Grill," and "It Was Alright" practically scream early-Beatles, thanks in large part to Betinis' lead vocal style—a near-perfect cross between a raucous Lennon's and a sweet McCartney's.
Bernie Hogya, co-author of the biography Eric Carmen: Marathon Man, followed the band in their prime. "I loved Mimi's Lennon-esque vocals," he recalls. "On 'Stop! Wait a Minute' (from the group's second album), when Mimi shouts at the top of his lungs 'stop! wait'—I can almost hear the Beatles back together."
The dynamic "Close Your Eyes" offered a glimpse of promise to come. The staccato guitars pre-date The Cars by a mile, and the extended solo (a melodic ripper from Tommy Gawenda), proved Pezband could pull off their own unique sound. Hogya further cites "Hold On" as "one of the best power ballads of all-time."
And while the production by Stephan Galfas is a bit rugged, considering the $50K budget (all their fledgling record company could muster)—it's positively Alan Parsons. E-Street's Clarence Clemons plays sax, a horn section adds muscle, and some of the ballads even boast real-live string arrangements.
The cover of Pezband xeroxed the early-Beatles image template: black and white photo; the band half-shadowed in vests and ties and sporting mop-top haircuts—there's even Meet The Beatles cover minutiae (the tag "File under: Pop Vocal"). It wouldn't be a shock to find that Doug Fieger and producer Mike Chapman had studied the look and sound of Pezband two years before they took The Knack mainstream. Mimi Betinis still bristles at the thought, "When we saw that record [Get The Knack] we hit the ceiling. We fucking went—'these guys took everything from us—our clothes, our black and white cover concept—everything!'"
Laughing in the Dark
As 1978 approached, things looked rosy for Pezband—they even had their own communal house in West Orange, New Jersey nicknamed "Club 15" (they lived at 15 Club Street). "It was like the Cowsills or Partridge Family or something," chuckles Mike Gorman, "except Mom and Dad weren't around!"
While the band favored "beer and sandwiches" over the harder substances prevalent in the '70s—Pezband did enjoy a bevy of female admirers. Gorman laughs as Betinis amusingly recounts, "I remember thinking once 'Mike hasn't been out of his room for the past two days—what is she doing to him in there?'"
Good clean fun aside—by this time Record World had crowned Pezband "Most Promising New Act of the Year,"—and Billboard and Trouser Press were singing their praises. The group's doe-eyed McCartney poses even made their way into teenybopper pubs like 16 Magazine and Tiger Beat.
Further acclaim was heaped on their live EP release Two Old Two Soon. "If this four-songer is a hint of what's to come on their upcoming second album," chimed Hit Parader, "this may be the best American group of the year."
But that was nothing compared to the raves over Pezband's next album Laughing in the Dark. Recorded in the U.K. at the height of the punk movement, no less than Rolling Stone (when it mattered) cited the album as "one of the best of the year."
Flying high
With a striking cover design by the famed Hipgnosis, Laughing in the Dark found the group (with producer Jesse Hood Jackson at the helm) now confident enough to start punching their way out of their Nehru straightjackets and display their rich musicality. Betinis' jazz influences shine on "Better Way To Win" and "Come On Madeline"—and Mike Gorman's commanding eight-string bass-playing locks hard with Mick Rain's atomic drumming (think a 'clean Keith Moon'). Another of the group's deep influences (the Peter Green-era Fleetwood Mac) is present on the attack-driven "Black Magic."
Further, Gorman and Rain hit their stride as songwriters on par with Betinis. Gorman's ultra-catchy "On And On" and the full-tilt "Crash and Burn" are complemented by his soulful Steve Windwood-style lead vocals—and Mick Rain's Orwellian "Love Goes Underground" predates The Jam's All Mod Cons by a year, and makes you wonder if Paul Weller was in attendance during Pezband's London club gigs.
Pezband do hold tight to their Beatley roots on Laughing. There's the Lennon-riffed "Lovesmith," and the extraordinary "Stop! Wait a Minute: (sort of a Beatles-version "Please Mr. Postman" on steroids). "That song is eminently hummable and propulsive," says Jean Rosenbluth, the former Rolling Stone writer. "It grabs you from second one, and envelops you in a sense of urgency that's chaotic." She adds bemusedly, "I remember sitting in my room as a teen, playing "Stop! Wait a Minute" over and over again, thinking how cruel some boy was to me."
Exciting live act
Pezband were no slouches onstage either—according to those who experienced them live. Tom Lounges, publisher of Midwest Beat Magazine, saw the band perform in the late '70s, and was always left astonished. "Pezband had a positive vibe that cascaded off the stage and into the audience."
In fact, Passport Records, anxious to tout Pezband's rampageous live act—released the group's second live EP, Thirty Seconds Over Schaumburg—fittingly pressed on bright red vinyl. The record highlights Mimi Betinis' frenetic Jeff Beck-style lead guitar—while showcasing the group's British blues influences, especially on the explosive covers (Jeff Beck's "Blue Wind" and the Yardbirds' "Stroll On" and "I'm Not Taking"). All Music Guide critic John Dougan says, "I love the Thirty Seconds EP—for the fact the band rocked like crazy—and for the sheer chaos and energy."
By late '78, Pezband appeared to be on a real roll. Picked to open for stadium acts like Rumours-period Fleetwood Mac and Supertramp—even Jane Pauley discussed them on the Today show, chirping, "this is the sound everybody will be talking about."
But despite the grandiose reviews and a grueling six-night-a-week touring schedule—the masses simply weren't getting it. In an era where Saturday Night Fever was omnipresent, for Pezband, radio-play was virtually non-existent and their records languished in record store bins.
For cash-strapped Passport Records, watching its wonderboys never manage to crack the Billboard Hot 100 even once—might have been acceptable for a debut, but not a second time. Worse, Passport's distributor ABC-Dunhill had been sold to MOR-heavy Arista. Suddenly, as with Badfinger and Raspberries before them—a yawning cliff appeared, just as the group was falling off it.
Pezband's swansong
Even so, the members of Pezband had enough tenacity to give it one more shot—and despite the fact their self-produced third album Cover to Cover was recorded on a shoestring (and a mobile unit)—the record is poignant and impressive. As Jean Rosenbluth says, "There were many bands who crafted songs with brilliant choruses and intros—but Pezband were the masters."
Indeed, Mike Gorman stepped up once again with his confessional "Meika" and with the still-pertinent-today "African Night," a hook-filled rocker about Idi Amin's death squads. But Cover also reveals Pezband's other star, Betinis, going dark. While he does dash off rambunctious hard-pop like "Stella Blue"—Betinis' haunting "Didn't We" lays bare a dream on the brink [why's it all wrong / tried for so long / didn't we?]. "We'd been at it for a good eight or nine years," says Betinis, "so by now, we were just fed up—there'd been one too many lean years for us to continue."
Cover to Cover was given short-shrift by Passport, and the record quickly fell off the map. By early 1980, without so much as a whimper—Pezband was over. "We were just a little pop band, like the 'little engine that could,'" reflects Betinis, "we tried and tried and tried, butů" His voice trails off.
After the break-up, Betinis and Rain recorded demos in hopes of another deal, while Mike Gorman joined Atlantic Records act Off Broadway (led by original Pezband member Cliff Johnson). Ironically Tommy Gawenda found himself working with producer Mike Chapman (as a guitarist for RCA's TAMI Show—but none of the four's post-Pezband projects caught spark.
Legacy lives on
Twenty-five years after disbanding, there's no acrimony between Pezband's members—they even keep in touch fairly often. So, while a 2005 reunion is not imminent, it's not out of the question. "It would be fun," says Mike Gorman, "they already want us to come play in Japan, so, never say never."
Today, Mimi Betinis teaches art for the Chicago public school system, and Mike Gorman still tours in the summers with Off Broadway, and works in real estate. Tommy Gawenda is a sound designer for upscale clubs in Chicago, and drummer Mick Rain is in Florida, also working in real estate.
In the end, with the recent CD release of their three albums (and two live EPs included as extras)—the Pezband vision of "anything for fun" (the title of one of their unreleased songs) can now live on—as new generations of music fans discover the remarkable legacy of pop-rock the group created in the late '70s. But Gorman does offer his hard-earned wisdom to aspiring musicians of today, "Have fun with it—don't take it too serious. Expect trouble."
One question remains however. Will Pezband continue to be a footnote in the lesser category of "power-pop"—or finally be considered for inclusion in the annals of classic timeless rock? Mike Gorman of Pezband hopes for the latter. "We've always considered ourselves a real rock n' roll band," he says. "Power-pop was just a little marketing tag by our record company to try and describe our sound back then. But when I think of 'power-pop,' I think of more wimpy bands—not us."
Paul Broucek, President of Music at New Line Cinema, agrees, "Why should Pezband be looked at any differently from Tom Petty? His first album came out the same year theirs did. I mean, 'power-pop' was the moment—but Pezband is forever the quintessential American rock group."
Not Lame's president, Bruce Brodeen, sums up, "Pezband were archetypal, unpretentious and a whole lot of fun. They offer a musical DNA that should be in the plasma of any serious music fan."
About the author
Author and journalist Larry Lange has written on the music industry for Hit Parader, Mix and Discoveries. Lange is also author of the personal-growth book The Beatles Way: Fab Wisdom for Everyday Life (Beyond Words Publishing), which is a perennial seller in the U.S., and is in six languages worldwide. He can be reached at llange@well.com.