Home Tattoo Project 2005 Motorcycling Queer Biker Invasion of Death Valley e mail
---
Background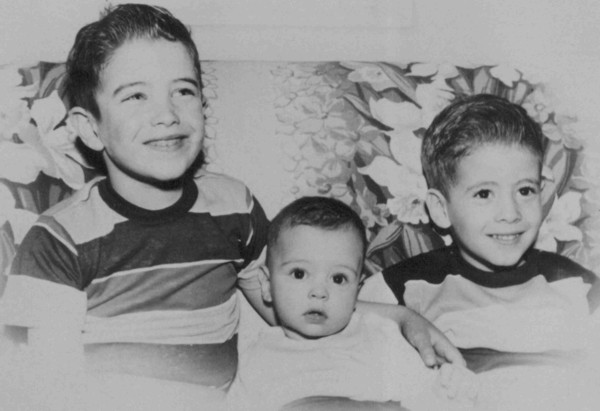 Personal Background - To understand who I am and what I am about, you must understand three things about me. Without knowing this, you will have a difficult time understanding me.
1. I am queer, in most meanings of the word. I am attracted to members of my own gender, which in the primary meaning of this word for me. But I also consider myself to be "queer" in other ways. I am somewhat unconventional. In life, I have embraced my eccentricities. If someone were only to look at me from a surface perspective, they would probably see someone that in the gay world seems fairly conventional. Until my retirement in 2004, I was a queer marriage counselor. I own a house and live with Bob Goldstein, my husband of nineteen years and I live a fairly quiet and uneventful life, with a couple of exceptions. All this, however, misses the point. I have always tried to live my life my way, which has meant I often need to break away from the accepted mold.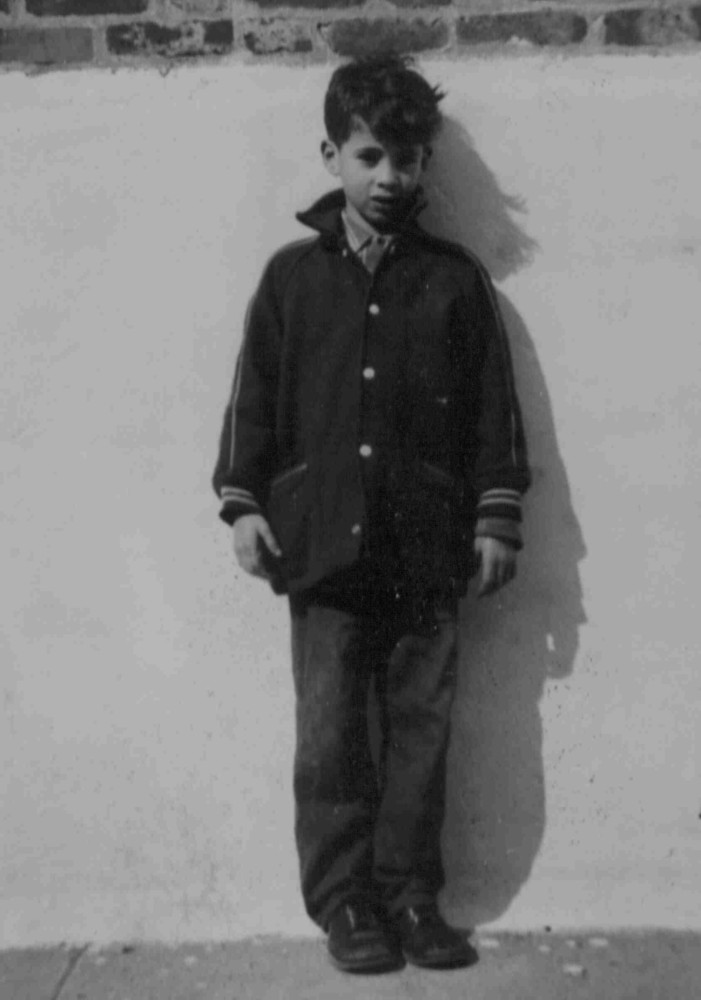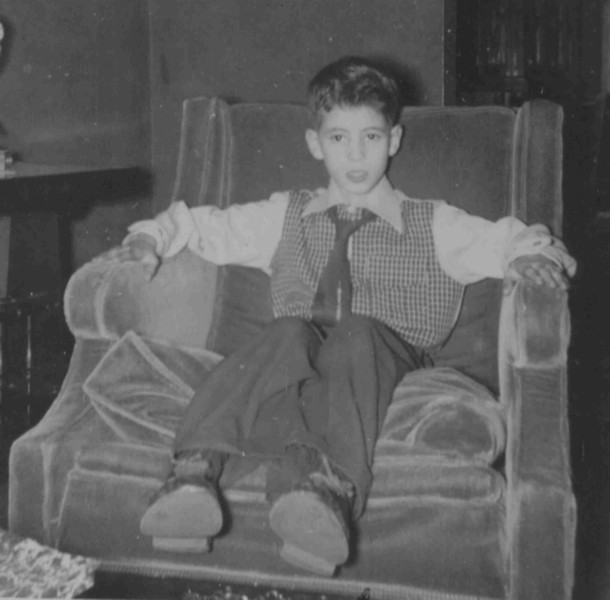 2. I am Jewish. I was born Jewish, and raised within the modern American Jewish tradition. I went to Hebrew school and became a Bar Mitzvah at age thirteen. I learned Jewish culture and values, and those values have a large influence on my life. Two of the most important to me are to "Love thy neighbor as thyself" (Leviticus 19:18) and "Justice, justice, shall thou pursue" (Deuteronomy 16:20). I long ago separated the moral and ethical commandments of the Bible, which I attempt to follow, from the ritual commandments, where I pick and choose. Spiritually, I do not believe any religion in the world is correct on a literal level and accept all as being correct on a metaphorical level. I have for the past twenty years been a member of Congregation Sha'ar Zahav, a San Francisco synagogue with an outreach to the gay, lesbian and bisexual Jewish community
3. I go at things intensely. I like life and I like living. When I do something, I generally like doing it well. I am not competitive with others but I do strive for excellence. This includes my personal relationships, my work and my leisure time activities.
Still interested in knowing more? Then read on.
I was born on October 14, 1945 in Brooklyn, New York, the second of three boys. Both my parents came from working class backgrounds. My father, like his father and many others before him, was a baker of bread. My grandparents emigrated from Eastern Europe in the years before World War I. Three of them were from a region known as Galicia. When they left, it was part of the Austro-Hungarian Empire. After World War I, it became part of Poland. After World War II it became part of the Soviet Union. Today, it is part of the Ukraine. Ethnically, the area is Polish. I learned as a youngster that in the social hierarchy of European Jewry, the people from Galicia were at the very bottom. In the early part of this century, Galicians were considered to be the scum of Eastern European Jewry. All the stereotypes used to discredit any minority group (i.e. they are lazy, uneducated, untrustworthy, etc.) were applied by other Jews to Galician Jews. My other grandparent emigrated in the mid 19th century Hungry to Poland.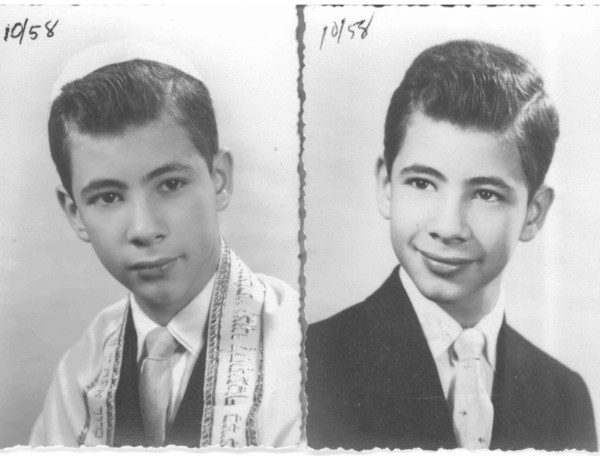 In my grandparent's generation, only one of them graduated from high school. In my parent's generation, all the siblings graduated from high school and two graduated from college. In my generation, all have a college degree, and most have graduate degrees. My family emphasized education. My parents and their siblings were working class people who strove to be middle class. They were strong willed and decided education was the key to success.
I have two brothers. My older brother, Brad, and my younger brother, Jeff, are both physicians.
A most startling statistic in my family concerns marriage and divorce. None of my grandparents, parents, aunts or uncles ever divorced, though all did marry. Among my twelve siblings and cousins who married, there has only been one divorce and one separation. Whether these people are happy or not, I am not sure, but I believe most of them are. The people in my family marry, and remain married.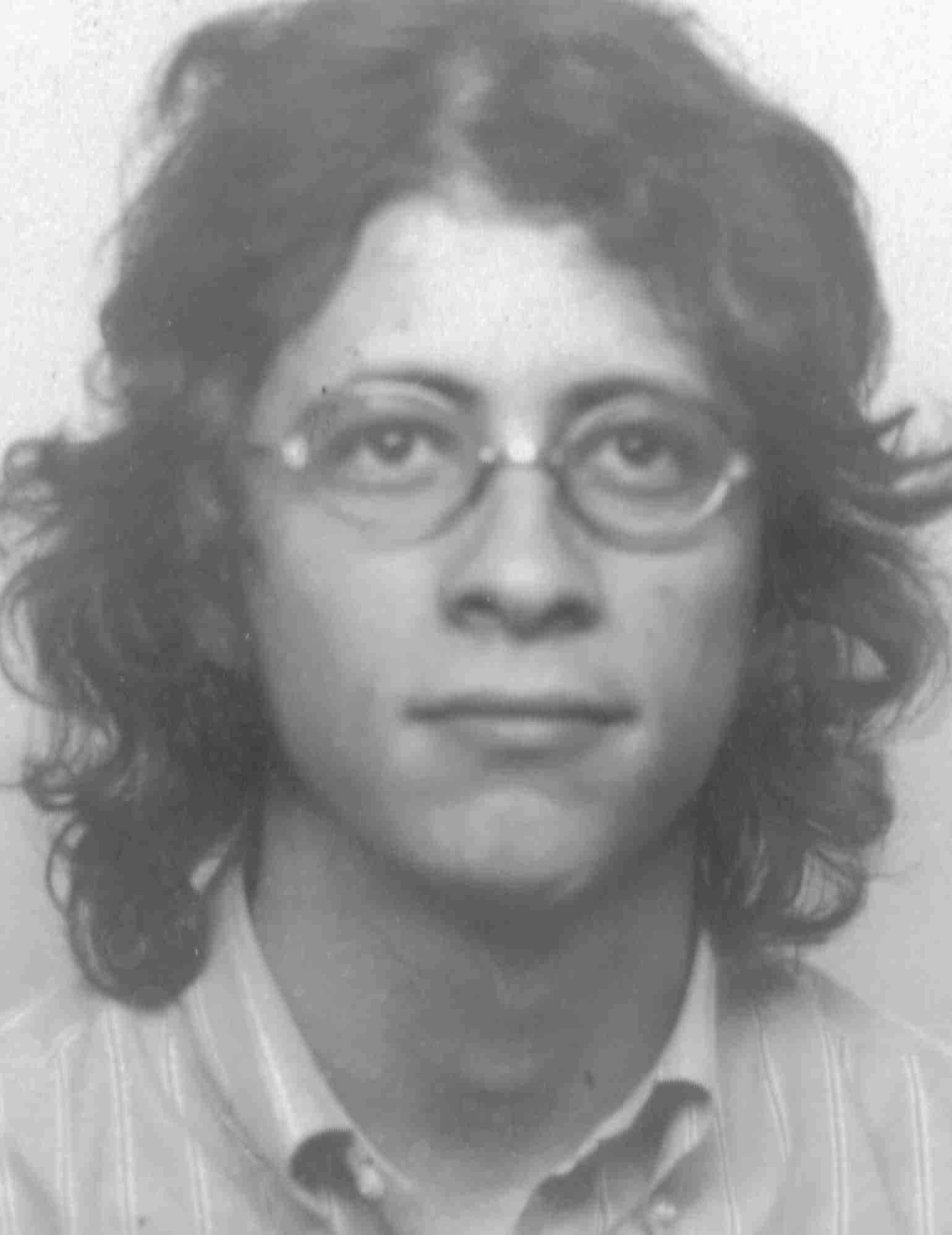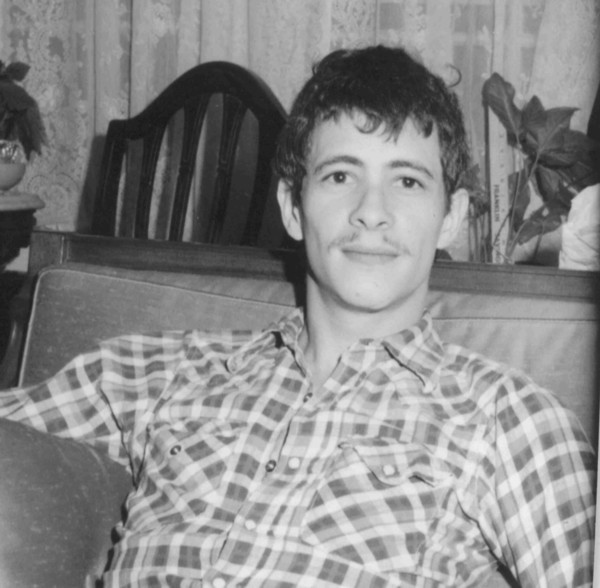 My extended family also appears to have several other traditions. Of my eleven cousins, there are five teachers, a social worker, a scientist, and a police officer. There is also an accountant, a retired liquor store owner, and one schizophrenic cousin who has never been able to function in the adult world. My brothers are physicians and I was a marriage counselor and an educator. Helping professions appear to run in my family.
My family also appears to have shunned the military. In my grandparent's generation, one of the primary reasons for emigrating from Europe was to avoid military service in the army of Emperor Franz Joseph of Austria-Hungary. None of my grandparents generation served the American army during World War I. In my parent's generation, only one uncle served in the military in World War II. In my generation no one served in the military or went to Viet Nam.
While I did not have words to describe my feelings when I was quite young, I knew that I was queer from at least age eight and possibly earlier. I also knew by age eight that sex and my feelings were suppose to be bad. I didn't like myself much until I became an adult. I spent several years in psychotherapy in my twenties learning to like and love who I am.
I have a passion for justice takes the form of trying to right some of the wrongs that this world foists on the shoulders of people who happen to be gay, lesbian, bisexual, or transgender. When it comes to understanding human sexuality, I am firmly convinced that long ago the lunatics took over the asylum and have been running things ever since. The same is true for the so called leaders of the "Family" movement. So many of the leaders of our society, the politicians, the religious leaders, the educators, the business leaders and the leaders of the military know practically nothing of the meaning of human sexuality, or the family, yet they continue to talk nonsense and do so much damage. The mental health profession, of which I am a member, has been especially egregious in this area.
I dedicated my professional life to healing, to the extent possible, the damage this injustice causes. I was a family therapist by training, licensing and orientation. I especially enjoy working with gay, lesbian, bisexual, transgender and other sexual minority individuals, couples and their families. I however, did not discriminate. I also worked with non queer people and believe my sensitivity to the issues of queer people make me a better marriage counselor for all people.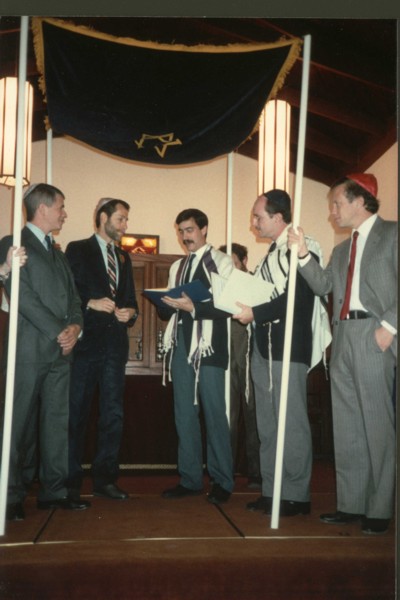 The happiest day of my life was on November 8, 1987. Robert Goldstein and I went through a Jewish marriage ceremony known as Kiddushin (literally - to make holy). The ceremony was performed by Rabbi Yoel Kahn, who was then the rabbi of Congregation Sha'ar Zahav in San Francisco. Holding up the huppah (canopy) were my brother Brad, Bob's sister Janet, along with friends Daniel Chesir and Peter Poses.
Because Bob and I have homes in both San Francisco, California and Great Barrington, Massachusetts, we were able to be legally married on August 8, 2004 by Rabbi Debbie Zecher of Hevreh of Southern Berkshire. Rabbi Zecher made a point at the beginning of the ceremony of telling those present that from a Jewish spiritual perspective, the ceremony that was about to take place was meaningless. The reason, she said, was that Bob and I were married 17 years before by Rabbi Kahn, and were considered already married from a Jewish perspective. There is no tradition in Judaism for repeating marriage vows. She did say, however, that what we were doing was for legal reasons related to the Commonwealth of Massachusetts.
My nickname, Michael Psycle, by the way, comes from a combination of two interests in my life, psychotherapy and motorcycles. When I was a kid, my brothers for some reason thought they were teasing me by pointing their finger at me and saying/whining "Michael, Michael, motorcycle". So I guess some of whom I am may have been inspired by them.
While I am not a member of any organized motorcycle club, I like to tag along on the day rides of many clubs, primarily the queer motorcycle clubs. I (dis)organize a motorcycle rides each year, known as the Annual Queer Biker Invasion of Death Valley.
I also began studying how to play the conga drums about six years ago. I study with several teachers and play in an ensemble workshop. I have gone from being rhythmically challenged to barely competent. I enjoy the progress I am making.
That's a quick overview of my background. I hope it helps you to understand me a bit better.
---
Last updated December 9, 2005
---
Home Tattoo Project 2005 Motorcycling Queer Biker Invasion of Death Valley e mail