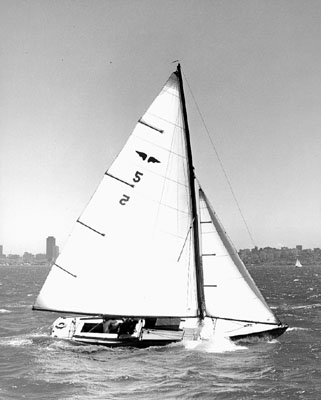 THE SINKING OF THE FALCON
by Paul Kamen
FALCON was Bird boat #5, built in 1924 and owned for many years by Jim Jessie. The FALCON sank during the 1989 Master Mariners' Regatta.
The Master Mariners' Regatta has always been one of my favorite events of the year. Even though I had only sailed in the race once before, on the 30 square meter "Debutante" owned by Doc Polumbo, I've often gone out as a spectator. But this year, one week before the event, I had no ride and no likely prospects. That's why when Steve Kingsly, who I know through both the Cal Sailing Club and Berkeley Yacht Club, mentioned that he was going to race on a Bird boat in Master Mariner's, I immediately asked if there might be room for me. Besides, I had always wanted to race on a Bird, and this seemed like a perfect opportunity.
A few days earlier, perhaps ten days before the race, the owner of the Bird, John MacConaghy, had driven by the Cal Sailing Club looking for crew. Steve, and his wife Susan Robertson, agreed to go. Steve and Sue had recently purchased the Islander Bahama ALTERNATIVE, former YRA one- design class champion. In their first race with their new boat, which was the Vallejo race, they had been T-boned by a port-tacker at the windward mark (#8) while they approached the mark on starboard tack. Although seriously damaged with a large hole in the port side of the boat, they sailed on to Vallejo anyway (in order to spend the weekend telling the story, presumably).
So on the morning of the race, Saturday May 27, 1989, I met Steve, Sue, and the owner of the FALCON at the FALCON's berth in the Emeryville Marina.
I had never been aboard a Bird Boat before, and I was impressed. The boat looked very capable, fun to sail, and racy, despite the age of the design (FALCON was built in 1924). I was a little disappointed that there was no spinnaker pole, although there was a spinnaker and halyard. (I had been looking forward to the operation of removing the headstay in order to fly the spinnaker.) I changed into my usual bay racing gear: Polypropylene long johns, T-shirt, foulie bottoms, Topsider sea boots, Patagonia jacket, and a North life jacket. My small sea bag, containing a change of clothes, five-power Nikon pocket binoculars, and my wallet and keys, was stowed way up in the forepeak. After a number of experiences where my gear had rolled onto a wet cabin sole, I generally make a point of stowing my gear as far forward as possible in order to keep it dry and out of the way.
John put on the small outboard, and we prepared to motor out of the marina.
Steve had been describing his collision just two weeks earlier during his first race in his new boat, and had remarked that he had lost interest in racing, at least with his own boat, as a result. I responded by insisting that "You shouldn't draw a conclusion like that with just one data point - it's not statistically significant!"
Motoring out of the Emeryville channel, we ran aground briefly while still in the channel, but near the north edge. There was no perceptible impact with the bottom - we just slid into the mud. After an unsuccessful attempt to back off, we got clear by rotating and heeling. I had the helm briefly during this operation, and noted what felt to me like severe ungainliness of the boat at low speeds. Not surprising, considering the full keel and heavy displacement, a sharp contrast from the type of boat I usually sail.
We raised the main and jib at the end of the Emeryville channel, and put away the outboard. There was a winch for the jib halyard, but the one winch handle on the boat only fit the sheet winches, and not the halyard winch. We were able to achieve somewhat satisfactory halyard tension, however, by sweating the halyard at the mast. This was probably the most halyard tension that the rig had seen under John's ownership, and certainly the most tension since the recent work at Svendsen's. This work had included complete rebuilding of the transom, according to John, and was the last major step in a two-year refit.
The wind was about 12 knots when we finally had the working sails trimmed in for close-hauled, and the boat felt very good. there was an impressive sense of power and momentum that's lacking in ultra-lights. The boat also felt very comfortable at a substantial heel angle, probably due to the narrow beam. With all that ballast, there was no sense of urgency getting our weight on the windward rail - certainly not before the race started.
About ten minutes after we began sailing, the owner produced a two-gallon water container with one end cut off, and said that he needed to do some bailing. I then made a comment to the effect that "It's great to watch someone else do this for a change - on my boat it's my job to bail on our way to a race." John responded sarcastically: "Yeah, you probably use a sponge!" He was referring to the assumed fact that my fiberglass Merit 25 could only have inconsequential amounts of water leaking in. He was right, of course. I do bail with a sponge - but I kept this fact to myself.
Susan or Steve had some more questions about the bailing, and John launched into a rather elaborate explanation of why the Falcon leaks. Allegedly it had something to do with former owner Jim Jessie reinforcing some floors in way of the mast step instead of replacing them outright. John described the load path in some detail as he bailed, noting that the result was that the boat leaked on starboard tack close-hauled.
When the owner of a wooden boat explains why and under what circumstances their boat leaks, I tend to tune out on the gory anatomical details. I'm happy to help bail the water out, but understanding exactly why it comes in - or more accurately understanding the owner's explanation of exactly why it comes in - is far too much effort. So I did not pay very close attentions to John's discussion. I did, however, go below and fetch my life jacket (a North model that I've had for 7 or 8 years) and located by duffel bag even further up in the forepeak, anticipating some water sloshing around on the floorboards. There hadn't been any noticeable water in the boat when we were at the dock in Emeryville, but John bailed for a long time and still had a very ample supply of bilge water in the bilge.
There was a lot of south in the wind, so we could fetch the end of the Berkeley Pier with little difficulty. We noticed a fleet of spinnakers approaching from the direction of the Cityfront - the Volvo regatta, probably on a leg from Blossom to YRA #8. So we tacked over to starboard to get a closer look, planning to tack away before we gave them any trouble. The wind was about 15 knots now, and the boat was sailing just fine.
I was on the windward side of the cockpit or deck when Susan, from the cockpit, asked if we had lost a halyard or something. She had noticed a stray wire dangling on the leeward side. It turned out to be a port lower shroud! The cotter pin and clevis pin had fallen out at the deck.
"Don't tack," I said in a calculated deadpan.
Fortunately John had a spare clevis, and we hooked up the shroud with no trouble. This almost brought us right through the leaders in the first Volvo class, but we were able to tack back to port without interfering. John went back to bailing, and I couldn't help but draw somewhat negative conclusions concerning the state of preparedness of the yacht. Not having the spinnaker gear was still the biggest disappointment - but all things considered, I was still very happy to be on the boat and looking forward to the race and the party.
Our long port tack brought us all the way to the Pt. Knox area where the Cal 20's were racing. The wind was lighter at the entrance to Raccoon Straight, and we watched the race for a short time to see how some friends were doing. We also wanted to look at the tide at North Harding, and get into position for an easy reach back to the St. Francis - Golden Gate Y.C. starting line. The wind in the middle of the bay was easily up to 25 knots, possibly 30, by this time.
When we had finished our reach over to the city - after holding high of the direct course to avoid some earlier starters (the Birds started last), the wind was at least 30 and the bilge still needed constant bailing. We arrived at our starting area about 30 minutes before our start, and bore off to run parallel to the shore. But when we eased the jib sheet, the jib traveler slid right past the stop and off the track. I went forward to recover the traveler, noting that dodging a flailing jib-boom was a completely new experience for me. There's probably a right way to do it. Finally we had the jibsheet working again, and the traveler control line re-adjusted so the car couldn't slip off the track.
Then we executed our only jibe of the day. Not as bad as I had anticipated, actually. The boom is so long that its angular velocity isn't that great.
Beating back to the starting area, it was obvious that the leak was going to be a serious problem. The water was above the floorboards, despite lots of bailing. With 20 minutes to our start I suggested that we go in behind the breakwater (off Marina Green) and sort things out before starting the race. I don't think John actually heard my suggestion - in any event he didn't acknowledge it, and I didn't repeat it. This boat was not easy to maneuver in the 30-knot-plus conditions that now prevailed, especially downwind turns. Also, I wanted to sail the race.
In fact, if any of the four of us had said "This is crazy, let's go home," I think the other three would have had to agree. But we all wanted to sail the race, or at least start it, so we kept our mouths shut. That sort of decision is the skipper's responsibility, right?
Steve had asked for his camera on deck at one point, but it turned out that it had been in a bag that had rolled into the water in the cabin, and was drowned in salt water. If he was upset he didn't reveal it, taking on an "easy come, easy go" attitude towards the loss.
So we concentrated on getting our timing synchronized with the Race Committee, checking out the line, and planning a starting strategy. Not wanting to tangle with the other Bird boats who were presumably skilled at maneuvering in these conditions, I recommended a leeward end start. (Theline was roughly east-west, between St. Francis "A" and Golden Gate Y.C. "X", which made for an unorthodox crosswind start.) The first mark, North Harding, would likely be an easy fetch despite the strong flood tide, and we could also expect a big lift as we approached the north side of the Bay.
With about five minutes to go I noticed a lot more water in the cabin. Hoping to keep the boat light for the start, I went down to do some last minute bailing. The water was well over the floorboards and at times reaching the berth tops. The outboard motor was underwater, and bags of sails and gear, along with some floorboards, were floating around the cabin. It was obvious that if we started the race, we would have to drop out very shortly after. "What's the worst that could happen?" I thought to myself. "The Bay's crowded with race boats and spectators everywhere. If we do sink, we'll have dozens of boats alongside in minutes." The installed bilge pump worked, but the bucket seemed faster. I bailed until exactly 2 minutes before the start, then came back up on deck.
We got a good start as planned at the Golden Gate end, unmolested by other competitors. But the water in the boat was definitely affecting our speed and handling. A few minutes after the start I suggested to John that he "check out the bilge situation," and he gave me the helm while he stood in the hatch and started in with the bucket again.
Steering the boat reminded me of sailing a swamped Lido 14. Every time our pitch angle changed, we could feel the delayed response of the boat as the water surged forward or aft. Finally, after a few minutes of bailing without any noticeable progress, John said "We better drop out" or something to that effect.
Still operating under the theory that the leak was caused by rigging loads, and would close up as soon as the boat was unloaded, we bore off to a broad reach. The plan was to run down to the lee of angel island, where we could finish bailing and sort things out before sailing home. Gashouse Cove probably would have been a better choice at that point in time, but it meant jibing or tacking again, followed by close reaching. After a few minutes of running, however, the boat was feeling even worse, with the larger waves threatening to wash over the cockpit.
So our next move was to drop the main, unloading the hull almost totally. We did this, but the immediate result was disastrous. The sensation was very much like being on a "sinker" sailboard that runs out of wind. The whole boat settled deeper in the water when the speed dropped, and it became clear that unless the leak closed up completely, we were going to sink. The literature is full of stories of heavy vessels with low freeboard "sailing under" because they are being driven too hard. In fact it was just the opposite. Our speed was apparently providing a large amount of dynamic lift.
At this point I gave the helm to Steve (John was still bailing) and went below to recover my duffel bag. I crawled all the up into the forepeak, but amid all the floating gear and debris could find no trace of it. "This is a very stupid place to be," I thought to myself out loud as I mucked around in water nearly half-way from the floorboards to the overhead. So I made my way back to the companionway.
Meanwhile John, still bailing, must have heard me say something about the duffel bag, because he had seen it floating by and had one of its handles in his hand. I took the bag from him, and asked him to please move slightly so I could get out of the cabin. There was probably more than a little urgency in my tone of voice. But as I stepped out of the hatch, I was having difficulty pulling the small bag with me. Either it was tangled up insomething, or full of water and I wasn't ready for the increased weight, or it was already being dragged forward by water rushing in over the sill of the companionway. Rather than stop to figure it out, I decided it was time to re-order my priorities, and let go of the bag.
The boat sank less than a minute later. A wave washed over the rail and filled the cockpit, ad then the next wave started major flooding of the cabin. We never actually "abandoned ship," but simply floated off as the stern of the boat settled. The power of the wash into the cabin, however, was quite impressive. The Falcon went down stern first, at about a 30 degree bow-up angle. Just before the stem disappeared below the surface, an access port in the foredeck - probably a plug for a ventilator - popped off with a geyser of air and spray spewing out through the hole. The boat straightened somewhat as the mast went down, and Steve warned "Watch out for the rigging!" as we all kicked ourselves clear. Steve, however, caught his life jacket (or other part of clothing) in the port upper shroud, and disappeared below the surface for 3-5 seconds (estimates vary).
This was the only time I was afraid that the result of the sinking could be tragic. Aside from some very bad feelings about having some complicity in losing one of only 21 irreplaceable Bird boats, I never felt that the situation was really all that dangerous - except for those few seconds when Steve was trapped under water. When Steve popped back to the surface, it was all "fun on games" again.
The boat had gone down fast. Vertical velocity of perhaps 2 knots, which is very fast for the z axis. My immediate reaction was a composite of several strong emotions: 1) Very happy to be alive after the sinking, a process which proved to be much more hazardous then I would have guessed. If I had still been in the cabin went it went down, it very likely would have been impossible to escape. 2) Angry at myself for having had so much to do with losing a Bird boat, when I could have easily taken action to help save it. 3) Pissed off for not recovering my gear - at least my wallet and keys - earlier in the day when I recognized a slight chance of this kind of problem developing.
Meanwhile, the four of us were floating in the Bay, with nothing but bubbles where a boat had been only a minute before. Steve and Susan had put life jackets on about five minutes before the sinking, but John, who had been bailing right up until almost the last second, was without one. He was wearing a one-piece foul weather suit, which initially trapped a quantity of air, and we all seemed to have no trouble staying afloat. I remember deciding not to kick off my boots.
Steve made a remark about his racing luck. "Two disasters in a row," or something to that effect, and he repeated his intention to give up racing, for the record.
"Now Steve," I reminded him. "You shouldn't draw a conclusion like that with just two data points - it's not statistically significant."
We looked around for potential rescuers, and saw another Bird boat coming in our direction. We found out later that they were spectators, not racers. None of the racing Bird boats had seen us go down. there was also a 32 foot double- ender approaching, also determined later to be a spectator boat.
We all know about the international distress signal, raising your arms up and out. We discovered a better distress signal - lowering the mast of your boat below the surface of the water! When the Bird boat sailed by the first time at close range, they didn't have to ask if we needed help!
There was a man and a woman on the potential rescue boat, but they had their hands full trying to maneuver into position for a pick-up. We were able to let them know that one of us didn't have a life jacket, so they threw us a circular life ring on their next pass. But in the strong wind it went sailing away like a big frisbee, landing way too far downwind. On their next pass they got much closer, and tried to throw us a lightweight life jacket. This was also blown downwind, landing less than a boat length to leeward. I started to swim for it, but Steve shouted at me to let it go and stay with the group. He was right - I don't think I would have been able to catch it - but in any event I complied and gave up the effort. We watched the boat continue to circle as we floated and treaded water.
Then I remembered a terrible joke. "What do you call four people drowning in the Sea of Cortez?" I asked. There were no guesses. "Quatro Cinqo," I said. In bad taste under any other circumstances, here it got a good laugh.
By this time the other potential rescue boat, the 32-foot double ender, was coming within range. We had a brief discussion, and decided it would be much better to be picked up by the larger of the two boats. After all, we were at that point all too familiar with the cabin of a Bird boat in 35 knot conditions. The larger boat, we guessed, might have a working galley, hot drinks, maybe even extra dry clothes. So we started to swim slowly in the direction of the larger boat.
Meanwhile, the TEHANI, the wood double-ender that was attempting to assist us, was having some difficulty with their engine. They had seen us shortly before we sank and someone had wondered if the Falcon mt be sailing with less freeboard than normal for a Bird boat. Knowing that Bird boats have relatively low freeboard to begin with, they were not particularly concerned. But when they looked again, they saw four heads bobbing in the water and no sign of the boat. No question about it now! They attempted to motor directly to us, but evidently had some problems with their gear shift, and couldn't keep the engine in gear.
Eventually sorted out the engine problem, and motored alongside. By this time we had been in the water ten to 15 minutes. John admitted to having some difficulty keeping himself afloat, now that his one-piece suit had lost all its entrained air. I felt mildly cold, but not in any immediate danger - estimating that I could easily last another 15 minutes if necessary.
When the TEHANI pulled alongside, they had no ladder or other rigging set up to facilitte tired people climbing aboard, which gave me some concern. My experience is that cold, tired people in wet clothes usually have a very difficult time climbing aboard a sailboat from the water, even with assistance. I attempted to suggest that they lower a bight of line over the side so we would have step to use. But with pulls and pushes from the people on the boat and from Steve and myself in the water, John was hoisted up onto the boat almost immediately. Susan was pulled up next, followed by me. Steve had climbed aboard without assistance, very surprising considering the high freeboard, wet clothes, and time we had been in the water (show-off).
As soon as we were all safely on deck, I said something to the effect of "well, raise the sails and let's get back in the race!" This was as much to confirm that I believed we were all physically okay as it was to indicate that I didn't want to ruin their day of racing. That's when they told us they were just spectators, and not actually in the race.
Apparently I was shivering noticeably, because I was the first of the four to be ordered (in no uncertain terms) to go below. Immediately!. I stepped down the ladder, and was met by two rather attractive women.
"You're hypothermic," they said. "Take your clothes off right now. And we mean ALL your clothes." These were orders, not suggestions. Sure, I was shivering, but felt no worse off than I have often felt after a short voluntary swim in cold water. But why argue?
I was followed by the remaining three members of the FALCON's crew, who received similar instructions in equally uncertain terms. (Only Susan was allowed a small degree of privacy) As it turned out, Tehani was a live-aboard, so they were extremely well equipped with spare clothes. They served us hot tea and rum (once we stopped shivering and hypothermia was clearly no longer an issue) and motored all the way back to the Emeryville Marina.
TEHANI is owned by Rik and Vik Dawson, who live aboard at Pier 39. Two of their friends, who live on an Alberg 35 at Grand Harbor Marina in Alameda, and their one-year-old son, were also aboard. Steve, Susan, and I paid them a social call in Alameda later the next week, bringing them Master Mariners T-shirts and a bottle of champagne.
There are two ways to be a hero at the party following the Master Mariners Race. Win the race, or sink your boat! Everyone at Encinal Yacht Club had to hear the story first hand, especially the other Bird sailors, who generally confirmed the importance of a high-volume pump. One of them admitted to having the water in his boat up to berth tops on several occasions.
It was to be two more days, however, before I would be able to acquire duplicate keys, recover my car from the Emeryville Marina parking lot, and get into my apartment.
Why did the FALCON sink? We were all somewhat cavalier in our regard for common precautions and normal seamanship, to some degree. The worst-case scenario - "we'll sink and someone will see us and pick us up" - played itself out with no catastrophe other than losing the boat. But after observing just how hazardous the sinking pocess can be, I would not take the same chance again. And if the timing had been just a little different, I could easily have been trapped below when the cabin flooded, or Steve could have been unable to free himself from the rigging. The feeling of a narrow escape was much the same as one might get immediately after just barely avoiding a head-on crash with an oncoming car on the wrong side of the freeway. Except this feeling lasted for several days!
Should we have gone back into the City Marina instead of starting the race? Even though the race/no race decision is theoretically the skipper's responsibility, I feel a certain complicity because I was clearly the most experienced sailor on board, and if I had made that callit almost certainly would have been followed.
On the other hand, if we had made it back to a dock, what then? Assuming we actually could have kept the boat afloat until we got to a travellift, it's more than likely that the expense of yet another major structural rebuild would not be justified. The FALCON would have rotted away in someone's backyard.
The coverage in Latitude 38 (regional sailing magazine) said it very well, beginning with the words "FALCON died with her seaboots on."