What is Access?
Part Two: Issues and Answers
An unfinished draft for Bay Access and the Bay Area Water Trail
by Paul Kamen, September 2004
(This is not a Bay Access document and does not necessarily represent the position of Bay Access)
---
Organizational and programmatic options, and how they relate to facilities design†
The most important enhancements to water access are programmatic rather than physical: The best way to enhance real access for the broadest user base is to provide Space for a non-profit organization, school or commercial operator
On-site storage creates the possibility that an on-site club, co-op, school or non-profit organization can make their equipment available to members and/or the <![if !vml]>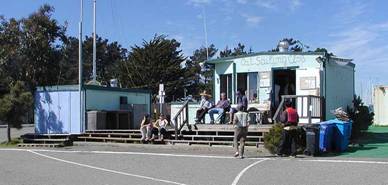 <![endif]>public.
These organizations usually rely heavily on the volunteer efforts of dedicated members, and can therefore offer a wide range of services at extremely low cost. They also tend to use public outreach programs as promotional events, so their own interests coincide nicely with the access needs of the local urban community.
Commercial operations can also be a strong positive influence, sometimes combining a loss-leading rental service with sales. Experience indicates that operating cost burden for a commercial venture is at least several times higher than for the non-profit, and commercial ventures have in general not been successful at serving the broadest demographic. There are exceptions, however, and these often take the form of separate outreach programs conducted by the commercial operator.
<![if !vml]>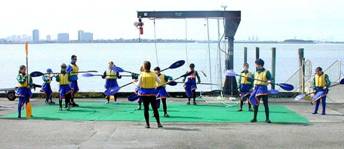 <![endif]>These sites differ from others in that they generally serve groups.† In addition to appropriate access to the water and parking for larger numbers of cars these sites require adjacent land-based space for teaching, equipment maintenance and storage.† This might be as simple as a couple of containers near the beach (as† ETC, a non-profit serving disabled people, has in Sausalito) or as elaborate as the new Aquatic Center in Oakland or the Marin Rowing Associationís new boat house on Corte Madera Creek.
<![if !vml]>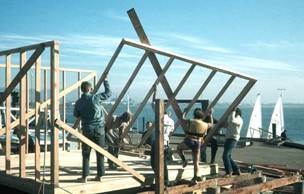 <![endif]>Critical detail: Long-term lease agreements with commercial operators should never be written so as to preclude competition from non-profits. The non-profits have the track record of providing services to the public at the lowest possible cost, and this may appear to undercut the commercial operators. However, experience suggests that the inexpensive entry route into the various paddling and sailing sports is a major benefit to the commercial operators in the long run. This is because a very high percentage of the people who begin to paddle or sail in a low-cost non-profit will subsequently move into the customer base of the commercial operator.
Other issues: Esthetics and habitat
Esthetics: park planners, landscape architects and even environmental <![if !vml]>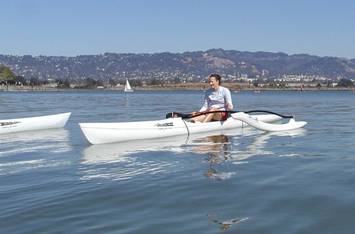 <![endif]>advocates consistently take the position that boats are ugly and need to be screened from their carefully controlled "natural" synthetic landscapes. This is ludicrous to the people who will actually be using the waterfront. Boats are esthetically pleasing to those who know them, in very a much a "form follows function" kind of way.
Habitat disruption: The environmental community has traditionally been aligned with non-motorized watercraft, especially canoes and kayaks. But in planning environments were the common enemies (jetskies, waterskiers, etc.) are not present, environmental advocates act as if it is their duty to protect shoreline habitat against the perceived destructive effects of non-motorized boating. This is counterproductive for everyone; paddlers, rowers and sailors are among the most dedicated environmentalists anywhere, and these activities are the breeding ground for the next wave of good stewards of the Bay and the shoreline.
What constitutes true "access?" and who needs it?
True access is local and low cost (if not free). Developers like commercial operations, but non-profits with a volunteer labor base consistently deliver far greater access opportunities to far more people.
Who gets to have access?
<![if !vml]>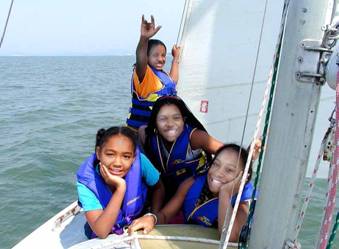 <![endif]>The best access does not filter for economic stature.† Everyone should be able to get onto the Bay. †City dwellers who cannot afford to buy, store or transport their own up-market watercraft should still have ways of getting out on the water, e.g. an economical place near the water to store an older and relatively inexpensive kayak, canoe or sailboat. People who can not easily afford market rental rates need to have other options, e.g. the volunteer-based non-profit co-op or club. Students and people with disabilities need on-water sites and programs that are specially adapted to their needs.† Tourists and other first-timers need convenient, safe access sites where commercial operators can provide them with lessons, rentals and tours.
What public policies can lower the barriers?
The goal is to create an environment that encourages broad-based public access to the water itself and promotes the development of access facilities <![if !vml]>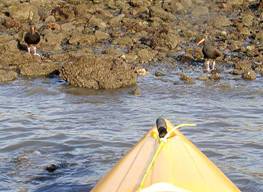 <![endif]>and amenities. This will serve local communities and revitalize previously neglected shorelines, especially in urban settings. It will also encourage environmental stewardship of the shore and the Bay by local residents.
This can often be accomplished by offering small parcels of waterfront land to new or existing non-profit organizations at no cost or at rates well below market.
It can also be accomplished by incorporating water access facilities into park plans or waterfront plans at all jurisdictional levels, from municipal to federal.
What development policies can enhance access?
Public water access provisions need to be written into all waterfront development contracts.
As often as not, these will ultimately work in the interest of the developer. An outrigger canoe club or well-known kayaking center can give a hotel or office park or commercial center an enhanced identity that justifies the very small amount of land and resources dedicated to the access feature.
<![if !vml]>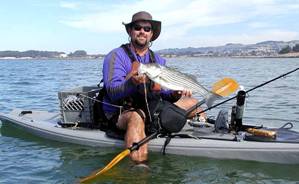 <![endif]>Case histories and potential partnerships
A tale of two shorelines: How commercial development and habitat preservation can block access: In San Francisco, water access advocates are hard pressed to find small bits of waterfront that are not preempted by commercial development. While in Berkeley and Albany, water access advocates† struggle against an "open space monoculture," driven by an entrenched environmental lobby, that blocks and delays plans for access facilities by raising largely unjustified habitat concerns (even in areas already designated by the Eastshore State Park General Plan as water-borne recreation areas).
<![if !vml]>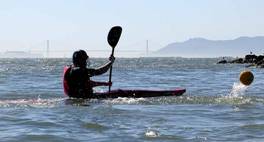 <![endif]>
A better tale of two shorelines: How commercial development and habitat preservation can enhance access: Jack London Square at CCAK, Oakland Middle Harbor open space and habitat restoration with an access component.
Good places for new access: North Sailing Basin, foot of Gilman Street.
Bad places for new access: Mouth of Codornices Creek, Berkeley Brickyard.
Symbiotic relationships that waterfront planners should keep in mind
Symbiosis 1: Waterfront playing fields and water access
Playing fields and indoor sports facilities are now being planned for several waterfront locations [Gilman Park site <![if !vml]>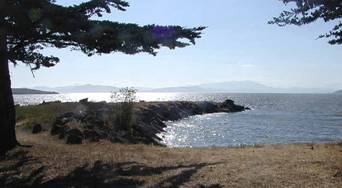 <![endif]>plan]. When sports locations are also suitable for water access, a very valuable user cross-over is possible. Participants in field sports will get their first close look at various small watercraft in operation. Siblings and parents will also be brought in close proximity to the water access points, and traditional cultural and economic barriers to participation are lowered when the access locations become familiar.
It is worth noting that field sports do not appeal to all youth. There is a large segment of the youth population that is not being served by the sports culture, whether in or out of school, and many of these individuals are strongly attracted to water-borne recreation as an alternative.
<![if !vml]>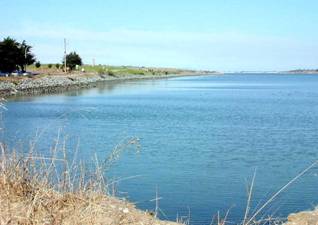 <![endif]>Symbiosis 2: Ferry terminals and water access
Ferry terminals are characterized by large amounts of parking and semi-protected deep water. There is excess parking on weekends when ferry ridership is low but recreational demand is highest. At least one local example (Larkspur) demonstrates that small watercraft generally have little difficulty keeping clear of ferry traffic. [photo of windsurfers in Corte Madeira Creek].† Ferry terminals are also served relatively well by public transportation, increasing the feasibility of non-automotive access if on-site watercraft storage is provided.
Symbiosis 3: Commercial waterfront restoration projects and water access
Commercial waterfront developers have financial resources far beyond the usual allocations of public sector funds for access projects. While marina development has historically served as a loss leader for housing developments (Marina Village in Alameda) or to revive the reputation of an abandoned industrial <![if !vml]>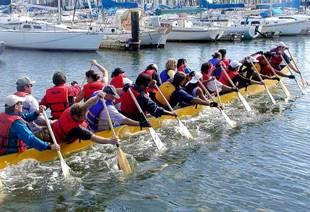 <![endif]>waterfront (Marina Bay in Richmond), access for small craft seems to be of relatively little interest to developers unless mandated by regulatory agencies during the permitting process.†
Small craft access is inexpensive and easy to implement compared to a traditional marina, and it can add a very positive marketing value to the project. This is one area in which public policy can have a profound effect on the future of water-borne access to San Francisco Bay.
Symbiosis 4: Historic ships and water access
Finding suitable locations for overnight stays is the most difficult single component of water trail facilities development. Few communities are amenable to camping on their shorelines, and environmental concerns often work against establishing new campsites in remote locations. Furthermore, with a severe shortage of camping facilities throughout the Bay Area, any site that is easily accessible by land is likely to be problematic because of competition from land-based travelers. Waterfront hotels tend to be expensive, often prohibitively, and often present access and security problems of their own.
<![if !vml]>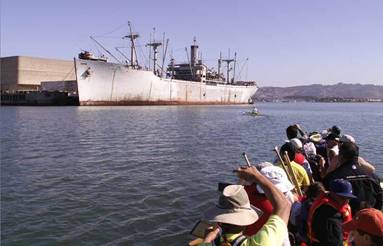 <![endif]>Historic ships offer a natural partnership with the WaterTrail. They generally have very large spaces for basic accommodations, they are easily accessible by water, they are established facilities presenting no new environmental concerns, and they already have an organizational structure and staffing that tends to be sympathetic to the concept of the Water Trail and the requirements of the water-borne traveler. Several of these ships already host organized group camping in cabins (C.A. Thayer), cargo holds (Red Oak Victory) or crew berthing areas (Pampanito).
The ability to travel without a fixed itinerary is vitally important to small craft dependent on weather and tides. Historic ships offer the most likely opportunity to supply practical and economical overnight accommodations without advance reservations.
Webliography:
"Logical Lasting Launches," a guide to launch site details, from the National Park Service Rivers & Trails Program.
Technical Report on Small Craft Operation in the Eastshore State Park