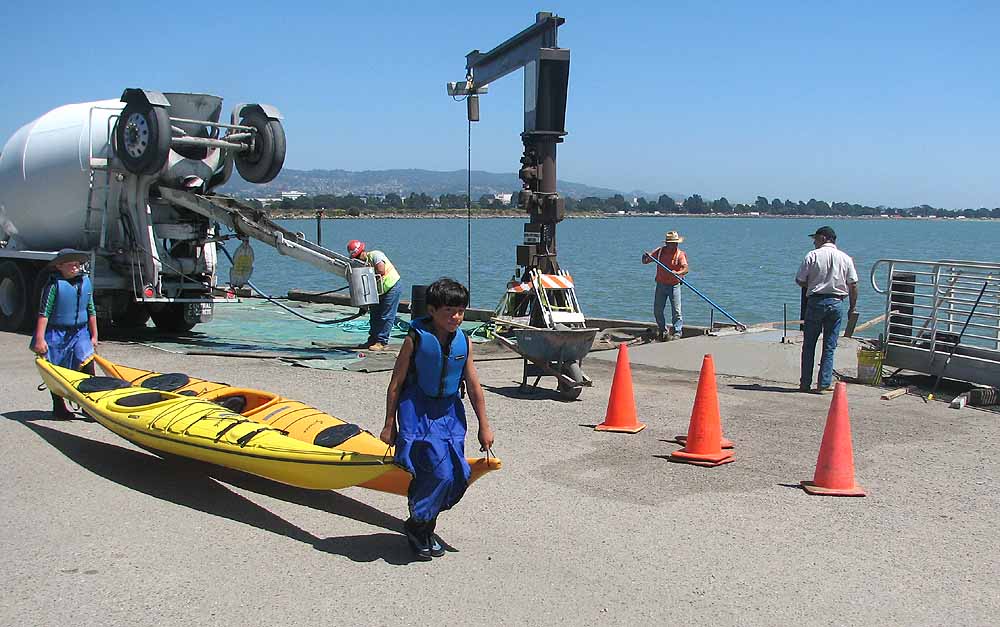 After months of delay, work finally begins on repair of the gangway attachment for the middle dock in the South Sailing Basin.
Here's an insider's summary of what was going on behind the scenes, taken from the Cal Sailing Club email list:
"...we can all thank Marshall for speeding up the replacement of the 2nd dock. As did the City Engineering Department, who greatly appreciated his assistance. His project was to work with the City and other South Sailing Basin users to provide the City with free concrete for the new 2nd dock ramp attachment at the seawall. He got other CSC members, the formula windsurfers, Cal Adventures, and other private sailors windsurfers and kayakers lined up to dig the hole, put in formwork and rebar, and pour the concrete. We gave him a budget of $1200 to cover the concrete, but Cal Adventures and the formula windsurfers also offered to pitch in. He met with the City engineers, who had let the project sit on the back burner (the Waterfront Manager was trying to get FEMA to fund it) until the Waterfront Commission turned up the heat. And he attended the bid conference for the ramp installation, and let the contractors know that he was going to provide the concrete for free and that, as a licensed contractor, he knew they were trying to jack the City on the job to get more money by taking more time. The result was that a contractor underbid everyone else and offered to do the job in a week. Including the concrete. Which is why the dock is finally back, only four weeks after the Waterfront Commission meeting."
previous photo - - - - - - - - - - - - next photo