The Garden Project
In three short years, the Garden Project has grown from a small community garden created for former San Francisco County Jail prisoners to a nationally recognized model for crime prevention and for building self-esteem. The story of the Garden Project is a story of hope, and a story of personal and environmental transformation.

In 1991, Cathrine Sneed had been directing the County Jail Horticulture Project for eight years, achieving tremendous results among inmate participants, most of whom were hard-core drug dealers and felons with serious criminal records. A logical extension of the jail garden was to create a community garden, accessible to those who "graduated" from the jail program.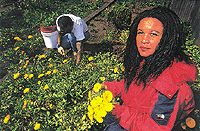 Taking a junk-filled 3/4 acre lot in the Hunters Point/Bayview community, Cathrine Sneed and a handful of volunteers transformed it into a vibrant, living garden. As the garden flourished, men and women who were in jail the week before came down to reconnect with Cathrine and the program. Sneed was able to get funding to pay a modest wage for garden workers and with encouragement from Elliot Hoffman of Just Desserts, began to grow produce and fruit for his bakeries. Eventually, the high quality, organically grown arugula, radishes, and other specialty produce were discovered by Alice Waters of Chez Panisse.
Over the past several years, the Project has employed and trained over 600 low-income participants and conducted plantings at over twenty San Francisco Community centers. Also, a number of city-wide volunteer community service days have been organized to clean up graffiti, pick up trash and plant trees and flowers in neighborhoods throughout the city.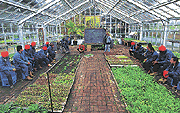 In 1992, in an effort to create more jobs, the Garden Project launched a tree planting enterprise funded by a contract with the San Francisco Department of Public Works. The "Tree Corps" has now planted over 3,000 trees and provides full-time employment for more than 20 people. Currently, the Garden Project is working to expand this program to include watering, tree selection and early tree-care throughout the city.
Last year, the Garden Project established an organic produce business marketing fresh vegetables and flowers to local restaurants. Garden Project produce can currently be enjoyed at Chez Panisse, Rubicon, Fog City Diner, and Cafe LuLu, as well as other restaurants and businesses throughout the Bay Area. Proceeds from the produce sales fund the Garden Project's program needs. Currently operating on an half acre, the Garden Project's Market Garden is in the process of expanding to a larger growing space to meet demand for both produce and more participant jobs.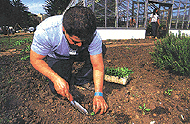 Another of the Garden Project's new enterprises is the School Garden Corps. Young mothers, determined to get off of welfare, create and maintain organic gardens at seven schools in low-income San Francisco neighborhoods. Because their children attend the schools and because they resemble the parents of the schoolchildren, they have become strong symbols of transformation and opportunity. Because of the School Garden Corps, the children of San Francisco now go to school and see flowers rather than the graffiti, trash, and weeds that so often builds up in low-income areas.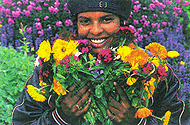 The impact of the Garden Project has been significant. First, the greening of urban neighborhoods and the creation of enterprises which bring employment, job training and renewed hope to hundreds of men and women. Second, the transformation of former county jail inmates, homeless individuals, and welfare parents who have spent a lifetime in the criminal justice turnstile or dependent on public handouts. Instead of taking from society, they are now contributing; instead of polluting their communities with drugs, they are fighting the war against substance abuse on their own home turf.
These are the remarkable achievements of the Garden Project the promise it brings to the future of San Francisco is unlimited.
35 South Park, San Francisco, CA 94107 (415) 243-8558
---
Please send questions or comments to suscon@well.com