Stella's Doggone Page
---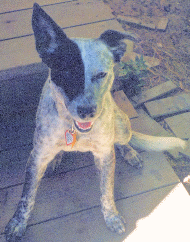 ---
Goodbye, beloved Stella...
On February 24th, 2004, Stella was euthanized subsequent to the discovery of a ruptured tumor on her spleen that pathology showed to be a hemangiosarcoma. She gave to me the most precious gift of nine years of her life - I can't begin to describe what a rich gift that was - I feel indescribably blessed to have been able to share her life. And I am sad, as if my heart has been torn from my chest.

---
Hello,
My name is Stella and I'm a 35 pound Australian Cattle Dog mix who lives in San Francisco. My bud, Jeff, adopted me from the Department of Animal Care and Control in June of 1994. Although we are not sure exactly when I was born, Jeff figures I am about ten years old. Because I don't have a regular birthday, or at least don't know what day that is, we celebrate my name day. Incidentally, my name day is also Bastille Day (July 14th).

Australian Cattle Dogs are known by a few different names: Blue Tic Heelers, Red Tic Heelers, and Queensland Heelers being the common alternative monikers. My original breed was known as the Black Bobtail, a dog which existed over a century ago, alas now extinct. We were bred, as the name implies to herd cattle. Trouble was, the Black Bobtail was not particularly fast, and not particularly agile. As a result, in the 1840's, the Black Bobtail was interbred with a few other breeds to become what we are today - lightning fast, very strong and very smart. I count the Dalmatian, the Kelpie (not the kind from Celtic Myth, but rather, the Australian Sheepdog), the Dingo, and the Smithfield (another now extinct breed) among my relations.

You may be asking how can a 30 pound dog be very effective at herding cattle. The answer is simple - we bite the dumb beasts on their shins. This maneuver could be quite dangerous - a swift kick from one of the lumbering behemoths would squish the ordinary dog brain like an overripe pomegranate. We have developed two techniques to deal with such job related hazards:


We always bite the leg on which the cow has its weight.


This buys us some extra time as the cow must shift its weight before it can swing its deadly hoof.

We drop down to the ground after biting the leg of a cow.


This way, when the cow does kick, the deadly hoof passes over our squishy dog brains. It is for this reason that our small size is of great advantage.
Some working Cattle dogs have their tails clipped - specifically those used to work pigs. ACDs that heard other livestock usually retain their tails. We can use them like a rudder to turn better at speed. I myself don't much deal with cows as there are precious few of them in San Francisco. Just to keep in form, I practice herding the other dogs who hang out in the Panhandle of Golden Gate Park or in Alamo Square Park.

A few months back, Jeffrey was a complete bum and went away for the weekend. Luckily my weh k00L fren cynsa came by, and the two of us had some grand adventures. Actually, thinking back on it, Jeffrey should get away more often.















This page maintained by Stella the Wonder Dog

















Up to my pal Jeffrey's home page