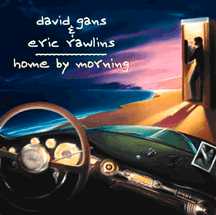 Home By Morning
"This is one of the finest celebrations of American roots music in recent memory....The 46-minute ride has a feel of well-seasoned musicians sitting around a campfire, extracting pleasure from a classic repertoire of songs honed through generations of crafting....The work rivals only Bob Dylan's 'Time Out of Mind' as 1997's finest aural observance of the American spirit."
– Ray Hogan, The Advocate & Greenwich Time, (Stamford CT), 11/14/97
Cover art by Jessie Reisch.
Produced by John Lumsdaine
Contributing musicians: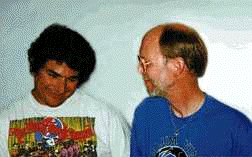 About the Album:
Sample Audio (au format):
---
How To Buy It:
Available for $16.50 postpaid from:
Perfectible Recordings
484 Lake Park Ave. #102
Oakland, CA 94610
To order using Visa or Master Card, call:
1-800-655-8563
Available at Grateful Dead Forum Store on AOL:
1-800-513-0000
email GDFStore@aol.com
or AOL keyword GDSTORE
Also available at:
See list of our upcoming performances
Put yourself on the Home By Morning mailing list
---
Album Credits:
Mark Keaton, engineer.
Recorded at Sharkbite Studios, Oakland, California.

Mixed by John Lumsdaine, with David and Eric, at Bay Records Studios, Berkeley, California.

Mastered by David Gans at Truth and Fun, Inc., Oakland, California

Assisting engineers at Bay: Michael Cogan, Paul Cogan, Jim Ruzicka, Jeremy Goody.

Piano overdubs recorded at David Lloyd Studio, Orinda, California; David Lloyd, engineer.

Additional engineering assistance: James Michel, Little Big Guy Entertainment, Alameda, California.

Album design by Michael Zipkin, Lucid Design (lucid@hooked.net).
Special thanks to:
Goldie Rush, Earl Crabb, Craig Miller, Pam Grisman, Jennifer Jolly, Claudine Spindt

Nancy Duff (who started the whole thing), Tina Loney, Andy and Barbara Moorer, Ellen and George Gans, Reva Basch and Jerry Shifman, Drew Trott, Carolyn Turchin, Alan Grabenstein

Darlis Wood, Alan Eshleman, Mike Crater and Linda Castellani, Phil Catalfo, and the rest of the Berkeley Singthing crowd.

Brian Godchaux, Rik Elswit, David Nelson, Phil Lewis, Mironda Lewis, Jimmy Miller




Dedicated to Elizabeth Oser Rawlins and Rita Hurault.

(c)1997 Perfectible Recordings
484 Lake Park Ave. #102, Oakland, CA 94610
All rights reserved; unauthorized duplication is prohibited by law.
---
The Songs
1. LISTEN
David Gans – (c)1975 Whispering Hallelujah Music (BMI)
David Gans - lead and harmony vocals, acoustic lead guitar
Eric Rawlins - lead and harmony vocals, acoustic guitar
Bobby Black - pedal steel
Steve Kahn - electric bass
Dan Lashkoff - drums
2. CRAZY, CRAZY, CRAZY
David Gans – (c)1975 Whispering Hallelujah Music (BMI)
David Gans - lead vocal, electric guitar
Eric Rawlins - harmony vocal
Mary Schmary (Cynsa Bonorris, Myriam Casimir, Alyn Kelly, Desirée Pointer) - backing vocals
Bobby Black - pedal steel
Darol Anger - fiddle
Jennifer Jolly - piano
Jim Peterson - tenor sax
Bing Nathan - bass fiddle
Lance Dickerson - drums
John Lumsdaine - horn arrangements
3. CAROLINE
David Gans – (c)1973 Whispering Hallelujah Music (BMI)
David Gans - lead vocal, acoustic lead guitar
Eric Rawlins - harmony vocal, acoustic guitar
David Grisman - mandolin
4. JAY'S SONG
Eric Rawlins – (c)1997 Paul's Grandfather Music (BMI)
Eric Rawlins - lead vocal, acoustic guitar
David Gans - harmony vocal, electric guitar
Jennifer Jolly - piano, organ
Steve Kahn - electric bass
Terry O'Dwyer - drums
5. JACQUELINE
David Gans – (c)1997 Whispering Hallelujah Music (BMI)
David Gans - lead vocal, acoustic guitar, electric guitar, harmony vocal
Eric Rawlins - harmony vocal, acoustic guitar
Kevin Carr - fiddle
Jack Gilder - concertina
Clark Suprynowicz - fisted arco bass
6. LIVE ONE
David Gans – (c)1997 Whispering Hallelujah Music (BMI)
David Gans - lead vocal, electric lead and rhythm guitars
Eric Rawlins - harmony vocal
James Michel - backing vocals
Jennifer Jolly - piano
Jim Peterson - tenor and baritone saxes
Tim Hyland - trumpet
John Lumsdaine - electric rhythm guitar & horn arrangements
Steve Kahn - electric bass
Terry O'Dwyer - drums
Additional vocals by Mary Schmary
7. CHEROKEE RIDER
Eric Rawlins – (c)1997 Paul's Grandfather Music (BMI)
Eric Rawlins - lead vocal, acoustic guitar
David Gans - harmony vocal, electric guitar
David Grisman - mandolin
John Lumsdaine - electric lead guitar
Steve Kahn - electric bass
Dan Lashkoff - drums
8. SALISBURY PLAIN
Eric Rawlins – (c)1997 Paul's Grandfather Music (BMI)
Eric Rawlins - lead vocal, acoustic guitar
David Gans - harmony vocals, electric guitar
John Lumsdaine - chorused electric guitar
Jennifer Jolly - piano
Steve Kahn - electric bass
Dan Lashkoff - drums
9. HOOKER RIVER
David Gans – (c)1997 Whispering Hallelujah Music (BMI)
David Gans - lead vocal, all electric guitars
Eric Rawlins, James Michel - backing vocals
Jennifer Jolly - piano, organ
Steve Kahn - electric bass
Dan Lashkoff - drums
10. TRAVELIN' MAN
David Gans – (c)1997 Whispering Hallelujah Music (BMI)
David Gans - lead vocal, electric lead guitar, acoustic guitar
Eric Rawlins - harmony vocal, acoustic guitar
Danny Carnahan, Robin Petrie - harmony vocals
Barbara Higbie - fiddle
Jennifer Jolly - piano
Bing Nathan - electric bass
Dan Lashkoff - drums
11. GREEN EYES
Kate Wolf – (c)1982 Another Sundown Publishing Co. (BMI)
Eric Rawlins - lead vocal, acoustic guitar
David Gans - harmony vocal, acoustic guitar
Steve Parker - oboe
Todd Phillips - bass fiddle
12. YELLOW MOON
Robert Hunter – (c)1974 Ice Nine Publishing Co. (ASCAP)
David Gans - lead vocal, acoustic guitar
Eric Rawlins - harmony vocals, acoustic guitar
Sally Van Meter - dobro
David Grisman - mandolin
John Lumsdaine - electric lead guitar
Jennifer Jolly - piano
Tom Yacoe - electric bass
Mike Shaw - drums
---
Send us email:

Eric is woodman@well.com
David is david@trufun.com
Page last updated: 2/27/99