Be a Teen Goddess!
Magical Charms, Spells, and
Wiccan Wisdom for the Wild Ride of Life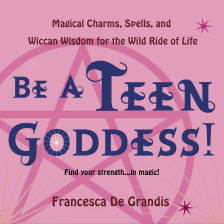 Click on picture for a larger image
Find your strength...in magic!
(Available everywhere, April 2005!)
Calling all teen Goddesses & Gods -- it's time to get the rite stuff!
So who wouldn't want to have the power to stand up to the soul-crushing mean girl, catch the eye of the local shy-hottie, ace that chemistry test, or even banish zits? Who wouldn't want to be a teen Goddess or God? Modern Wicca has nothing to do with brooding over hexes (that's so last season), struggling with indecipherable-and irrelevant-chants, or brewing foul-smelling potions in your basement. It's empowering, inspiring, and positive. It's about trusting your own wisdom and drawing on the enormous powers that are in you-yes, you-to enrich your inner and outer life, from feeling more confident to navigating romance, popularity, parents, friends, and school. What's not to love?
To tap into your incredible power and become a first-rate witch, you need some serious tools and knowledge, and that's where Francesca De Grandis comes in. A second-generation witch, Francesca is a wise, friendly guide on your magical journey. She'll provide you with the essential spells, charms, invocations, rituals-plus plenty of down-to-earth advice-that will help you become the utterly divine being you were meant to be.

---
Celebrate your witchy self and learn how to:

Cast simple, effective spells for success, love, safety, and protection

Get over the jerk when romance goes sour

Find out if it's true love or truly a disaster

| | |
| --- | --- |
| | Stop harmful gossip, handle cliques, get out of bad situations, and unleash your inner bitch witch when necessary |
| | Say sayonara to fears and insecurities that keep you from getting what you want |
| | And much more! |
---
Francesca De Grandis
Photos: Brian Peterson
Click here to buy Be a Teen Goddess! on-line. International sales are also available there.
You can also find Be a Teen Goddess! at your local independent or national chain book store. Any store, out of copies, will be glad to order it for you at no extra cost.
---
Praise for Francesca De Grandis and her work
"Francesca rocks!" -- Oberon Zell-Ravenheart, author, with the Grey Council, of Grimoire for the Apprentice Wizard
"De Grandis knows her stuff . . . I have known her for many years and respect her as a Witch, writer, teacher, and person." -- Starhawk, author of The Spiral Dance
---
Be a Teen Goddess!
by Francesca De Grandis
(Citadel Press, ISBN 0806526513, $12.95 pb)
---
Copyright 2005, Francesca De Grandis.