Announcing --
"Pick the Apple From the Tree"
a long awaited CD/tape by Francesca De Grandis
Available May 1, 1998!
(2010 update of this page is at bottom of page.)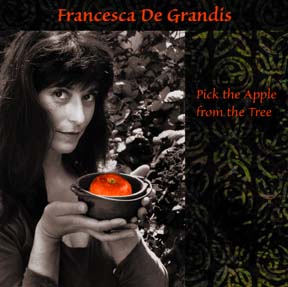 Starhawk, author of The Spiral Dance: "really beautiful songs"
Terrific listening for lovers of Celtic music and the blues.
Bard and witch-babe-a-go-go, Francesca insists,"I worship the three-fold Goddess: blues, jazz and Celtic music." Diverse and enchanting as a songwriter and vocalist, De Grandis delivers songs that are smart, sassy, and fun. Her lyrics celebrate universal experiences, and reveal the mythic wisdom and mischief of the Faerie Folk. The album features Bruce Smith, dubbed by Frank Zappa "a great guitarist." De Grandis is the author of HarperSanFrancisco's Be a Goddess!
"Pick the Apple From the Tree" -- all original music by Francesca -- showcases vocal harmonies, electric guitar, bass, violin, oud (middle eastern lute) and percussion. Percussion includes trap set, conga, darbuka, and zils (middle eastern finger cymbals.)
This new-folk/pop-folk collection shows a wide range of influences; an acappela song draws on Scotland's soft, sad ballads, yet a full tilt rock tune is included. Celtic fiddling adds charm to the samba "Pick the Apple From the Tree" -- a witty, wry blend. De Grandis plays complex zil rhythms to one of her Celt influenced songs! While the predominant influences are blues, jazz, and Celtic music, other influences appear, for instance the clear echo of Appalachian ballads in "My Father's Eyes." Each song is a unique gem, different from the last, and De Grandis delights listeners by her relaxed expertise in each genre: her "Darling, I Want You", a straight ahead jazz-blues, smokily reflects Francesca's years as a cabaret artist, making you want to sit back with a scotch n' soda and sigh with relief. Bruce Smith, who worked with Stan Getz and Ricky Lee Jones, brings his own distinctive richness to Francesca's music.
De Grandis capitalizes on her wide range of musical experience through the album's ever-changing moods and topics, moving from seduction to raucous comedy, from pagan revelry to quiet revelation. She shapeshifts with commitment and heart, and we recognize ourselves in every song.
Francesca De Grandis, at age fourteen, played professionally in the Boston area folk scene, where she developed her love of traditional American folk and Celtic music. She expanded her repertoire to include jazz and blues when, as an adult cabaret artist, she played top clubs. Gaining acclaim from critics who wanted more of her original tunes, De Grandis obliged with originality and wit. After leaving the music business for a contemplative life as a shaman, she discovered that music was part of her spirituality. Thank whatever Goddess Francesca worships that she's left her hermit's cave for a while: Francesca's uncommon life adventure, a diverse and far reaching exploration, is all brought together and mirrored in the musical and mystical journey of Pick the Apple from the Tree. Her various books are based on her years of teaching Celtic shamanism and interfaith experiential-mysticism. Go here for info on her books.
De Grandis says: "Through song I walk between the stars, fill belly and soul, make love to God. The Goddess loves me, Her vagabond shaman, bardic brat. My veins run with Fey mischief. In the primeval garden, stands the tree of life. Innocent white pulp hides dark seeds of immortality. Be a spiritual outlaw: cleaves to high ethics and pick the apple from the tree."
Acclaim for Francesca De Grandis:
Z. Budapest: "haunting...a true musical talent."
Oberon Zell: "Francesca rocks! Her musical performances are alive, magical, witty, fun and fabulous! A spectacular new bard...Don't miss her next show!"
Adele Prandini: "...a dynamic stage presence. Her voice seems propelled from her entire body and her vocal range is incredible...a marvelous entertainer with lots of heart and soul."
Reclaiming Quarterly: "...there's nothing ordinary...The words are as strong as the melody, and this is rare...Francesca's heart and gut echoing the timeless quandary of human beings...If you're looking to walk a tight rope that juggles between the sacred and the profane, the acoustic and the electric, you will be as touched and enchanted as I was..."
Gary Menger: "Her voice is a vibrant warble somewhere between Eartha Kitt and Ruth Etting ...compelling...found myself groping for words to describe her; both her voice and her on-stage personality are unique...a real-one-of-a-kind."
In every song she attempts, Francesca innovates with precise passion, in a collection held together by a vision of love in all its myriad forms. You will be propelled into a world of musical magic, mirth, and wisdom that you will return to again and again. Let the Muse tickle your fancy with Pick the Apple from the Tree.
Make merchant orders of "Pick the Apple from the Tree" CDs from New Leaf Distributing Co.
---
2010 Update:
Sentimental me (Francesca) has kept this page basically the same. And ongoing health problems = avoiding website revisions.
Since the album's release, I've been blessed. Pick the Apple from the Tree (PTA) became a best-seller. Considered a classic now, it was cited by Sage Woman mag as an album every pagan should own.
The CD went out of print about 2009 except for a few copies New Leaf still has. But if you contact me, and are nice, I might burn you a copy. (I have to watch my health.) If you want me to autograph the CD I burn for you, lemme know. Contact me at outlawbunny@outlawbunny.com or 814-337-2490.
I'm recording a new music album, and already recorded a spoken-word album that a sound-engineer buddy is putting finishing touches on. I also hope to eventually sell MP3s of PTA. To receive e-announcements of album releases and PTA MP3s, sign up for my e-newsletter. Since I avoid website revisions, signing up for this newsletter is the way to stay current on my projects. Thank you!
The Wiccan and Faerie Grimoire of Francesca De Grandis

Page design by Ian Lurking Bear