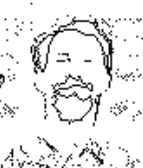 Welcome to DJG's home in cyberspace
(Sorry, Bob Metcalfe, but Cyberspace it is!)

( On-line on the WELL since April 1985, WEB site established 9/15/95; last updated 04/17/08)

David Julian Gray (generally known as djg) is a

Memberships:

the Audio Engineering Society. This site is to promote my work on all fronts.

---


Drop a line . All polite inquiries gladly acknowledged!

And don't forget to check out:
Ari Davidow's Klezmer Shack, for info on the the current trends in klezmer music.
(Klezmer is alive and kicking! The revival is SUCCESSFULLY OVER!!)

AND: Cool info on digital audio's slippery slopes of JITTER & DITHER at Digital Domain

AND: Some of the most thoughtful writing on music and music technology from my dear friend, Santa Fe based singer/songwriter/artist Alan Acuff
---
You are the

visitor to this site
DJG is aka: David Gray, David J. Gray
site hand coded HTML written in vi on a 22 year old UNIX shell account by a tech visionary trogolodyte