The Kaua'i Community Radio studio is located in Princeville, behind the Police and Fire Department on Hanalei Plantation Road. After a three month renovation in 1997, the former garage for Kaua'i cablevision was transformed into a state-of-the-art broadcast facility. The transmitter for KKCR is co-located with the studio, and this central location provides easy access for volunteers and staff to make the airwaves come alive.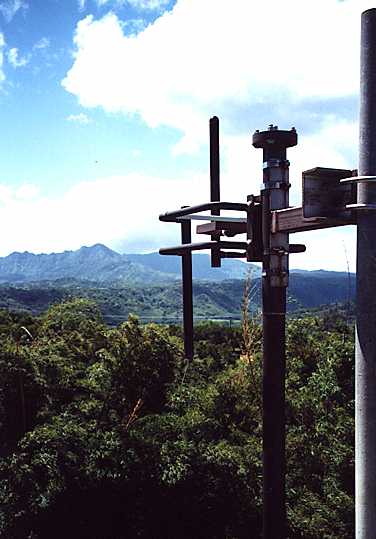 One of the antennas at the KKCR studio (right)
And a view of Hanalei Bay from the top of the tower.

          For a view of the other transmitter at Mt. Kahili, just follow the link!
          The interconnection system we use at KKCR involves 26 miles of fiber-optic cable, which we share with Kaua'i Cablevision. From the Princeville studios, we modulate the fiber at 107.5 mhz, send it to the fiber modulator, send it down the fiber around the north and eastern shore of Kaua'i, where it terminates at the Lihue Cablevision office. We then pick it up again from the fiber with a composite receiver. From there, we microwave the composite signal over a ten mile path to Mt. Kahili, where it is inserted into the KAQA (91.9 Mhz) transmitter. Both KKCR and KAQA use a Shively model 6813-2 antenna system. The KKCR antenna is attached to the top SW leg of the 50 ft. self-supporting tower at the studio. At Mt. Kahili, we share a 50 ft. wooden pole with Kaua'i Electric Corporation's two-way antennas.
          When the station was being planned, careful consideration was given to Hurricane protection. The studio building was undamaged in 1992 when Hurricane Iniki swept over Kaua'i, inflicting severe damage and hardship to Island residents. During construction, extra hardware designed to withstand sustained winds of 125 mhp was added to the new portions of the building's exterior walls. A generator was added this past year to allow operation for an extended time when commercial power is unavailable. After Iniki, both power and public communication was lost on the north shore for many months. While we hope that another category five storm never directly hits the island again, KKCR is prepared to help diseminate emergency and personal information to residents and emergency crews when needed.

---
For more information about Broadcast Engineering Services of Bonny Doon, call or e-mail today
Back to the BESBD Services Page

© 2000 Broadcast Engineering Services of Bonny Doon