WMMT Antenna, Mayking Peak, Kentucky
---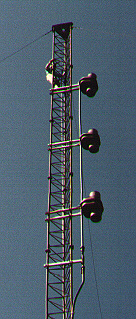 That's me, up on the back side near the top, doing some maintenance work to the tower for WMMT in Whitesburg, Kentucky.

          WMMT serves a large portion of Eastern Kentucky, Southwestern Virginia and portions of West Virginia, Tennessee and North Carolina.

          This antenna system, along with a new transmitter, was installed by BESBD in 1985.

---
Return to the "look" page

© 2000 Broadcast Engineering Services of Bonny Doon