Califormula Broadcasting tower
Tijuana, BN, Mexico
Support structure for Mexican FM Stations XHLNC, XHITZ and XHCR
---
Update: September, 2002
Clear Channel Inc. has a programming and sales agreement with the Mexican concession holder for XETRA AM&FM, XHITZ, and XHHCR. XHLNC remains in control of Califormula and the Victor Diaz family. XHLNC continues to operate at variance with it's licensed authorization. In September of 2002, KUSC in Los Angeles entered into a programming and sales agreement with Califormula to operate XLNC from 6PM to 6AM seven days a week. Here is a copy of the KUSC application for permission to deliver programming to a foreign broadcast station. For more information on XLNC, follow the links below:
Here are close-up photographs of the directional antenna system used by XLNC.
View a copy of the XHLNC License (PDF File)
Here is a discussion and copies of correspondence between The United States and Mexico concerning the illegal operation of XHLNC
Follow this link to photographs and measurements of XHLTN-FM, another Califormula operation
Tower Specifications and photographs can be found further down this page.
---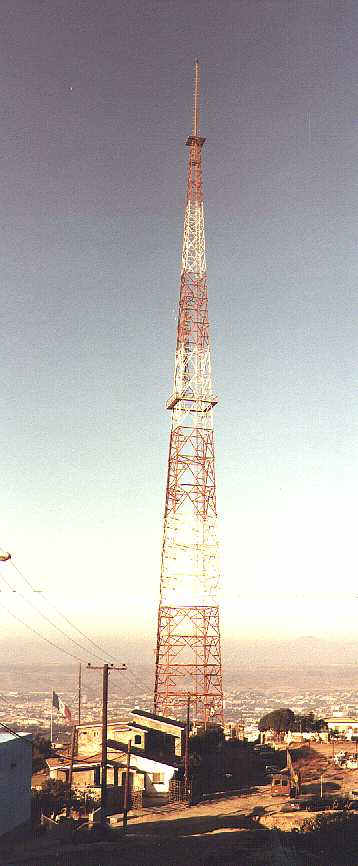 TOWER SPECIFICATIONS
Location:
(NAD 27)
32 30 27 North
117 02 16 West
Ground Elevation: 750 feet AMSL
Tower Height: 500'
Top of Tower above Sea Level: 1250 Feet
XHITZ Center of Radiation: 1220 feet above sea level
XHITZ Antenna system: Jampro JHCP-6-DA
Top mounted on monopole
Antenna Specifications:
Omnidirectional Power Gain: 3.2
Directional Power gain: Unknown
Omnidirectional DB Gain: 5.05 DB
Directional DB gain: Unknown
Maximum Input Power: 50,000 watts
Directional Parasitics per bay: 6

Link to measured data
---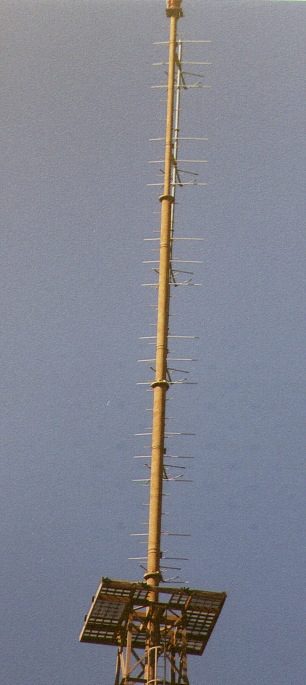 This photo shows the back (south) side of the XHITZ antenna system. Note the directional parasitic elements behind each antenna bay.

---

          Side view of the Tower and top mounted XHITZ antenna system. The XHITZ antenna uses a combination of mechanical beam tilt and highly directional parasitic reflector system to achieve high gain towards the north.
The antenna for XHCR-FM is seen directly below the XHITZ antenna system. The directional antenna directly below the XHCR-FM system is a panel-type directional FM system used by XHLNC-FM, 90.7 Mhz.

---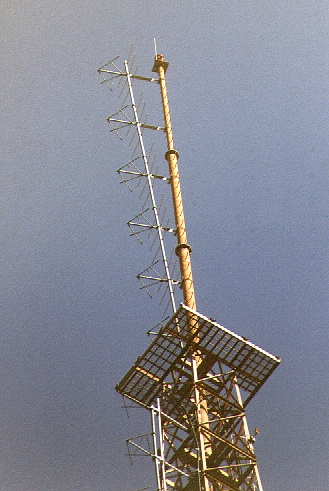 Another view of the XHITZ antenna system, showing extreme mechanical beam tilt. I have been told that this was done to reduce the coverage and minimize the signal in Los Angeles, over 150 miles to the north. Of course, they could have installed the antenna without directional reflectors to achieve the same effect.

---
© 2002 Broadcast Engineering Services of Bonny Doon