Atomic Telemotion from Bonk Industries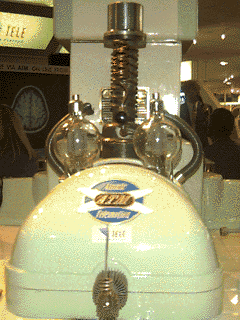 Atomic Telemotion Machine
...the latest technological wonder from Bonk Industries
Telecom 95 had more wall-size, hi-def screens, personal videophones , multimedia blah blah blahs, video on demand up the yangola, and especially Asynchronous Transfer Mode thangs everywhere you looked. You could get by in six languages by merely saying "multimedia," and "ATM." But the most amazing ATM device in the vast convention center was at a modest corner of the Finland booth.
| | |
| --- | --- |
| The Atomic Telemotion Machine itself is a work of art. The perfect fifties high-tech look of white enamel, gleaming metal coils, knobs and gauges, streamlined fenders, caught my eye amidst the visual cacaphony. Standing beside it was a perfect fifties scientist, with horn-rimmed glasses, long white labcoat, and a poker face. He handed me a brochure. The cover showed a happy couple, dressed and coiffed again in the style of the era when Ronald Reagan reminded us, on behalf of General Electric, that "Progress Is Our Most Important Product." The cover proclaimed that "Atomic Telemotion was "Harnessing the Power of the Cosmos," and urged readers to "Share Your Good Vibrations! | "Harnessing the Power of the Cosmos" |

"The Latest Scientific Breakthrough by Bonk Industries."

Inside, the brochure explained that

"ATM is the latest scientific breakthrough by Bonk Industries and will revolutionize world communications. Atomic Telemotion has been developed in co-operation with Telecom Finland, one of the leaders in the field of novel communication technologies."

"ATM is a home system for communicating feelings along specially laid plasma tubes. More than 150,000 homes are already connected...So whenever you are feeling good, you can now share those feelings with family and friends - wherever they are!"