Judy Malloy:
From Ireland with Letters:
fiddler's passage
Authoring Software:
Judy Malloy, fiddlers_passage
fiddlers passage score

while in the splashing notes
of the not yet named jig,
Irish streams and rivers
flowed down to the sea,
like the waters
of the fountains
in Rome
where Donnchad mac Briain
courted a princess so long ago.

Simulating an Irish fiddlers practice session that begins with "The Galway Girl" segues into the "Mason's Apron Reel" and ends with a not yet named jig, fiddlers passage is a work of polyphonic electronic literature that is written to the author's fiddlers_passage 3 stave lexia/node score in which there are 32 seconds per bar and the quarter note equivalent of the unit of time measurement is 8 seconds. However, it should be noted, that the work represents an impromptu practice session. Thus there is the illusion of continuing time and content shifts. Indeed, the authoring system is more than the timing of released words; it also relies on color changes and the meaning and flow of the words.

Created in a polyphonic text structure, fiddlers passage -- which begins Book II of From Ireland with Letters -- can be experienced either by simply waiting for the text to change, or by clicking on any one of the three lexia spaces, or by a combination of these ways of reading. When the work has played through once, it can be replayed by clicking on "replay fiddlers passage" in the lower right hand corner. Since the text in fiddler's passage moves fast, replaying it allows concentration on different "tracks" of the work.

In the art or music sense, a "passage" is a short part of a music composition or a detail of a work of literature or painting. The word refers back to the art historian's passage which precedes fiddlers passage in From Ireland with Letters and also aptly refers to the themes which flow back and forth between the three lexias in this work:

"I took a stroll down the old long walk
of the Day-I ah I oh..."
Donnchad mac Briain's pilgrimage to Italy and his 11th century dalliance with an Italian princess, that might or might not have happened and might or might not have had something to do with the origins of the Powers Family. The 17th century historian Dubhaltach Mac Fhirbfhisigh says it happened. But in his History of Ireland, (1634) his contemporary, Geoffrey Keating, says Donchadd was too old to father children. Keating is also credited with a poem on a contingent subject. "O Woman Full of Wiles", a few lines of which are quoted in fiddler's passage.

"The Mason's Apron Reel"
An 11th century adventure with an Italian Princess is a fine beginning to expatriate Hiram Power's studio in Italy and his Florence-situated making of statues of mythical and influential women. As the narrative segues into the story of Hiram Powers, Máire Powers metaphorically plays "The Mason's Apron Reel" -- first as she heard Sean McGuire play it, then as she heard East Clare fiddler Martin Hayes play it.

"Forget Donal."
Paralleling Liam's breakup with Cordelia, (recorded in passage) Máire's breakup with Donal, opens the central lexia of Fiddler's passage:


"Irish men with curly black hair and blue eyes
were too darned attractive.
Forget Donal.
Máire Powers threw her jacket on the chair,
opened the fiddle case;
picked up the fiddle;
played a few bars of a seductive song."

The story of Walter Power and Trial Shepherd
This true story was not introduced in the first book of From Ireland with Letters because I felt it would change the focus. The 15 lashes that Walter Power received in Cambridge for pre-marital fornication with Trial Shepherd -- documented in Middlesex Country Court where my Father was once Assistant District Attorney -- is a riveting beginning to a new story. Máire begins to tell it in fiddlers passage.

And there is a fine twist to the story. Whatever happened between Walter and Trial, her family supported them, and they helped Walter and Trial purchase the land to make their own home.

So, Trial Shepherd's Massachusetts Puritan family gave Irish slave Walter Power back the land that was taken from his family by Cromwell's Puritan soldiers. With Trial, he fathered a family, and one of their descendants made a work that became symbolic in the fight against slavery.

An invitation from Liam O'Brien
Now on the fiddler's coffee table is the print-out of an email message from Liam O'Brien:

"Will you meet me for coffee or beer?"

(And I ask you now
what's a girl to do
if his hair was brown
and his eyes were blue)
Irish History

The Irish histories and legends that Máire Powers recalls are introduced as a prelude in fiddler's passage. They will be told with more details and with references in the continuing narrative of From Ireland with Letters.

The fate of the Power family in the Cromwellian invasion is the subject of Begin with the Arrival, part II of From Ireland with Letters.

The cover image is a recreated detail based on an unattributed composite sketch of the Connemara hill country, County Galway, Connacht. Source: Samuel C. Hall and Anna Maria Hall, Ireland: its scenery, character &,v. 3, London: Jeremiah How, 1843. p.468





The Irish in Early America

Thomas Addis Emmet, "Irish Emigration during the Seventeenth and Eighteenth Centuries", Journal of the American-Irish Historical Society, v. 2, 1899, pp. 56-70.

Michael J. O'Brien, Pioneer Irish in New England, P.J. Kennedy and Sons, 1937.
Walter Power's probable arrival in Massachusetts on the Slave Ship The Goodfellow, is documented on pp 239-241.

Robert E. West, PEC Illinois State Director, "England's Irish Slaves", originally published in the newsletter of the
Political Education Committee, (PEC) American Ireland Education Foundation.

John Prendergast, "Of the seizing of Widows and Orphans, and the Destitute and Transporting then to Barbadoes, and the English Plantations," in John Prendergast, The Cromwellian Settlement of Ireland, London: Longman, 1865. pp. 237-240.
Hiram Powers
Archives Of American Art, Smithsonian Institution, Hiram Powers Papers
http://www.aaa.si.edu/collectionsonline/powehira//

Henry Boynton, "Hiram Powers", New England Magazine, 20:5, July 1899.

Rebecca Reynolds, "'No Ordinary Hands': Hiram Powers' Artistic and Professionally Related Family". in Sirpa Salenius,ed., Sculptors, Painters, and Italy - Italian Influences on Nineteenth-Century American Art, Saonara, Italy: il Prato, 2009. pp. 53-66.
In this paper, Reynolds focuses on Powers' relationship with Florentine sculptors, including the sculptors and craftsmen who worked with him in his studio.

Henry Theodore Tuckerman, Book of the Artists, American Artist Life, NY: Putnam, 1867. p 276

Richard Wunder, Hiram Powers, Vermont Sculptor. 1805-1873, Newark: University of Delaware Press, 1991.
The Greek Slave and Slave Narratives
Frederick Douglass, Narrative of the Life of Frederick Douglass, An American Slave. (Boston, MA: Anti Slavery Office, 1847

Olaudah Equiano, Interesting Narrative of the Life of Olaudah Equiano, or Gustavus Vassa the African (1789)
Return to fiddler's passage

Go to From Ireland with Letters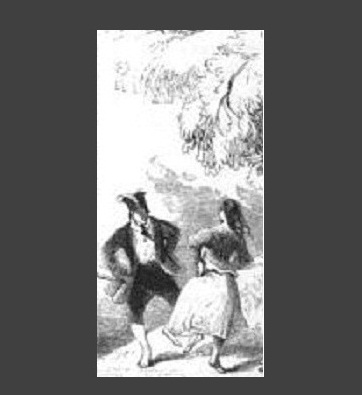 The whole From Ireland with Letters is a polyphonic electronic manuscript that, like a work of music, will eventually present all parts together. Poetic, separate yet related, the parts will flow into each to create a contemporary Irish lay.

The first book, which includes the Prologue, Begin with the Arrival, and passage, has been completed. It premiered in Judy Malloy's retrospective at the 2012 Electronic Literature Organization Conference at West Virginia University in June 2012 and was on display July 16 - August 19, 2012 at the 2012 Electronic Language International Festival in Sao Paulo, Brazil. fiddler's passage begins The Mason's Apron which is the second book of From Ireland with Letters.

The authoring system, fiddler's_passage, is a new iteration of Malloy's evolving classic polychoral authoring system, begun in early collaborative works and in the three-column Wasting Time. (Perforations 3:2 no 3, 1991) Wasting Time was influenced by Gilbert and Sullivan trios. The authoring system resumed with early music influence and much greater musicality in Paths of Memory and Painting. (2010)

A score for the latest iteration of this authoring system is available at Fiddlers Passage score.




Irish Music
Liz Carroll -Irish Fiddler and National Heritage Fellow, National Endowment for the Arts (NEA) web site.
In this interview, Carroll talks about her Irish American roots in Chicago, about playing in Ireland, demonstrates her techniques, ends the NEA set with a fine playing of "The Irish Washerwoman". Liz Carroll puts her own stamp of individually on her music, the interviewer observes, but at the same time it remains traditional. Although she does not play like Liz Carroll, that is how Máire Powers plays the Irish fiddle.

James Cowdery, The Melodic Tradition of Ireland, Kent, OH, Kent State University Press, 1990.

Séan Crosson, "The Given Note": Traditional Music and Modern Irish Poetry, Cambridge, UK: Cambridge Scholars Publishing, 2008

Steve Earle, "Galway Girl", recorded with Irish musician Sharon Shannon, on Steve Earle, Transcendental Blues, 2000.
The words:

"And I asked myself
what's a girl to do
if his hair was black
and his eyes were blue"

are a fiddler's passage version of the male-spoken words in "Galway Girl".

The lyrics "I took a stroll down the old long walk
of the Day-I ah I oh..." and are quotes from "Galway Girl".

The use of the lyrics of Irish songs in Irish poetry are a tradition of Irish literature.

"Easy and Slow"
There is some question as to who wrote or wrote down this song. One story is that Dublin playwright Seán O'Casey first quoted a few lines, and then Irish writer Dominic Behan wrote it all out with the help of an anonymous woman.

W. H. Grattan Flood, A History of Irish Music, Dublin: Browne and Nolan, 1906.

W. H. Grattan Flood, Sketch of Irish Musical History - A Compact Record of the
Progress of Music During 1000 Years London : W. Reeves, 1922.

Charlotte Milligan Fox, Annals of the Irish Harpers, NY: Dutton, 1912

Patrick Galvin, Irish Songs of Resistance, NY: The Folklore Press, [1955].

Susan Gedutis, See You at the Hall, Boston's Golden Era of Music and Dance,
Boston: Northeastern University Press, 2004.

James Joyce, "The Sirens", Ulysses, part 11

Tomás O'Canainn, Traditional Music in Ireland, Cork, Ireland: Ossian Publications, 1978

Ken Perlman
"Sean McGuire: Master of The Irish Violin", Fiddler Magazine, reprinted on irishfiddle.com.

Sharon Shannon, "Galway Girl", on The Galway Girl: The Best of Sharon Shannon, The Daisy Label 2008

Hugh Shields, Narrative Singing in Ireland, Dublin: Irish Academic Press, 1993
As described by Eugene O'Curry in his 1873 book, Of the Manners and Customs of the Ancient Irish, and retold by Hugh Shields in Narrative Singing in Ireland,, Anthony O'Brien, who was "the best singer of Oisin's poems that his contemporaries had ever heard", would go out on the River Shannon with a jar of whiskey and a party of his friends and lie back on the oars and sing. His strong, beautiful voice could be heard on the river banks in Clare and Kerry, and people working in the fields would come down to the Shannon to hear him sing.

George Sigerson, Bards of the Gail and Gall, New York: Scribner's, 1907.
Notation
Willi Apel, The Notation of Polyphonic Music 900-1600, 4th edition, Cambridge, MA: The Medieval Academy of America, 1949
In particular the chapter on Franconian Notation and the facsimile from the circa 13th century Montpellier Manuscript ("huic ut" in which the magi bring mystical gifts...") were influential in my shifting to measured notation in fiddlers passage. Thus, Franconian notation was a turning point in music notation, and it was a also a turning point in my work.

The Boulez-Cage Correspondence, edited by Jean-Jacques Nattiez, translated and edited by Robert Samuels, Cambridge, UK: Cambridge University Press, 1993

Pierre Boulez, "Sonate, Que me Veux-tu", Perspectives of New Music 1:2, Spring 1963. p. 44

W. H. Grattan Flood, A History of Irish Music, Dublin: Browne and Nolan, 1906.

Nikolaus Harnoncourt, Baroque Music Today: Music as Speech. (Portland, OR, Amadeus Press, 1988, translated by Mary O'Neill from the 1982 original Austrian edition, Musik als Klangrede)

Pedro Memelsdorff, Schola Cantorum Basiliensis

Davitt Moroney, "The Performance of Unmeasured Harpsichord Preludes", Early Music 4:2, April 1976 p 143-151
This account of the unmeasured preludes created by Couperin, Nicolas Lebègue, and Jean-Henri d'Anglebert, among others, also addresses the issues in combining unmeasured and measured sections in one work. It was, it seems, an issue addressed in works such Couperin's tripartite toccata-styled preludes. "These works," Moroney explains, "are in three sections, of which the outer two are rhythmically free while the central one is strictly contrapuntal..." (P. 145)

Carl Parrish, Notation of Medieval Music, NY: Norton, 1957
About From Ireland with Letters
From Ireland with Letters interweaves the stories of Walter Power -- who came to America as an Irish slave on The Goodfellow in 1654, stolen from his family by Cromwell's soldiers and sold in the Massachusetts Bay Colony when he was 14 years old -- and his descendant, 19th century Irish American sculptor Hiram Powers, who grew up on a Vermont farm and moved to Florence, Italy, where his work played a symbolic role in the fight against African American slavery in America.

The role of displacement and disrupted tradition in the work of contemporary Irish authors is paralleled in this polyphonic Irish American electronic manuscript. Each part is separate and written in a different structure and tempo, but the whole is integrated by themes introduced in the opening Prologue.

Although the workings of each section are different, as a general rule, the work can be read either by waiting for the text to change on its own (as if watching a film or listening to a piece of music) or by clicking on any lexia, in which case the reader takes control of how the story is explored in the manner of hypertext fiction.

The story is true, but the characters who tell it in From Ireland with Letters are fictional. Walter Power's story is told by his descendant Máire Powers, an Irish American fiddler who is writing a lay about 17th century Ireland and Irish slavery in America; Hiram Powers' story is told by 19th century art historian Liam O'Brien, who is researching the sculptor's life and work. Neither Máire nor Liam know the full story at this point, nor do they know of each other's existence, although they live not far from each other in New Hampshire and will eventually meet.

The documentation of what happened in Ireland from 1649-1654 has been acquired with research and reading, particularly in books written during the Gaelic Revival in Ireland. These books are a treasure of Irish history, and the discovery and reading of such texts is an integral part of this work. This trail of library discovery and the parallel trail of the influence of early music, fiddle music and Irish poetry on the interface of a poetic electronic manuscript are documented in the From Ireland with Letters writers notebooks at:

notebook for fiddler's passage and Junction of Several Trails

notebook for Begin with the Arrival and passage

The sculptor Hiram Powers, whose work The Greek Slave was influential in the fight against slavery was the descendent of Walter Power's fourth child Thomas. The writer of this work, Judy Malloy, is the descendent of his first child, William. The pursuit of this story began years ago, when her grandfather, Walter Powers, told her the story of Hiram Powers.

The title of this work is taken from Saint Patrick's Confessio, where the words are "from Ireland with innumerable letters". Having escaped from slavery in Ireland, Saint Patrick, had a vision of a man from Ireland asking him -- with many letters -- to return to Erin. In his Letter To Coroticus, Patrick was also one of the first people whose words against slavery are recorded.
fiddler's passage is copyright 2012 Judy Malloy