Rocky J. Kamen-Rubio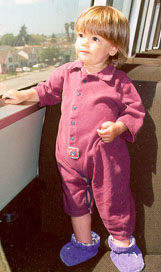 This is the home page for the newest member of the TWILIGHT ZONE crew. He's shown here in full command of a BART car on the way to Concord.

Click here to see Rocky's original home page
Click here for the summer '97 update, and some new photos

Rocky has the Train Gene!
Click here for Rocky's favorite train pictures and transportation links
Some new photos, December '98

Jump to Rocky's dad's home page
See Rocky's cousins, Adaire and Sabrina:

Some of Rocky's friends have web pages too!
Diana Sojourner, born just a couple of weeks earlier.
Tristan Boblet, born just a couple of weeks later.
Jason Twohy, another Merit 25 sailor born about 11 months later.