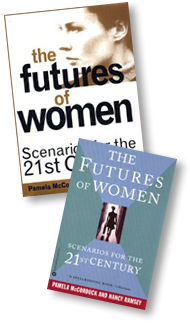 The Futures of Women: Scenarios for the 21st Century
By Pamela McCorduck and Nancy Ramsey

"Spellbinding" is how Fortune Magazine describes The Futures of Women. Scenarios for the 21st Century by Pamela McCorduck and Nancy Ramsey. This exciting, impassioned book tells the compelling stories of four different, possible scenarios for women in the next century. Using scenarios, a methodology first developed for nuclear war gaming and now adapted for business and public interest futures considerations, the book's goal according to the authors is "to examine facts and trends, destroy complacency and provoke thought about the role of women in the next fifteen to twenty years."

The four scenarios include:
1. A Golden Age of gender equality which benefits women and men alike.
2. A worldwide Backlash that puts even Western women behind veils.
3. A Two Step (Two Steps Forward, Two Steps Back) that preserves the status quo.
4. A Separate and Doing Fine, Thanks world of gender separation where women choose to live their lives in women's communities, both formal and informal.

The authors make clear that no one of these Scenarios will come true, but each of them holds a part of the future. One reviewer put it this way, "The authors were able to give flesh and bone to the scenarios they envisioned by projecting striking profiles of women from many cultures and age groups who described in the first person the mileus they inhabit in the year 2015"

Forewarned is forearmed. By knowing the trends, the dangers and the ways of the future, women can make the best choices to bring about the world they want for their themselves, their families and communities.