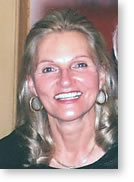 Nancy Ramsey possesses the rare ability to evaluate and define situations with honesty and sometimes shocking clarity. As a true believer in the power of one voice, her vision for the future of women and business will undoubtedly continue to strike chords around the world. Thus far, her opinions, goals and insights have successfully defined one of the strongest movements in history…the changing role of women in this century. In universities, the U.S. Senate, world women's organizations and international corporations, her provocative voice rings out strong, heard and embraced by many.

On women's issues from public policy to consumer preferences, there is no better way to express her voice than with her own words, consider this brief sampling of statements published recently in the San Francisco Chronicle, Nancy discusses how the "Common Agenda of Women Will Shape the Future." A few excerpts from her article read: "…The biggest change in the social order of the 20th century is the change in the status of women. Every family, workplace, man and women feels it… Women's priorities are universal, even if not ranked identically… Research shows that women share policy priorities that cut across party lines and past disagreements. These priorities are the outline of what women want for themselves and their families in the 21st century. The top three policy priorities for women are:
1) Healthcare for themselves, senior citizens and children;
2) Education and
3) Gender equity in workplace hiring, promotions, pay, benefits and lending. With a common agenda, increasing economic clout and new, creative forms of effecting change, women are likely to continue building the future and legacy they want."

In consulting with corporations, small business and private voluntary organizations, Nancy's skills in building scenarios as well as examining and understanding the future add depth and vision to challenging dilemmas. For example, Nancy worked with The Conference Board's Work and Family Council and Council on Workforce Diversity to explore the impact different futures could have on Council work and corporate strategies.

Nancy's speeches this year range from Keynote speaker at The National Academy of Engineering's Summit on Women to Luncheon Speaker to a Conference on Information Technology in the Workplace at Creighton University's College of Business in Omaha, Nebraska. Conference sponsors commented "People were impressed and motivated by your talk. You were a big hit at our Conference!" Nancy's ability to speak on a broad range of issues, particularly the future adds new and different perspectives to subjects.

Nancy uses her vision and voice to consult with the Global Business Network as a futurist and co-author, with Pamela McCorduck, The Futures of Women: Scenarios for the 21st Century. The scenarios of the future featured in the book set up a useful base from which to reflect on our world today and establish both communication and real steps forward for the progress of women.