If you are thinking of buying historic opera recordings, I (and many of my fellow opera geeks) have distinct opinions about which companies and engineers produce the best transfers of old recordings. (more TK!)
Here's a link to a Web page posted by an anonymous individual who clearly knows his way around audio restoration techniques. If you're interested in that, or in great conductors, or in Wagner, please check it out. Take the quiz, and enjoy the fascinating clips on the answer page.
Here's a photo of diva Emmy Destinn in the role of Tosca. Suggestive, isn't it?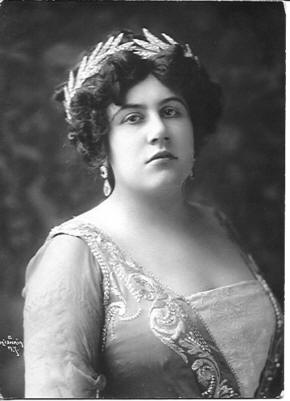 Some useful opera links:
Opera Notes & Mike's Miscellany - Mike Richter's home page. Mike updates this weekly; there are always sound clips of a singer, a style, an aria, a technique, or something else related to opera and voices. Read this for a year and you'll learn a lot.
Jane Eaglen Fan Page - Stuart Somerville's Jane Eaglen page. Am I a borderline Jane Eaglen groupie? Well, yes, and if you'd heard her in the 1998 Seattle Tristan, you'd be one too. An essential page for fans of the best Isolde and Bruennhilde since Nilsson.
Metropolitan Opera, New York City. The schedules are vital if you're thinking of getting tickets (or if you listen to the radio broadcasts); the quiz is fun; the history pages, by archivist Robert Tuggle, are a delight (and they will send you into paroxysms of envy sometimes, too).
San Francisco Opera Like the Met's home page, SFO's includes schedules, press releases, historical photos, ticket-ordering facilities, and more.
I collect photos of opera singers. Mostly, I have sopranos and mezzos, with a smattering of tenors, baritones, and basses. These sites all have interesting photos:
Cantabile-Subito has a fabulous collection of photos and short biographies, links, and clips.
Historic Opera also has a grand and fascinating collection of photos, most of them of pre-1950 singers.
I've bought many photos from La Scala Autographs. If there's something you want, James Camner can find it for you.
Go back to Lisa Hirsch's Home Page or to the Extract Guide.