Partner, Pets, and Friends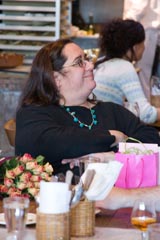 Donna at her birthday party at Cesar, January, 2006. More photos of the occasion here (by Matt) and here (by me). Lots more people who are important to us on those pages.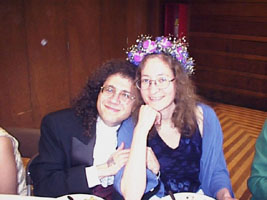 My very dear friends Matt and Janet at their wedding reception, April, 1999. I conducted the wedding. They look so beautiful and happy! (And they still are beautiful and happy together!) Photo by Gail Gurman
Alice, Janet and Matt's lovely offspring, born December, 2005. (photo by her dad, taken in March, 2006. Lots more photos of Alice here.)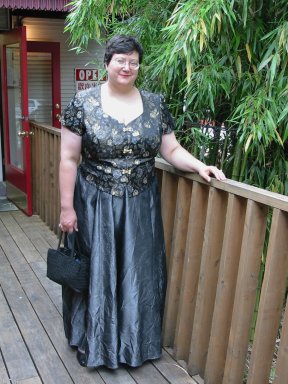 Here I am in Seattle in the summer of 2001, just before a performance of Wagner's Das Rheingold at the Seattle Opera. I'm in drag; I only dress this way for the opera and only occasionally. Photo by Matt Austern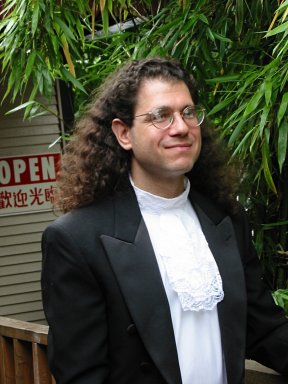 Here's Matt on the same occasion. We've attended the opera together in SF, Berkeley, LA, and Seattle (Tristan, 1998; Ring cycle, 2001; Parsifal,, 2003). Someday we hope to go to Bayreuth for the Wagner Festival there. He's also in drag. He only wears a tux to the opera and to get married. Photo by me, Lisa Hirsch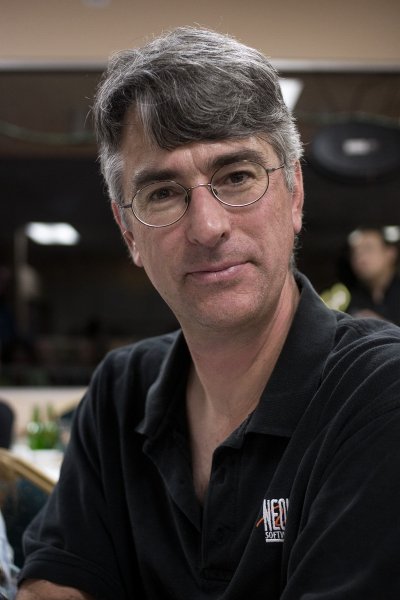 My friend Eric started a winery in 2005; I seem to have become the official photographer. Click here for photos I took the day he pressed his first wine from fermentation bins to barrel. Photo by Matt Austern
Here I am alone, at the Documentum 10th birthday party in 2000. I wasn't really a visitor, but they ran out of the yellow wristbands they had for employees. (I worked for Documentum, now EMC Documentum, from 1998 to 2006. I work for a better-known company now.)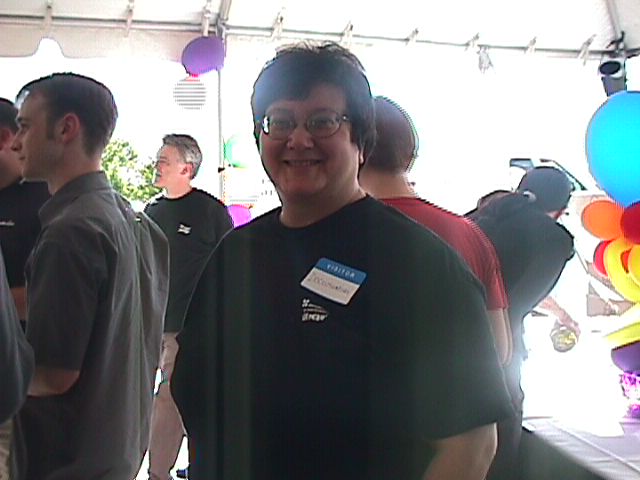 How that lobster got inside my skull I just don't know.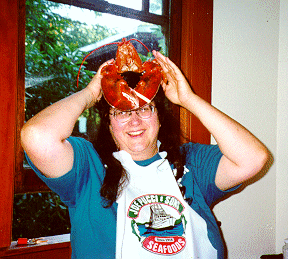 Here I am after being taken over by aliens.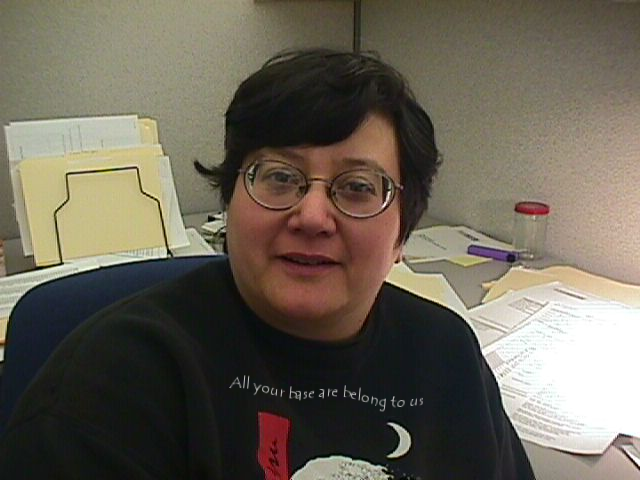 Molly B., April 1, 1999 (approximate) - March 4, 2011
Our dear Molly B. was a wonderful companion for 11 years and we miss her very much.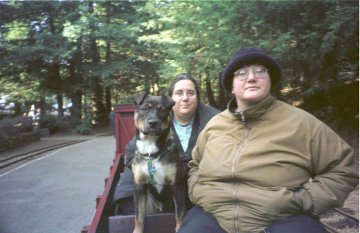 Here is a family picture dated 1999: I'm in front. Donna, my sweetie, is in the back. Sitting next to me is Molly Mutt, aka Molly Bloom. She is (we think) a German Shepherd/Rottweiler/Shar-Pei mix. She looks a little forbidding here but she is actually a grinning dog, very silly and full of fun. We are all sitting on the Tilden Park Steam Train, about to go for a ride. (Dogs ride free!) Photo by Tony Odierna.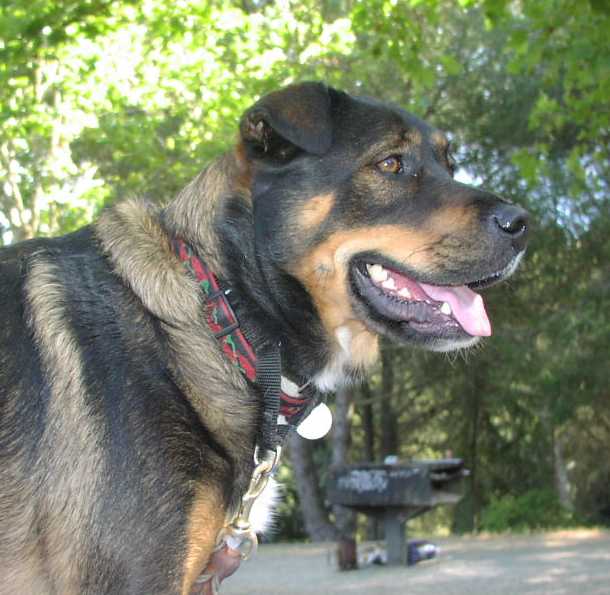 Here's Molly at the 2002 Well picnic, in July or August 2002. See those tiny ears and wrinkly face? That's why we thought she was part Shar-Pei. Photo by Cynthia Dyer-Bennet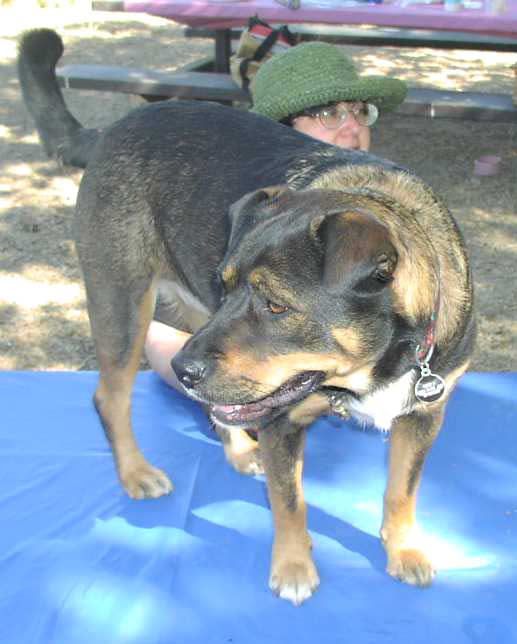 And another photo of the excellent pooch, with me barely visible in the background. Photo by Cynthia Dyer-Bennet
You can see photos in a couple of places of our former foster pit bull, Max. He is a very sweet dog and has now been adopted by....a day care center! He lived with us for four months in 2000.
There's this photo at Oakland Veterinary Hospital's home page and some others at K9 Rescue Ltd., a really excellent organization run by folks who are doing a lot for rescue dogs and especially pit bulls.
And here is Max frolicking at K9 Rescue Ltd: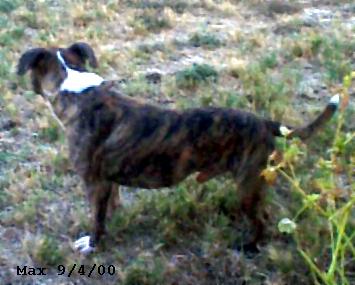 All by himself.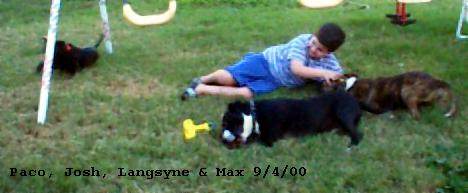 With a couple of other dogs and Josh.
As of May, 2000, we had three cats. Then Mina the Ancient cat's kidney failure got very bad and we had her put to sleep, age unknown but probably around 15 or 16 - she'd been with me for 12 or 13 years (May 31, 2000). In July, 2000, we noted that Nero, my favorite cat ever, was spending more time inside than usual; in August, his health took a serious downturn, as his feline leukemia became active. We had to have him put to sleep too, poor boy. He was the best cat, very companionable, and remarkably compassionate and even grateful, especially for a cat. Some time I'll put up a photo and say more about him.
We now have two cats. The first is Oberon the Lout, born 1996. He is a beautiful black cat with green eyes and amazingly thick, soft fur. He is very smart and not at all cuddly most of the time. He treats the house like a hotel and restaurant and only spends time with us when we're all asleep, the lout. He also spends time at the home of our neighbor up the street, where he regularly tears open HER bags of cat food!
The other cat, whom we got used from Berkeley Humane in July, 2003, is R.C. Frightwig, known as Cricket. He is a sweetie! Doesn't mind Molly or her buddy Solomon and isn't freaked by scaredy-car/bully Oberon. Also: AFFECTIONATE, unlike Oberon.
Go back to Lisa Hirsch's Home Page or to the Extract Guide.