DJ Paraffin aka Gil, a short bio.
I also dj as Gil.

I spin trible-trancy House music for the most part, with some funk,dub and techno in the mix for good measure and dancing pleasure. I also occasionally do ambiant sets and in fact started with ambiant. I live in San Francisco and have been spinning House music for the last eighteen years.
I dj as well help with promotion (from making fliers to hauling equipment) for several raves and posses in the Bay Area. I can count among them the Atomic parties (spearheaded by the Intrepid posse)put on in the Oakland Colliseum parking lot during the Greatful Deads Mardi Gra and Chinese New Years shows [Atomic Rooster, Atomic Dog and Atomic Pig]. I'm also one of the individuals and posses that have helped put together the Friends and Family rave. I've also enjoyed working with The Cloud Factory, the crew from Ameba, Liquid Air, LOOQ Records and Trip 'N Spin records. I am a resident dj at the Qool Happy Hour on Wednsdays at 111 Minna St. Gallery in S.F.(5 to 9pm), I also occasionally throw a partie called Play It By Ear.
I enjoy playing my records a great deal. I also encourage anyone who enjoys dancing to visit the Bay Area. There is a vibrante scene and a plethora of talent.
I can be contacted at tow@well.com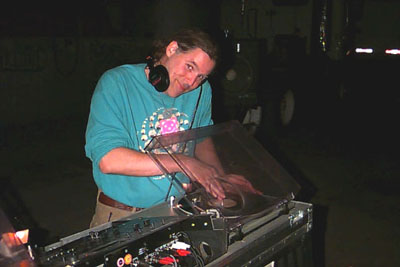 Gil at Friends and Family '95.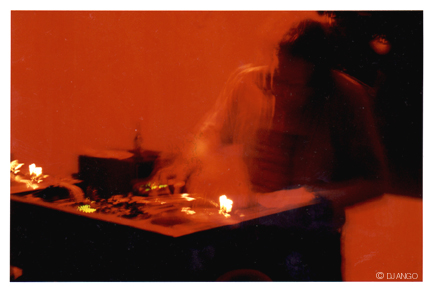 Gil at 111 Minna St. Gallery '99